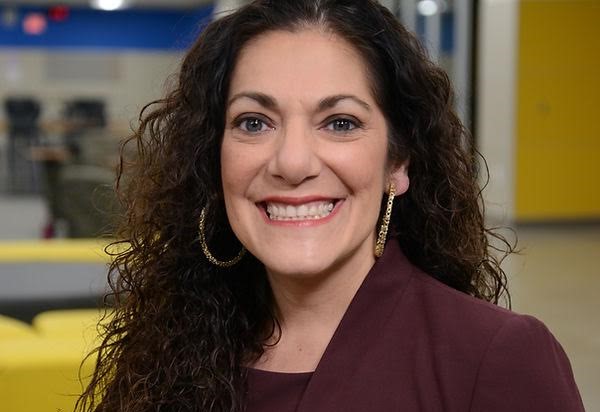 Gloria Gonzales-Dholakia – Place 2
Candidate and current member of the Board of Trustees, Gloria Gonzales-Dholakia, is running against candidate Brandi Burkman.
Q: Why are you running for school board?
A: Wonderful. I am running for school board, I'm running for reelection for school board – really, I care a lot about education. I care about public education. I first ran four years ago and at that point I ran for school board, I was the executive director of the Leander ISD Educational Excellence Foundation, and I was the first ED of that foundation because I care about public education. I'm the first person in my family to go to college, and I credit a lot of my success because of teachers. Teachers believed in me way before I knew to believe in myself, and the power of a high-quality public education system is important. So I ran for election the first time because of that, and I'm running for reelection this time because it's even more important. We've had a really hard four years of COVID, and right now I feel like public education is being used as a political pawn, and a lot of national politics. I think it's gonna take all of us really doing everything we can to protect the institution of public education. 
Q: Now, what past experiences make you qualified to be a school board member?
A: The experiences that qualify me to be a school board member are experiences of being a parent in our school district, being a volunteer in our school district. Also, I was a teacher, I was an elementary school teacher and I went on to get my PhD in Education from the University of Texas at Austin, and I taught teacher education classes at St. Edwards University for many years. So, I come to this with the lens of education. At the same time, you really have to understand and respect governance. As a school board member you don't teach, you don't decide what 's being taught, you're setting governance. We have amazing teachers, we have amazing faculty in Leander ISD and it's making sure we have all the supports set up in place so that they can be successful. 
Q: What is your stance on Proposition A and why?
A: So, Proposition A.  I feel like that's the easiest one, and I'm definitely in support of Proposition A. Proposition A is our, you know, our "ace," it's our recapture. And going to ballot for that is either do we write the state of Texas a check and say "here you go," and we're done, or does Texas come into our district and take that value from our district? I'm in support of Prop A. It's recapture, the state's going to get their money either way, I'd rather it be locally controlled and on our terms. 
Q: Now, conversely, what's your stance on Proposition B and why?
A: I said Proposition A is easy, I think my stance on Proposition B is just as simple. I am in support of Prop B. What Prop B allows for us to do is move –  school funding works in two buckets, right? And you may have heard a lot about this. There's two pieces of tax right that combine to form the tax rate that our district has. It's our maintenance and operation, our interest and shrinking. And you have these two buckets. What we've done with Prop B is significantly decrease the percentage in one bucket and increase in the other. By doing that, we put more in the bucket that allows us to pay teachers. So I think it's really important that we support Prop B so that we have the funds to be able to pay our staff more than what we currently can.

Q: Should Prop B not pass, and the district needs to cut over $32 million from the budget next school year, what specifically would be the top three places you'd suggest those cuts to come from? 
A: Honestly, there are no good cuts. There are really not. When you look at our school district, the majority of our budget is teacher salary. The majority of our budget is people. We're not a district that has a lot of administration, we're not a lot of district – you know, we're a large district that doesn't have a lot of that structure and funding right now, and so honestly there's not a good place to cut. There are no good places. It's staff, because that is the majority of our budget. And so what we would have to look at is what are all the programs that – this is what is required by the state of Texas. This is what we must have. What are all the other pieces where we are allowed to cut? I'm telling you, those are not things we want to cut. Those are things that make our district special, those are things that make students want to go to school, are all those things. And so there are no good cuts. 
Q: Now, one of the questions we hear in the school community is "Why is our district in this financial situation to begin with?" How would your respond to that?
A: I would say, why is our district in this financial situation? There's a couple of reasons why. Over the last few years, since COVID, we've seen rapid inflation. And with rapid inflation, everything is more expensive right now. What's also happened during that time is property values increased significantly, and so everyone is paying more taxes. As you pay more taxes, that bucket that the state says you get to keep, it overflows. That money goes back to the state. We don't get to keep that, because the number one way that bucket gets determined by the state is the basic allotment. What the state gives you for each student that's at school per day, right? With all this rapid inflation, the basic allotment has not changed. That never changed, you know, that hasn't changed since 2019, and so as we've seen inflation that hasn't adjusted. And so we're in this situation now where you know, we have to pay staff more, we're receiving more in property values, but that has to go back to the state for recapture.

Q: Are you satisfied with Dr. Gearing's job as superintendent? 
A: Absolutely. He is a fabulous leader. Have things been hard the last two years? Absolutely. We went through a global pandemic. I'll tell you, he came on and we're excited, we're pumped, these are all the things we're going to do, and everything came to a screeching halt and it was really, we were all in survival mode. How are we going to teach online? How are we going to support teachers? How are we going to support students? How are we going to feed them? And then we had a winter storm, right? How are we going to keep people safe? And so, are some of the initial goals that we set out four years ago, are we on that track? No, there are things that happened in the last two years that shifted priorities. Do we want to get back on that track? Absolutely.

Q: Do any of your own children who are or have been LISD students, and how was their experience in the district?
A: Yes, so I have three children that are or were LISD Students. So, I had my oldest graduate in 2020, and 2020 graduation was rough, right? But he went through LISD from kindergarten through 12th grade. And it was a wonderful experience for him. He graduated and he's currently a junior at University of Texas at Austin, and I feel that Leander ISD did a fabulous job preparing him for a really rigorous academic path. My second son graduated from Vista Ridge High School last year and transferred to Vista Ridge High School because he wanted to be part of the Navy ROTC program. It's an amazing program, it's one of the best in the state, and we offer a lot of these best-in-the-state programs. And our students have the flexibility to go and join and be a part of different programming throughout the district. He graduated from that school and is a freshman in college in Michigan right now.
My youngest is a sophomore in high school right now, and Leander's been wonderful for him. He's on the robotics team and thriving, and that's one of the pieces that I think makes Leander ISD so special. There's something for every student to feel like a rockstar, and you know, not everyone's going to play football, not everyone's going to be in band, but the production quality that your group is doing, being able to find different avenues for people to really engage is important, and all of that type of programming is really important to LISD.

Q: This is a topic that has gained some controversy. In the last two years, election integrity has been a hot topic in politics. Do you believe there are problems with our election system, locally or nationally?
A: Absolutely not. It's a lie, and there's been all sorts of money – there's been millions of dollars spent to prove that this was happening and in fact, what was discovered was that this is not happening. This is not happening, it's part of this national division that's happening in our country. No one's stealing elections, there's no problem with election integrity, it's really adults not liking the way something happens and then throwing an adult temper tantrum about it afterwards. There's times when elections don't go the way I want, and that's what happens. You have to – this is the voter's vote, and these are the results. I don't get to throw a temper tantrum and change those. So I do not believe that there are any issues with election integrity. I'll tell you right now, I'm more worried about election safety because of this rhetoric that, you know, having people watch and people cause all sorts of problems and create fear for people voting because of this.

Q: Would you accept the outcome of the election if you were to lose?
A: Absolutely. Absolutely, I think we have to do everything we can to let people know what's at stake in this election, and then know that I did everything I could and also know that I'm still going to be a parent in this district. I still live here and I still pay taxes, and I'm still going to do everything I can as a parent and as a volunteer to make sure that my kids and my community and my schools feel safe. Win or lose, I'm a volunteer and parent in this district.

Q: So looking back through your career, what's been your biggest accomplishment as a school board member?
A: Biggest accomplishment as a school board member. That's hard – I think, you know, I can think of little pieces here and there, being really excited about different policy and I'll mention that, but I think one of the biggest accomplishments as a school board member was looking at COVID. We didn't have to shut down our schools for a long period of time. There were a lot of schools in the state of Texas that were closed for a long time. We closed when we had to and we opened as soon as we could to give different options for different students in different families. During that time that we were closed, we fed students, we gave students care, we gave students support and that was a hard and scary time for our community and for our students, for our families. Our district really came together to take care of one another, and I'm proud of all the work we did there.

Q: Is there anything you'd like to add?
A: Absolutely. I will say that this election, we're seeing a lot of these wedge issues and super partisan issues coming into the school board discussion that are not school board issues, that are not school board discussions. They don't have any – they're not relevant to what we're doing in the school district and in school board governance. What you see in citizen comments that – I know a lot of students, my student, watches citizen comments a lot of times because it's theater, it's a lot of theatrics during that time. That's not the business of the school board, those aren't the important issues that we need to take care of. We need to get back to setting policy, doing governance, supporting our staff and our teachers and our students, and not having the distraction of, you know, people asking "What's your take on women's reproductive rights? What's your take on the border wall? What do you think about this?" Those are issues that are these wedge issues that people are trying to push into school board elections. Your school board doesn't make those decisions. They're trying to set policy and good governance for the students of our district.