Rhys Forbes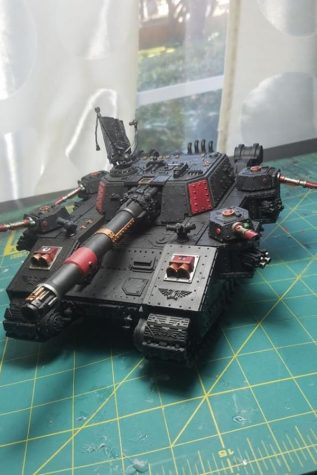 There is Monopoly, Scrabble and checkers, but none of these tabletop games are just like the one sophomore, Rhys Forbes participates in. Warhammer 40,000 is miniature wargame surrounding the idea that the human race must defend its existence from other species. Forbes has been playing the game since 2016 and with its many accompanying books and video games, he said it is far more than just a board game. 
"The game is more of a universe like Marvel," Forbes said. "It's about building your own personalized force. You build the models, you paint them, they are your own creation."
After a couple of friends showed Forbes a Warhammer book that they found in Half Price Books, he became intrigued. He started with a simple "learn to paint" box and his interest exploded from there.
"What I enjoy about it is that at its core you can really do or create anything you want as long as it kind of correlates with a unit that already exists in the game," Forbes said. "There is endless customization. You can paint your army any color scheme you can think up. It's a way of expressing myself in a way that I couldn't really [do] any other way."
Forbes said he loves how it offers such a unique community to be a part of and that he gets to share his passion with people who have similar interests.
"I can spend hours talking with the guys I play with about my favorite parts of the stories, or we can geek out over the way one of us painted a model to near perfection," Forbes said. "It's a real niche hobby and it really isn't for everybody, but I thoroughly enjoy everything about it."
Comments on The Wolfpack must be approved before posting.