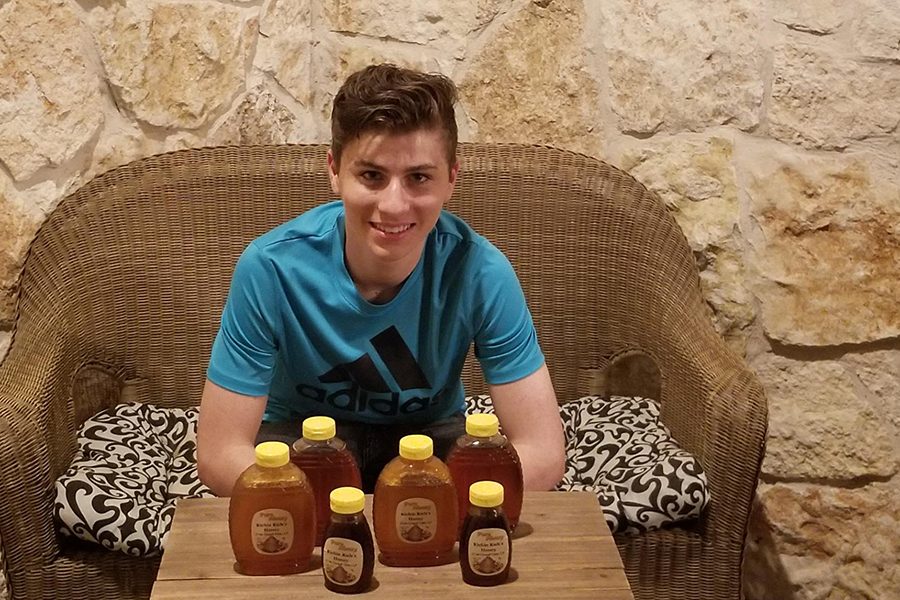 Photo courtesy of Rich Daugherty
Rich Daugherty
Co-running a small family business at only 18, senior Rich Daugherty makes and sells honey along with a few other smaller projects branching from the same origin of honey and hives.
"We have different aspects to the business," Daugherty said. "We have our honey production, our hive removals and then we also have out candle production that we are starting."
With two hives in his backyard, Daugherty and his dad feed the bees when needed by using a flower garden. Their house also backs up to a ravine where the bees go to get water and other nutrients. 
"
It's just really relaxing to go out there and watch bees come and go to get in the hives."
— Rich Daugherty (12)
"[It is] all natural and 100 percent raw and unfiltered," Daugherty said. "Once they actually produce the honey and it's ready to go, we pull [the frames] out of the hive and we put it in this honey extractor and it just spins it around and spins out the honey. Then we filter that through a fine colander and a paint strainer to get any bits of wax out then I just bottle it and sell it."
His dad proposed the honey business idea and Daugherty was quickly on board. To get started, they replaced their vegetable garden with flowers. Daugherty said he has grown to enjoy the process since then.
"It just grew from there," Daugherty said. "I thought, hey, I can sell this since we are never gonna be able to eat all of this, because you get like 20 pounds of honey per harvest. It's just really relaxing to go out there and watch bees come and go to get in the hives and work. Plus, I make a good bit of money off of removal and honey sales."