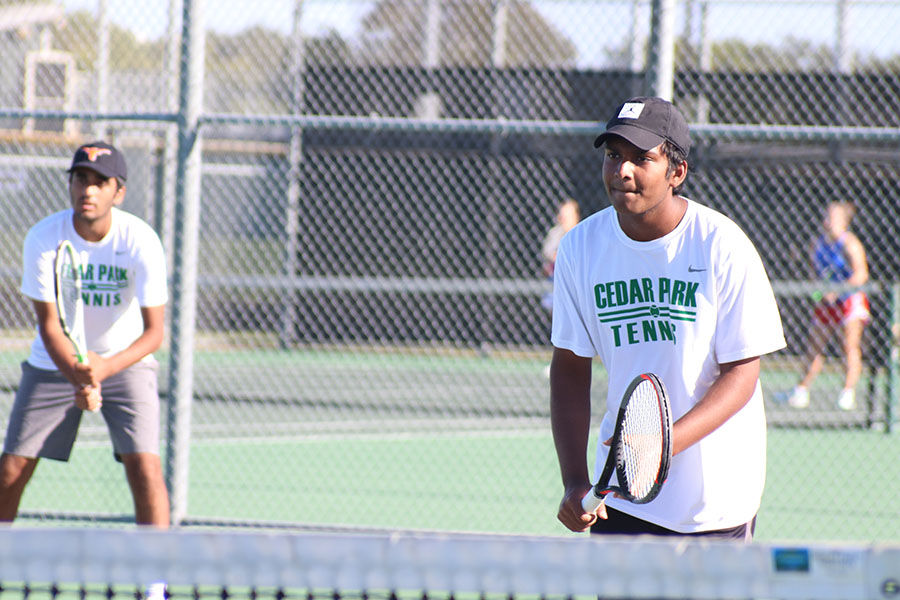 Tennis
With a large court and only 2-4 players at a time, social distancing is easy. Senior and captain Sierra Setliff mentions that while COVID-19 hasn't affected gameplay that much, it has affected team traditions such as team get-togethers.
"COVID hasn't affected much from tennis because we already maintain social distancing with this sport," Setliff said. "One thing that we aren't able to do this year because of [the pandemic]is go out for dinner on the way home from away matches like we used to, but some of the teammates and I still go out for dinner after matches."
Senior and team member Rahul Kannam also mentions that no team get-togethers are a let down, but still feels that the team is becoming more unified each day and more prepared to take on the fall tennis season.
"We have had fun as a team and the matches have helped us to become more united in working together," Kannam said. "COVID has made it harder to interact with each other and other teams, however even with that we are still able to hit and have fun so I'm thankful for that."
While the team has its own big goals of winning regionals and making it to state, Setliff and Kannam each have their own individual goals that they are excited to work on.
"[One] of my personal goals are to go out of every game knowing I played the best that I could have," Setliff said. "Tennis is a sport that has a lot to do with your mental game and it is hard to keep a good attitude when you are not playing well, but I want to have a good attitude all the time."
"My personal goal is to develop my playstyle," Kannam said. "Also to continue fighting to help my team and join in on the fun."
The team recently finished their season, placing second in the district only losing to Georgetown. Tennis matches aside, both Setliff and Kannam are most looking forward to bonding more with their team.
"I just like the feeling of hitting that ball with teammates," Kannam said. "[I like] being together through tennis which will always be there in the coming season."