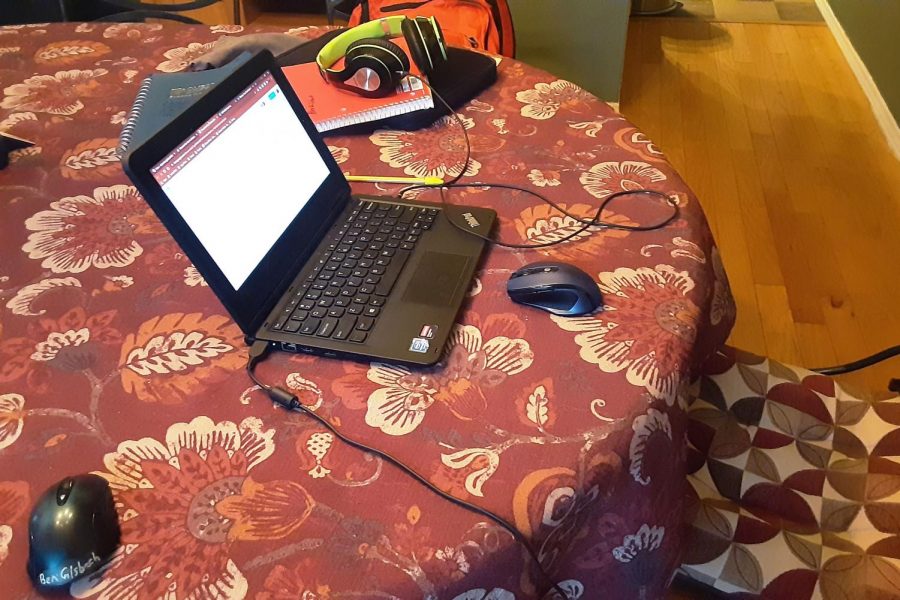 Culinary
Advanced culinary is a double blocked class specifically designed to give students the time needed to finish cooking projects. While there is no longer a separation between students since all 13 in the class have returned to school, according to senior Rocket Catalano, new in-person regulations have had a pretty big impact on the classroom environment.
"Usually we're all in the kitchen and there's a lot of contact, both between people and people touching the same things, but now we can't touch each other or share equipment, which is going to be interesting," Catalano said. "We also cannot do luncheons anymore, which were both our main source of income and the most fun and interactive thing[s] we did."
As of right now, the class will not be allowed to cook for at least another month. Instead, students have been studying nutrition and teamwork, along with maintaining distance and sanitation within the kitchen. While this is not too different from when most of the students were online, Catalano said that as soon as the class goes back to cooking, the environment will regain a sense of normalcy.
"Cooking is probably the biggest part of the class, and it just doesn't feel the same without it," Catalano said. "It's kind of ridiculous because we have nearly four hours together, but we can't cook. Once we start cooking, it will be back to normal-ish."
Sophomore Cyrus Van Sickle is also attending school in-person and is currently taking an intro to culinary class. With only four of his fellow students in-person and the rest online, Van Sickle said that the separation, along with new rules for in-person, has impacted the overall environment of the class.
"[The change] definitely has affected how much we can do in person and virtually, especially with cooking as a group," Van Sickle said. "Surprisingly, we can still cook whenever the time comes, which is great, but we can't taste the food."
For intro to culinary, there are many activities and studies that students are required to do before being able to cook, including information on food safety and food poisoning. When the time comes to cook, students who are still online will have the option to cook from home or watch the in-person students.
Freshman Alex Gilsbach is one of the students who will follow along from home when the time comes to cook in his intro to culinary class. However, he said that there are quite a few difficulties that come with online learning.
"Some of the challenges I have had to overcome are the fact that we don't really get to know each other, and it is a little bit harder to get help from the teacher if [and] when we need it," Gilsbach said. "I have also noticed that if we have to watch videos for class, it tends to lag a little bit over Zoom and I sometimes have trouble keeping track of what is happening or being said in the video."
Despite these challenges, Gilsbach said that the overall class thus far, including the different activities and lessons on nutrition and sanitation, has been interesting.
"I still find the class enjoyable and beneficial because we will still get to learn the basics of cooking and get the certificate needed to get a job in the foodservice industry," Gilsbach said. "We have also gotten to learn some very important information about how to keep food safe."