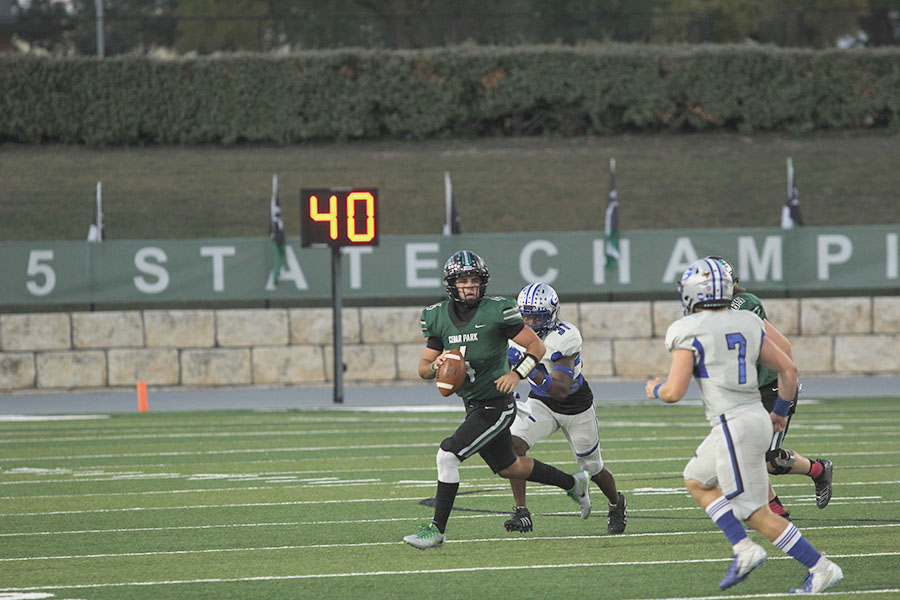 Football
Football is one of the most popular sports at Texas high schools. With excitement all around during every football game, both players and spectators were nervous that there might not be a season. Luckily for everyone involved, there is a football season, it just looks a little different from years past.
Middle linebacker Shelby Battles and quarterback Ryder Hernandez, both seniors, said they are excited about the season, but both are bummed about some of the new protocols due to COVID.
"It's been good, going 3-0 at the beginning of this season is always good," Battles said. "We haven't done that since 2016, but we still need to improve a lot still and we have a long season ahead of us. [COVID-19] hasn't affected much to playing football besides wearing masks, but we aren't allowed to do stuff as we've done in the past. Like breaking the bust out signs with our hammers, walking around Gupton, have people stand on the sidelines, shake hands at the end of games, or even sit wherever we want on the bus."
Hernandez feels the same and is also worried about the season getting shut down, because if any member of the team gets sick with the virus then the whole team would have to quarantine for two weeks and potentially miss out on important games.
"COVID has definitely affected our year," Hernandez said. "We missed out on workouts, a game against Round Rock ,and have to be super careful not to contract the virus to shut our season down."
Even with all of the mask-wearing and missed traditions, the football team is goal set and ready to take on state, no matter what life throws at them
"Our first goal is to win a district championship and then from there our main goal is to win a state championship," Hernandez said. "It's state or bust for us this year. We love what we do and want to keep this going for as long as we can, which will hopefully be through January."
The A and B football teams are also looking to end with a winning record. Currently A is 3-2 and B is 4-1. Sophomore Alex Underwood is confident in the abilities and skills of the team to pull off a winning season.
"We plan on getting stronger and better every day and every practice," Underwood said. "Because of this, I think we will go undefeated and will win the rest of the games for both teams."