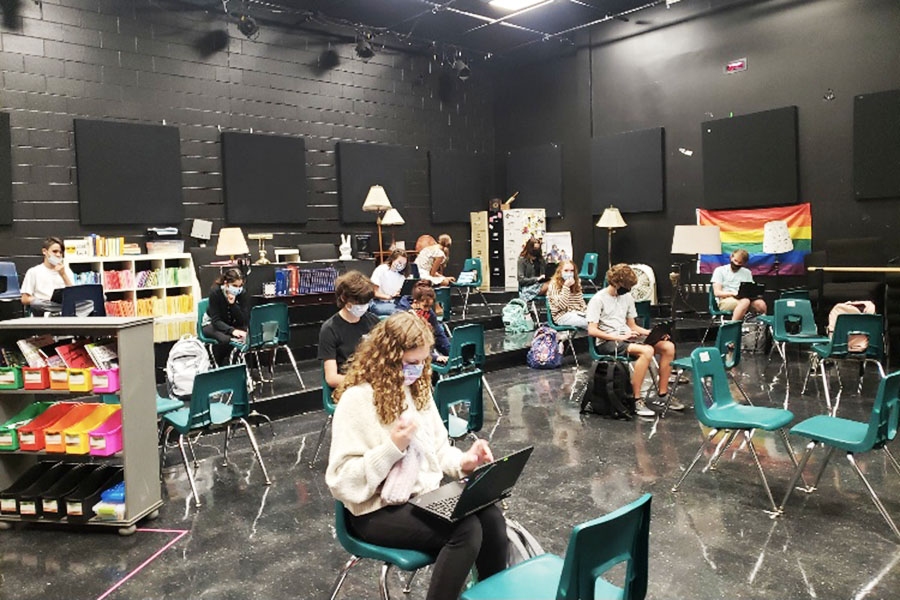 Theatre
With 11 students online and 14 in-person, sophomore Regan Hill said that a typical Theatre Productions II class includes a range of activities, such as dressing up as different characters and recording videos for elementary students as well as working on facial expressions and improv.
Even with new lessons each day, Hill said that the class has faced many challenges with social distancing mandates and maintaining a similar environment to last year's classes.
"For the in-person people, you are always acting and singing close to each other and it's really hard to convey your emotions if you are six feet away from the person you are talking to," Hill said. "We have to shout across the classroom to let other people hear us right. Also, you can't really do a skit with some people at home and some people at school, so a lot of the theatre project and plays we were going to put on this year were canceled or put on hold for next year."
Due to schedule complications, Hill was unable to stay with the same theatre class that she bonded with freshman year. While there are a few students from her previous class in Theatre Productions with her, Hill said that making new friends in the class has been difficult because of the circumstances.
"People have definitely grown apart and they [aren't] as close as they were last year," Hill said. "[As] a sophomore in a freshman theatre class, I was hoping to be someone they looked up to and they could ask any questions about theatre. This, however, has been really hard to do because I can't really bond with the online students that well."
For senior Rylee Vines, a member of both Theatre Productions IV and Theatre Tech IV, maintaining an interactive environment at home has been difficult, especially for Theatre Tech.
"It's definitely hard to do Theatre Tech online because it was so easy to learn so much with the PAC being right there," Vines said. "But our directors have [done an] awesome job of having script analysis, and other various lessons that have still managed to let us learn and interact with each other."
Junior MJ Kelly is also taking their theatre classes online. They said that the online options and requirements have allowed the theatre department to experiment with new activities.
"We haven't been able to actually perform any shows, which is disappointing to me as a heavily involved person and troupe officer, but we have been able to try things out, like play analysis and character work," Kelly said. "Because I'm in a production and musical theatre class, everyone in there are friends, so luckily the class has stayed pretty interactive and lively."
Although the classes have had to overcome new challenges this year, Kelly said that the classes are still enjoyable.
"Theatre is still amazing, especially considering what we're working with," Kelly said. "But the lack of performances and shows, the main point of theatre, is making it a lot less [interactive] than usual. It's just the way life is now in the pandemic."