'Funny Girl' Leads Earn GAHSMTA Nominations
The Greater Austin High School Theater Award nominations were officially revealed on Tuesday morning.
The Theater Department put up "Funny Girl" in the fall, and lead actor sophomore Evan Vines and lead actress senior Abigail Holtfort received nominations for "Best Actor" and "Best Actress" in their respective roles.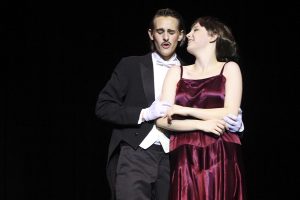 "Funny Girl" followed the story of Fanny Brice, played by Holtfort, trying to make it onto the big Vaudeville stage, with the help of her husband Nick Arnstein, played by Vines.
Holtfort and Vines put in countless hours over the three-month span of the rehearsal process to ensure that their performances would be as best as possible.
"It's definitely a thrill to be apart of GAHSMTA in my sophomore year," Vines said. "I'm looking forward to performing on stage in front of that many people and just the experience in general."
Holtfort is one of the eight females who were nominated for the award, with results to be announced April 18 at the GAHSMTA Awards at The Long Center.
"I'm excited to perform at the Long Center, and that I get a chance to bring back the role on more time," Holtfort said.
Holtfort also performs in the Elite Ensemble at the Long Center, so she will have a lot on her plate at the awards show. As for Vines, it will be his second year performing in the GAHSMTA Awards Show.