Robolobos Make Their Way to Worlds
Robotics Team Advances to Worlds Championship, First Time in Six Years
For the first time after six years, FRC Team 5052, The Robolobos advances to Worlds Championship after placing at Districts and Regionals. The team is competing at the Worlds in Houston from April 17-20.
Before attending the Austin District Championship, where they advanced to Worlds with a rank of 24 out of the 64 teams there, they had competed in Dallas where they were ranked 15 of 36. They won the Team Spirit Award and an Entrepreneurship Award by the end of both districts.
The Robolobos' first district competition was held at Anderson High School on March 1-3, where they ranked within the top 10 teams and received the Team Spirit Award. The second district competition was held in Dallas on March 29, where the team gained enough points to advance to the regional competition.
From Jan. 5 to Feb. 19, the team was in their build season, a six week period that robotics teams are allowed to design, fund and build the entire robot. Each year, there is a unique theme or "game" that the competition is centered around, and this year's was called Destination Deep Space, which required the team to partner with two random bots at competition.
While build season consists only of building the robot, the team spent the beginning of the year introducing members to the different departments of the team, such as finance, marketing, hardware and software. Members are required to participate at least 10 hours each week throughout build season to go to competition.
After the game reveal, members gathered to discuss which areas they should focus on for the design and building of the robot. Head of software, senior Thien Le, said that it took a few days to discuss an optimal strategy for the game.
"The original design for the robot was to have the ability to pick up both hatch panels and cargo and be able to place them on lower levels of the cargo ship and rocket," Le said. "We eventually took out the hatch panels mechanism because it was too unwieldy, and we instead focused on improving our cargo mechanism."
With the time limit on the building of their robot, there were challenges that the team overcame as a whole, according to Le.
"Probably the biggest challenge we faced during build season was the lack of time and money to get everything done to match our optimal design, though I'm still satisfied with the work we've done," Le said. "Though another big problem that came up was just delivery problems when ordering parts. Some parts that we ordered in December still haven't come in, so that was rough."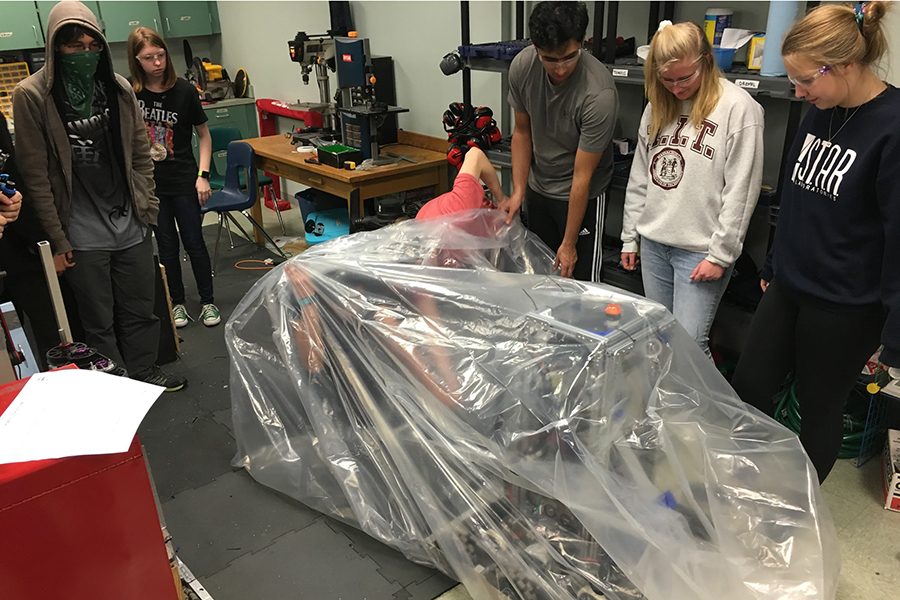 At the end of build season on Feb. 19 was the team's "bag day," where they had to stop all work on their robot when it hit midnight. While bag day ensures that all teams have an equal amount of time to work on their robot, senior Chloe Heitmeier said that bag day also serves as a celebration for everyone's hard work. She said that the team shook up and drank bottles of Mountain Dew as a means of luck and celebration once they bagged their robot.   
"Bag day is kind of a relief for everyone because everyone works super hard and puts in crazy amounts of hours on making the robot the best it can be, and to see it all work out is wonderful," Heitmeier said.
This year's president and project manager, senior Sanjana Gagrani, has been on the team all four years of high school. To her, there are many things she looks forward to in regards to competition.
"I think seeing all your hard work on the robot and on our different awards submissions finally be presented is amazing," Gagrani said. "Also, being able to meet other people from other teams is really nice. I have a lot of friends from other teams and it is very exciting when you can meet up at competition and practice your Chairman's presentations with them and cheer for each other's teams. Usually, everyone is really nice and super open to helping each other out and having a good time."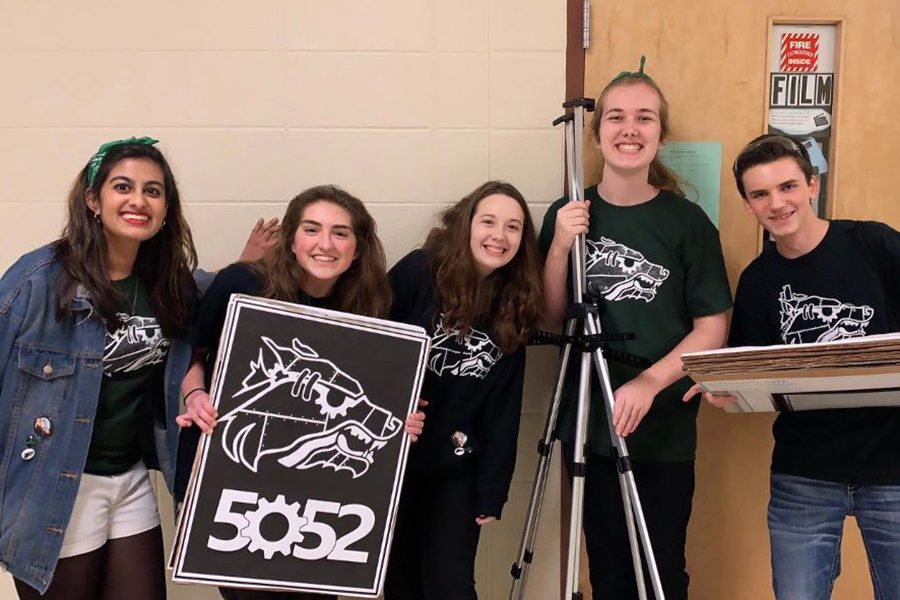 Chairman's is one of the most prestigious awards in FRC, which involves essays, the creation of a video and a presentation at competition given by selected speakers of the team. The award is given to the team that strives to spread the message of FIRST the most. This year, junior Makya Jordan, Logan Dane and senior Sage Langenfeld were Chairman's award presenters for the team.
"After Chairman's presented, I gathered the entire team outside the judge's room and everyone just started clapping and cheering for our presenters and I," Campbell said. " It was really wonderful being in such a loving and supportive environment. Everyone was smiling and laughing and it made me feel really good to be part of such an encouraging team."
At the second district competition that took place in Dallas, the team won the Entrepreneurship Award, which was based on a business plan they submitted. Senior and head of business, Katie Campbell, said that everyone contributed towards the awards they received.
"Every member had a role in some way that helped us win, whether they were cheering in the stands allowing us to win the spirit award, helping in the pit to keep the robot stable throughout the competitions, or driving the robot itself, it was such a fun time," Campbell said. "It was so nice getting recognition for not only our robot which advanced, but also our business team and our work to reach higher levels of sustainability."
With Worlds just around the corner, the team just shipped their robot to Houston, and junior Makya Jordan said that since they can't work on the robot anymore, they are focusing on team spirit for competition.
"We are all super excited because this is our first time back to Worlds since six years ago," said Jordan. "We are all getting prepared for team spirit by making tons of signs and our whole team does such a good job of supporting the drivers of our robot and cheering them on."