Lady T-Wolves defeated in third round of playoffs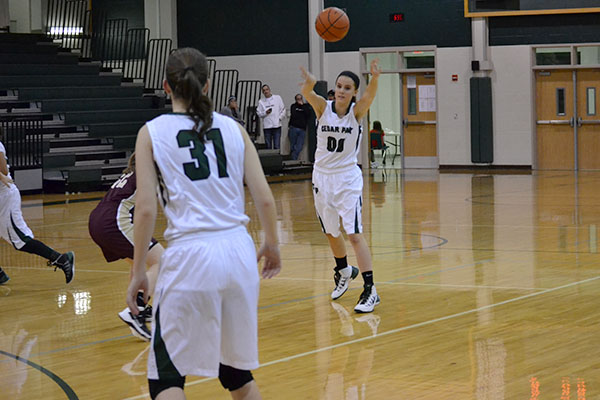 After winning against Crockett High School 81-46 on Feb. 10 in the first round of playoffs  and clinching the second round of playoffs against Clemens High School 65-61 on Feb. 14, the girls' varsity team was defeated in the third round by San Antonio Brennan High School 60-56 on Feb. 18.
Despite not making it to the state tournament, the Lady T-Wolves did remarkably well with an 8-4 regular season which carried them into the playoffs.
"By executing well on the 'must-win' games, we were able to finish at a good spot in district and be sent into playoffs," junior Rachel Pokorney, shooting guard, said.
According to junior point guard Alle Brittain, along with hard work, the varsity team owes their success to quick thinking.
"Being able to read the court and the other team's defense enables us to win," Brittain said.
The team's collective goals also propelled them to playoffs, according to senior varsity captain Brooke Swift.
"We wanted this for each other," Swift said.
Even though the team didn't reach the state tournament, they still executed their ultimate strategy.
"The strategy was to give a hundred percent in every game, and to encourage each other to play our best," Swift said.
With the season officially over, the juniors have their eyes set on next season and the seniors are looking forward to college. Swift, who signed with Southwestern University, will be majoring in Biological Sciences.
"The thing I'll miss most without a doubt is my team," Swift said. "We're sisters, and we'll stay in touch of course, but being on the court with them will be something I'll certainly miss."