Staff Picks: Must Try Restaurants Around Austin
Hang on for a minute...we're trying to find some more stories you might like.
From its parks, lakes and hiking spots, to being the live music capital of the world, Austin is known for many things. Austin's food trucks, vendors and restaurants also play an important role in making Austin special. Here are some restaurant suggestions around Austin that The Wolfpack staff recommends.
"I like this place because you eat outside all times throughout the year, and when it gets cold, they just put up a plastic cover and heaters," editor-in-chief, senior Deana Trautz said. "There is neon paint all over the wood ceiling and at night when they turn on black lights, it's amazing. Their tacos are super affordable and they even have a ukulele policy which says you get a free taco for every song you perform. The vibe is really Austin-like and I think it's better than any other place like Torchy's."
Favorite Dish: Wild Feminist
"My favorite dish is the Wild Feminist because I don't eat meat and it's still really good without it," Trautz said. "It primarily has avocado, eggs and potatoes and is about $3."
"It's a Mexican bakery combined with a Mexican restaurant," sophomore reporter Estefani Rios said. "They sell homemade bread, cakes, and traditional Mexican food."

Favorite Dish: Mocha Tres Leches cake
"Although the food is great–the bread included–my favorite food served is the Mocha Tres Leches Cake,"  Rios said. "It's a traditional tres leches cake with coffee in it which makes everything about the cake ten times better. A slice is priced at $3.99 which, in my opinion, is pretty fair considering it's a difficult cake to perfect and it's always freshly made."
"It's my families favorite restaurant for any special occasion," junior reporter Kaley Johnson said. "It's all small plates so we have it family style and they recommend about six to seven plates for that. Each plate is really unique, like duck egg or roasted quail."

Favorite Dish: The Stuffed Pretzel
"The stuffed pretzel is my favorite," Johnson said. "It's stuffed with chorizo, mushroom, squash, cheese and pepperoni aioli. It's super savory and salty and I could eat just have three plates of that for my meal and be happy."
"It's a very laid back, down to earth and musical type of environment that is very relaxing to be in," junior reporter Kieren Garner said. "They sell the usual American food but the atmosphere adds to the entire experience. It's super family-friendly and a nice place to eat outdoors as well."

Favorite Dish: Green Chile Fries
"The green chile fries there are my favorite because usually, I'm more of a health conscious person, but these fries are basically my only exception,"  Garner said. "They are definitely my guilty pleasure food."
"Zaxby's is a southern American style restaurant that serves sandwiches and salads," sophomore reporter Morgan Kasel said. "I enjoy going there with my family because it's a relaxed and friendly environment. They have this signature sauce that they put on most of their sandwiches which really makes the food stand out." 
Favorite Dish: The Nibblerz Sandwich
"The Nibblerz Sandwich is my favorite thing to get there," Kasel said. "It's basically a chicken sandwich with their signature sauce. I like it because it's simple but tastes really good."
"When I first discovered it, I thought they had the best tacos," senior reporter Jalen Gomez said. "Everything there feels more authentic and it was a nice change in pace from any other taco joint. They also have breakfast all day which is great."
Favorite Dish: The Alambres Taco

" The Alambres Taco is basically a taco with bacon, beef, bell peppers, onions and cheese," Gomez said. "It is really good and only $3.75."
"It's a slightly expensive French restaurant, but I love that it feels homey like comfort food for me," senior reporter Callie Copeland said. "It's really good for special occasions like birthdays and date nights and you can also sit outside, which makes me feel like I'm in the streets of Paris."

Favorite Dish: Escargot
"Escargot is amazing if you're an adventurous eater,"  Copeland said. "The butter sauce that it comes in is delightful and the dish is a great appetizer and fully immerses you in French cuisine. If you're not that adventurous, Toulouse also has petites courges, which is basically cheese filled bread with truffle oil. Toulouse is a little expensive, so it's best as a special occasion restaurant."
"It is an Italian restaurant in Georgetown that has great, quick food," junior reporter Justin Ballou said. "It's a cute restaurant in a tiny neighborhood near Georgetown Palace Theatre and we eat there whenever we go there. It is a good place to go with family after spending a day in Georgetown."

Favorite Dish: Spaghetti and Meatballs
"Spaghetti and meatballs is a classic Italian dish and I love it," Ballou said. "It's so cool to eat it in an Italian restaurant, especially in one that's not busy like Tony and Luigi's."
"It is a punk rock inspired restaurant, with a great atmosphere and great music, that serves up nostalgic food from way back when," senior multimedia manager Jordan Deyo said.

Favorite Dish: The Grilled Cheesus
"My favorite dish is The Grilled Cheesus," Deyo said. "It's a grilled cheese with buttered toast, American, mozzarella and cheddar cheese, with tomato jam and avocado."
"My dad played football at The University of Texas and spent a lot of time at Dirty's while he was a student," newspaper adviser Paige Hert said. "The owner, Doc, loved when football players came in to eat and he and my dad became friends over the years. After my dad graduated from college and started a family, we would stop in there occasionally to eat. The location, which has expanded some over the years, is mostly just a hole in the wall on Guadalupe. The inside is nothing fancy, but is decorated with Longhorn pictures and memorabilia. Among the hustle and bustle of the UT campus, Dirty's is a staple for UT students and Austinites who crave a juicy hamburger in a relaxed environment that is rich with Longhorn history. I don't go very often, but always leave full and happy when I do."
Favorite Dish: The O.T. Special, Fries and a Chocolate Milkshake
"Dirty's has good ol' greasy American hamburgers, onion rings and fries," Hert said. "The O.T. Special $6.75, fries $3.25 and a chocolate milkshake $4.25. Dirty's has always been a treat for my family since I was little. The food is greasy goodness and the milkshakes were always my favorite."
About the Writer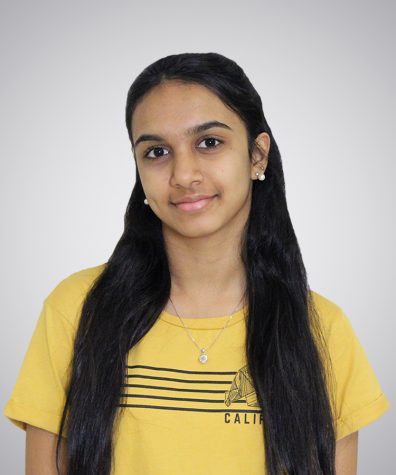 Nithila Ilangovan, Reporter
Nithila is a senior here at Cedar Park High School and this is her first year on The Wolfpack staff. She is involved in multiple honor societies, and holds an officer position in DECA. She primarily enjoys writing articles that people will be able to relate to, or learn something from. Outside of school, she enjoys participating in productions by her dance school, and is currently working on becoming a student teacher there. She also loves playing with little kids while she volunteers at Thinkery Children's Museum. Finally, she hopes to study Architecture in college  and will most definitely take her passion for writing along with her.