She's Always in the Hoop
Senior Reflects on Varsity Basketball Career, Future at Rice
Four time District Champion. Four time Academic All-District. Four time All-Region. Academic All-State. Three time All-State. McDonald's Invitational All-Tournament team. Texas Association of Basketball Coaches 2022 All Star Team. 2021 and 2022 State All-Tournament team. 
Senior Shelby Hayes is a beast on the court. 
Finishing this season at 37-0, Hayes ended her high school career with the most career wins and most playoff wins of any Lady Timberwolf: 127-9 overall and 19-2 overall in the playoffs. Hayes was also named co-MVP of district 25-5A, in addition to last year's offensive MVP for the district. 
"This year, I got co-MVP of our district, and ever since I was a freshman, I wanted to be MVP of our district," Hayes said. "I wanted to show that post players can do a lot. Now, I feel like basketball is moving toward a guard game, and I wanted to show that a post player can also do things to help the team. I wasn't the leading scorer on the team, but my presence and what I did on the court and my leadership, that is one of the reasons why I got this award. It means a lot, because it shows that other people see what I bring to the table."
Hayes is a post player, but has also played forward and center. This season, she scored 17 points, nine rebounds, three assists and averaged at least one block per game.
"Shelby spends countless hours watching films and working with individual trainers on her own time to continue to perfect her amazing fundamentals," head basketball coach Donny Ott said. "She is the absolute best leader, because she models expected behaviors and just doesn't talk the leadership walk. She is the defensive anchor for us and her court communication skills are another reason why our defense has the ability to do the things that they have been able to do." 
The Lady Timberwolves were named back-to-back State Champions on March 5 after they won 45-40 in a double overtime against the Frisco Memorial Warriors.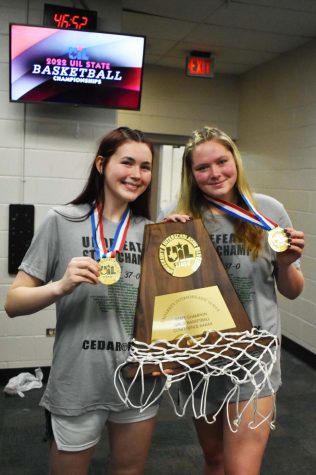 "Winning State is big," Hayes said. "It's crazy and super exciting. It's surreal. Growing up, [winning State] is like every person's dream, and to be able to accomplish that twice is insane. I'm just so grateful that I got to be a part of such an amazing team. I'm so happy that I got to play with these girls who [I have been] playing with since seventh grade and getting to finish with them was really cool. It meant a lot."
Outside of basketball, the girls hang out together, shop, get their nails done, play games, sing karaoke and have team dinners. This year, the team's mottos were "Never satisfied" and  "Play for each other."
"I felt like every time we stepped on the court, we did that," Hayes. "We weren't complacent, and we played together and didn't play for ourselves. We played for each other. I felt that our team was very diverse in a sense that we were all versatile and we could play any spot and anyone could score for our team."
In addition to playing for Cedar Park, Hayes plays for Nike Cy-Fair and the Elite Youth Basketball League (EYBL) circuit. She played for three years on the circuit and joined Nike Cy-Fair in eighth grade.  
"I just loved it," Hayes said. "[The head director] has helped me get exposure. When I first started playing basketball, I didn't even think about playing in college, I was just having fun. Then, as I developed, people were like 'Shelby, you're really good,' and I was like 'oh, thanks guys,' and so that became a reality. I had dreams and [the director] helped me achieve my goals. When you play on a circuit like that, and when you go to games there are college coaches lined up on each side of you. It was a little nerve-wracking my first time. It helped me to seize the moment, because when [I] played in that kind of environment, [I] got nervous, but once [I] continued to play in that environment, it just became normal."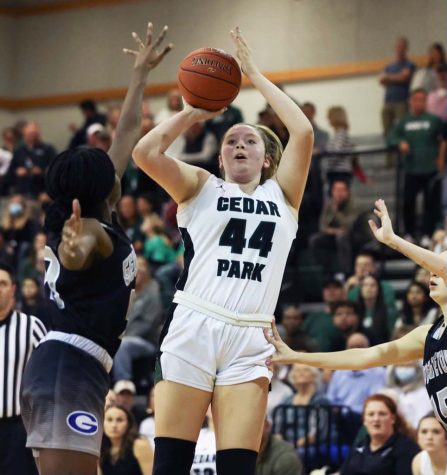 When she's not in school, Hayes practices with her trainer, Martinez Martin, who has been with her since eighth grade, and works on ball handling, post moves, footwork and triple threat work. According to Hayes, Martin really developed her game.
"Her physicality with her back to the basket and skill set to be able to face up and score off the dribble is special," Martin said. "When she first started, [her] parents and her weren't even sure if Shelby could play college basketball. But, after putting in the work to get better each and everyday, she ended up with scholarships, and here we are today watching her get ready to head to Rice University."
Hayes has been named the Greater Austin Sports Foundation Scholar Athlete, a 2022 McDonald's All American Nominee and All Centex Player of the Year Nominee.
"Shelby will arguably go down as one of the best high school teammates to ever walk the halls at Cedar Park High School, but what I hope people remember about Shelby is her pure heart, genuine care for others and willingness to lead," Ott said. "She is the model of excellence and showed that each day. Her intense work ethic and daily walk as a genuine human being will allow her to continue to flourish in basketball as well as life after basketball."
Originally, Hayes grew up in a soccer family and played soccer for nine years before she began officially playing basketball in seventh grade. She was then asked to join the Cedar Park feeder team for girls basketball. 
"One day [my family] decided, let's do a rec league for basketball in the off-season for soccer, and I was like 'alright, might as well join,' and I just fell in love with it," Hayes said. "I was like 'I don't know if I want to play soccer anymore.' I enjoyed playing it so much, and I wanted to grow my game. I kept moving up [and] moving to different teams until I got to the highest point you can be in AAU [Amatuer Athletic Union], which is the EYBL circuit."
Hayes also played nationally in the Peach Jam tournament, which is where all the Nike sponsored EYBL teams compete for the Nike National Championship title. The tournament takes place in Georgia and is broadcasted on ESPN. 
"The environment [at the tournament] is very cool," Hayes said. "They offer free drinks to players and free food after our games. There were so many college coaches lined up, which was really good exposure for all the players there. This time, though, I was already committed, so I wasn't really thinking about the exposure, I was just there to play and have fun."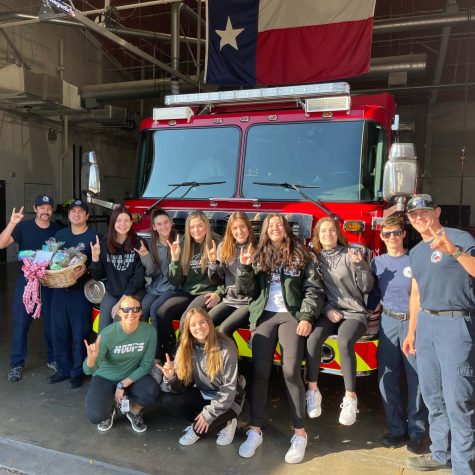 Outside of training, Hayes said helping others is an important part of her life. The past two years, Hayes led two service projects for the basketball team. This year, the team baked goods such as cookies and brownies for first responders. They dropped the goods off at two hospitals and five fire stations. 
"[The first responders] were all surprised and grateful," Hayes said. "With COVID-19 still being a big thing, we wanted to give something to the first responders who work so hard to make sure that they keep us safe. We thought that was important."
Last year, during the COVID-19 pandemic, the team wrote letters to people in nursing homes. They sent care packages with crossword puzzles, blankets and other activities. According to Hayes, the team wanted residents to have someone to talk to.
"When [I] do something for someone else, there's something in [my] heart that makes it whole," Hayes said. "[I'm] like 'wow, I was able to help this person,' and see how much it impacted them. I love to help others and make sure I am giving everything that I can to them. I'm a caring person, so I'm always ready to help. We got letters back from their families telling us how much they enjoyed [the letters], and it just meant a lot to me, and I know to them as well, so it was a really cool experience."
This past summer, Hayes trained kids at a facility in Georgetown and now leads some training sessions at the high school.  
"I started training kids because I wanted to pass on all my knowledge about basketball to them that I had learned from my trainers and mentors," Hayes said. "One of my biggest things [is that] I want to give back all the skills and lessons that I have learned that people have given to me. I feel like that's important for the next generation to follow because they're going to be taking that spot. I want to make sure I'm doing everything I can to help [the kids] be as successful as they can be."
Hayes is no stranger to hard times. At the age of eight, Hayes was hit by a truck while riding her motor scooter out of the driveway. Although she did not have to spend the night at the hospital, she had to get stitches in her knee and above her eyebrow. 
"It was a very scary moment," Hayes said. "It was a long recovery process as well, but I'm just glad nothing worse happened. This taught me that I have to take advantage of every moment, because I could have died. I just think about seizing every opportunity I have, because I don't know how long I have on Earth. Make the most of it and don't wait for something, just go out and get it." 
Throughout high school, Hayes has balanced academics and sports. Having good relationships with her teachers and coaches is important, Hayes said. She sets up agendas to stay on track to complete her work.
"Sometimes it has been easy, sometimes it has been hard," Hayes said. "I feel like the coaches here give us time, like if we are struggling in a class or need to make up a test, that is a priority. Academics take priority. If [I] don't pass, [I] can't play. [The coaches] want to make sure that we are not only passing, but we are doing well in our classes, and that is really important. It has been easier because of them to be able to balance everything. [I] have flexible coaches and teachers who will work with [me], [and] they totally understand."
In her free time, Hayes cooks, swims, sings, shops and spends time with her friends. She has also been a part of the National Honor Society for two years.  
"I like to hang out with my friends and family because [they are] very important to me," Hayes said. "We have a pool in my backyard which is very nice and is why I like to chill during the summer and tan. I come from a family that loves to cook so I inherited that gene, but I love either cooking dinner with my family or baking with my friends. It's always fun. Being a part of NHS is so amazing because I get to help others, and I love doing that, and so anytime I can go out and volunteer is always fun."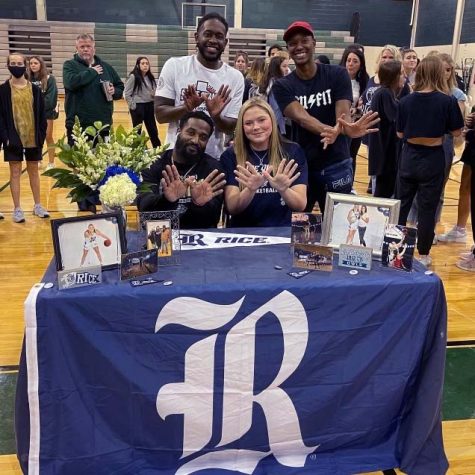 In the fall, Hayes will be attending Rice University on a full ride scholarship as part of the Rice Owls women's basketball team. 
"I loved the coaching staff [at Rice]," Hayes said. "Coach Edmonds and her staff were absolutely incredible, and they make [basketball] family-oriented. It's not just about basketball, it's about what [they] can do to help [us], and I thought that was really important. Rice has traditionally been a winning program, and I want to go to a place that has a winning tradition. Obviously [I] want to win, but I also want to go to a place that I will grow and develop as a person, and Rice checked all those boxes for me."
Hayes is family-oriented, and she said she wanted her family to be able to come and watch her play basketball. She said she chose Rice because of its proximity to home, which played a big role for Hayes in her decision. 
"When I got that Rice offer, I was talking to my parents and was like 'oh my gosh,' and it was insane because I knew how prestigious Rice is," Hayes said. "All my other offers were to really good schools, but [Rice] was the one that had that high academic status. For me, I want to go to a school where academics are a priority to them, as well as girls basketball. When I got that offer, I was so excited. Something about Rice just really stood out to me. Whenever I went and visited Rice it felt like home."
At Rice, Hayes said she will be majoring in business. 
"I feel like I'm a very outgoing and talkative person, so I feel like I can get along well with people," Hayes said. "I want to go into sales and marketing, and I feel like you have to be a people-person for that. I know it will be really fun, and I just love being around people, [and] I love meeting new people. I feel like [business] fits my personality."
In addition, Hayes said she is interested in real estate or sales for certain companies. 
"Fun fact, I love watching HGTV and those shows about homes," Hayes said. "Sometimes I just go and I look on house websites and just look at houses. It's fun to me. I appreciate the amount of effort and architectural thought that they put into homes as well as selling things in general are just exciting to me. Some might say I'm pushy, but I don't think I'm pushy. I am persistent. I just love being around people, and I feel like it would be a fun job. I don't want a desk job either; I like to go out and do different things."
Some of Hayes' college goals include winning a National Collegiate Athletic Association (NCAA) championship and a conference championship.
"I just want to be successful with what I do," Hayes said. "After I graduate from college, whether that's to play professionally or go into a job, I just want to make sure that I am successful. One of my goals is to do everything I can to make sure I am making the most of my life."
According to Hayes, there is a lot of blood, sweat and tears that went into her basketball career. 
"[To my younger self,] look at where you come," Hayes said. "I started out being a little soccer player, a terrible basketball player, and I just want to thank [her] for putting in that effort to get to where I am today. Some days I would go to training and be like 'I suck, why am I playing this sport,' and then I would remember, 'gosh, I can't put this ball down, I love it so much,' and just persevering. I've had to face a lot of adversity as well, so I want to say to my younger self, thank you for continuing to grow not only as a basketball player but as a person."