Timberwolf Musician Recognized at Regional UIL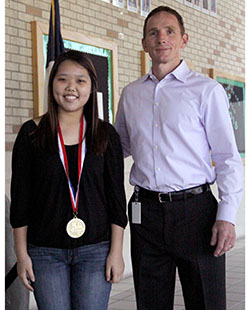 Eunice Lee recently received the outstanding performer recognition from competing at The Texas State Solo-Ensemble Piano Solo Contest. The competition is a  regional UIL contest consisting of 95,000 students who participated in the UIL music contest and 24,000 musicians who performed at the contest.
"This is my first year competing UIL," sophomore Eunice Lee said. "It was a really good experience."
This year, the contest took place in May. Out of all the students and performers, 269  students received the honor of being recognized as an outstanding performer.
"UIL competition is not more difficult than competitions that are not UIL, it's about the same," Lee said.
Lee is one of the students to receive the recognition as a pianist. As a pianist, Lee enjoys competition more than performing, but performing is still enjoyable for her.
"Performing is fun, but I enjoy competing more because of the adrenaline,"  Lee said. "Competition offers more of a challenge. I still really like performing because it allows me to share music with other people."
When she's not competing, Lee runs an organization she created called Music Eunited, giving underprivileged and disabled kids, grades first through fifth, piano lessons.
"It's still a work in progress but I'm looking forward to being able to enhance the community," Lee said.