A Rotten Listening Session
Top Five True Crime Podcasts
I'm obsessed with crime. Well, not the act of crimes happening, but the retelling of crimes that occurred. I'm what you call a true crime junkie and before you ask, "Isn't this the same girl who labels herself as a 'scaredy cat,' watches a horror show and then writes about it?"
Yes, hello that's me, nice to meet you.
However, I make an exception for gore and scary situations when it comes to true crime. I still get scared and I've gained a lot of fears due to the crimes I've learned about, but there's something very captivating about the storytelling that I adore.
Now, let's get started on podcasts that I know will knock your socks off.
1. "Crime Junkie" (5 out of 5 microphones)

If you know anything about true crime and podcasts, you might know that the podcast "Crime Junkie" is a classic. This podcast is co-hosted by Ashley Flowers and Brit Prawat as they dive into the different aspects of true crime from missing people, cold cases, serial killers and murders. What I like about this podcast is how interactive the podcast is; listeners can view posts on their website with photos and additional sources about the case or suggest a case. There is also a really unique aspect to their podcast, as there are times in which they are able to get in contact with family members of friends related to the victim and include the interview in a later bonus episode. If you are interested in listening to this podcast I recommend Episode 22: Kenia Monge. It's a good episode to dip your toes into the world of true crime and podcasts.
New episodes are published every Monday on Apple Podcasts, Google Podcasts and Spotify.
2. "Rotten Mango" (5 out of 5 microphones)

Although my love for true crime podcasts is somewhat recent, this podcast is one I religiously listen to every week. This podcast is co-hosted by Youtuber Stephanie Soo and her fiance. If you like a host with a bit of spunk and a big personality, this podcast is for you. They dive into the dark and unusual world of murders, serial killers and cannibalism (I wouldn't recommend eating anything during those episodes.) What draws me into this podcast is that they not only discuss crimes in the U.S but also foreign crimes. Soo's storytelling skills are superb which will make you anticipate the next episode. My recommendation for a case in the U.S is Episode one: "Toy Box Killer," however for a case outside the states I recommend Episode two: "The Murder of Junko Furuta." All episodes contain explicit language and are NOT for the lighthearted. Seriously, if you haven't explored the world of true crime, "Rotten Mango" is not for you.
New episodes are published every Wednesday on Apple Podcasts, Google Podcasts and Spotify.
3. Paper Ghosts (5 out of 5 microphones)

This is a fascinating podcast that blows my mind every time a new episode is published. Investigative journalist and true crime author, M. William Phelps, investigates four different cases for the disappearance of four missing young girls in the 1970s with recorded interviews, new leads and unseen documents. What I find intriguing about this podcast is that Phelps lived in the area where the disappearances took place and has been trying to find the person responsible for the abductions for more than a decade. is experience and his connection to the case brings in a whole different perspective that is needed for the cases discussed. If you're like me and can't remember facts to save your life, this podcast is a match. Phelps includes a small snippet of the crucial parts told in the previous episode in the following episode, which I LOVE because it saves so much time and a lot of the brain cells that I'm told I lack (my younger sister is vicious.)
New episodes are published every Wednesday on iHeart Radio, Apple Podcasts, Google Podcasts and Spotify.
4. "My Favorite Murder" ( 4 out of 5 microphones)

You wouldn't think you would laugh because of a crime podcast, but this one will crack you up. This podcast is co-hosted by comedian Karen Kilgariff and Cooking Channel host, Georgia Hardstark, a great duo that knows how to make you feel like another friend in the group. What makes this podcast so engaging is the entire concept of it, two friends tell each other their favorite crime stories and also include listeners with their minisodes. Minisodes consist of listener-submitted hometown murder and paranormal stories, secrets and any other topics Kilgariff and Hardstark request. Although I love the full-length episodes, the minisodes are my favorite. If you're going to give "My Favorite Murder" a chance, I recommend minisode 186 and episode 32: "Just the 32 of us."
Full-length episodes are published every Thursday and minisodes are published every Monday on Apple Podcasts, Google Podcasts and Spotify. Episodes do include explicit language.
5. "Solved Murders: True Crime Mysteries" (4 out of 5 microphones)

This is the podcast that I'm not super familiar with yet but thought I would include anyway because it's very different from the other podcasts I've mentioned. This is a series produced by the Parcast network and co-hosted by Carter Roy and Wenndy Mackenzie. What sets this podcast apart from the others is the audial reenactment and sound effects included. It shocked me the first time I heard the podcast, but I learned to enjoy it. Roy and Mackenzie discuss the facts and with a seamless transition, the reenactment of the case fully paints the scene of the case. It's something new that I experienced and if you're someone who likes to really immerse themselves in a story, this podcast is for you. This also is a great choice for people who like to know all the answers to a case, as all of the cases are solved. For this podcast, I really recommend the episodes revolving William Guldensuppe, the whole case is very bizarre.
New episodes are published every Wednesday exclusively on Spotify.
That's it! Now, there are five podcasts you can listen to and possibly gain paranoia from. That sounds fun, right? If you listen to any of these podcasts, please let me know. Comment below or contact me at [email protected] and tell me what you thought of the podcast(s) you listened to.
Leave a Comment
About the Contributor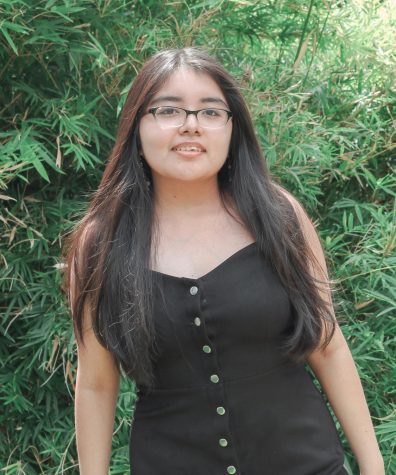 Estefani Rios, Editor-in-Chief
Estefani or Stef is a senior and third-year reporter. This year marks her second year as Editor-In-Chief and she is very excited to continue producing articles the community is interested in. In addition to being a staff member of The Wolfpack, she is also part of the yearbook staff. She enjoys learning and writing about peoples' stories and passions. Estefani hopes to attend UT next fall to major in Social Work. Some facts about her include; her love for tea (the beverage not drama), socks, funky earrings and artists Ashe and Harry Styles. She is still prone to tripping over her own feet, losing socks and laughing at bad puns.