Hands Full After Celeb Competition
Adding to Trophy Collection, Many Wins at Waco Competition
This past weekend, the Celebrity line officers and soloists took on their annual competition in Waco. They won a multitude of awards for their line officers, soloists, a "Kick Master" award and an award for a duet.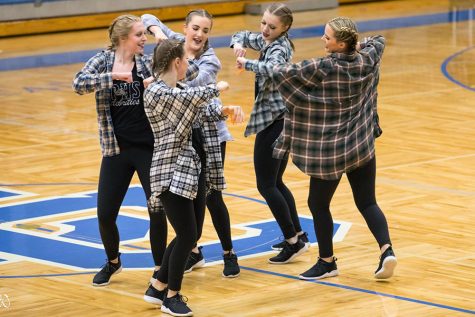 Celebrity line officers,  juniors Caiti Dodge, Kennedy Haught, Jenna McQueen and seniors Gracie Walker and Tori Rankin, took home grand champion for their line. In addition, the line officers won Sweepstakes, the Judges Award, Best in Categories and Supreme awards for Jazz, Contemporary and Hip Hop.

Being the close-knit group that they are, McQueen was not surprised by the officers' success.
"We are just a very close group of people and dance really well together," McQueen said. "We always do well when we dance together."
As for soloists, sophomores Cally Hall, Carolynn Solorio and Reagan Orr, junior Lauren Allen and senior Claire Hodges achieved division one level in their solos. Solo finalists were juniors Jenna McQueen, Kennedy Haught, Sydney Polishook and senior Gracie Walker. The overall solo award was given to line officer and senior, Tori Rankin.
Hall says that her routine meant a lot to her, and she is glad the judges appreciated the meaning of her dance.
"It brings my confidence up when I win or do well at competitions," Hall said. "I feel good about all the work I've put in and the story I'm telling with my solo."
One of the dancers took home more than the Kick Master and division one solo award that day. Senior Claire Hodges left that day having performed the last time with her sister in competition.
"It was kind of a surreal moment because I knew it was our last competition, but at the same time it didn't feel like it," Hodges said. "It was a good feeling to know I was dancing with my best friend."
Apart from being a senior and it having been her final competition as well, Rankin says how the experience turned out well for her team.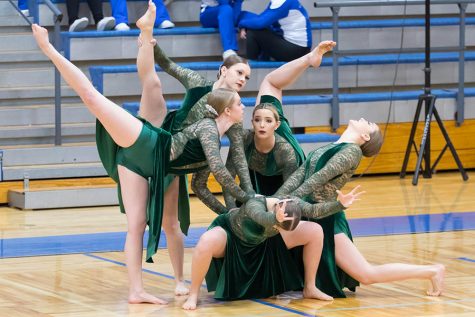 "It's always super fun to compete with my fellow officers," Rankin said. "It was bittersweet being our last competition but all of our hard work was worth it because we ended up the Grand Champion title."

Their dances from this competition can be seen in their spring show which will take place April 19-21. More information can be found here.