It Takes a Village
Wilkinson Quintuplets Take on High School
Two blondes, one and two. Two brown-haired, three and four. One redhead, five. As these colorful puffs and ponytails of hair bobble around in the seats, the rest of their bodies are pushing each other, some reading, some arguing, some half asleep. College Statistics Professor Rachelle Wilkinson looks through the rearview mirror of her white van to count her heads. Reassured everyone is out of the house and ready for the drive to school, she turns around and starts the van.
"Reassured," however, isn't even close to an emotion Rachelle was feeling not 16 years ago. That was the year she found out she was pregnant with quintuplets. Now, all five of the quintuplets attend Cedar Park. 
Two kids, Riley and Kaiya, had already blessed Rachelle and her husband, Jason Wilkinson, when the happily married couple wanted to try for another baby. Two years after Kaiya, the younger of the two oldest siblings, was born, and Rachelle and Jason decided they were ready for one more child; one more to make their family feel complete. Six months on two pregnancy medicines passed, and getting pregnant turned out to be a challenge. Being very religious and family-orientated, Rachelle said she prayed about it a lot. She turned to a fertility specialist who ran tests and gave her another medication to take where she would give herself a shot every day. 
"That [medicine] worked extremely well," Rachelle said.
When she started the new medicine, Rachelle was given statistics on the number of babies she would have with the kind of drug she was taking. There was a 30% chance she would even get pregnant, and of that percentage there was a 20% chance she could have twins, and a 5% chance she would have triplets. No other statistics were given to her, for other circumstances were so rare they didn't feel the need to inform her of them. The medicine ended up doing its job, though, because Rachelle got pregnant not long after starting it.
"I didn't know how I could possibly handle two or even three more kids all at once," Rachelle said. "But I talked myself into it, and said it would be fine if that did happen." 
The doctor had readied her for the ultrasound and told her what she would be seeing. If they saw a flashing light in her stomach, it meant there was a beating heart. He put the probe on her stomach and right away there was a flashing light.
"I remember thinking, 'oh, one flashing light, so cute,'" Rachelle said. "Then, he moved the probe, and there was another. I was like 'twins… Great!' The probe was moved again to reveal another flashing light, and then the last time it was adjusted, it showed the final two hearts. The doctor's face was terrified and he turned to us and was like 'there's five.'" 
According to Rachelle, a shock ran through her body at that moment. She said she didn't even know where all the babies had come from, for she had been watched so closely by many doctors the entire time she had been pregnant. The second she realized the reality of the situation, she started crying.
"I was given so many scary statistics about reducing pregnancies," Rachelle said. 
The doctors told her there was an impossible chance they would all be born healthy, and the best thing to do was to abort most of them. 
"I don't believe in abortion, but they were telling me that my health would be in danger, and that I was being selfish," Rachelle said.
She was given a pregnancy reducer's number, and was sent home to decide what to do.
"I spent two weeks getting as much information as possible." 
From pregnancy specialists to reduction doctors, she learned what would happen if the babies were aborted. Everyone she spoke to gave her a breakdown of the process.
"The [process] sounded terrible," Rachelle said. "I didn't know what to do. Then, one day I was talking to someone at church, and the strongest feeling I've ever felt came over me. I knew right then that I shouldn't abort or abuse, and that God Himself wanted me to go through with [the pregnancy]."
After this decision, Rachelle began preparing for the birth that would be potentially record breaking. After searching Texas for a doctor who fit her needs, she had to look elsewhere, for everyone she asked for help in the state had called her an idiot for trying to birth quintuplets. She finally found someone in Arizona, where she relocated for her childbirth. 
According to Rachelle, the doctor told her that the odds were against her, but that he would help the best he could.
"I had to get my cervix sewed to keep the babies in," Rachelle said. "I took medicine to stop contractions, and my goal was to deliver at 34 weeks."
The day of the delivery, 29 people were in the delivery room with Rachelle as she went into labor. Rachelle herself had four doctors, and for every baby there was a three person team. Two videographers and a photographer from the hospital were there to capture the moment, and there was even a person in there with the designated job of writing down the birth times for each of the quints. All these people, along with family, surrounded her as she readied to bring all five of the flashing lights into the world.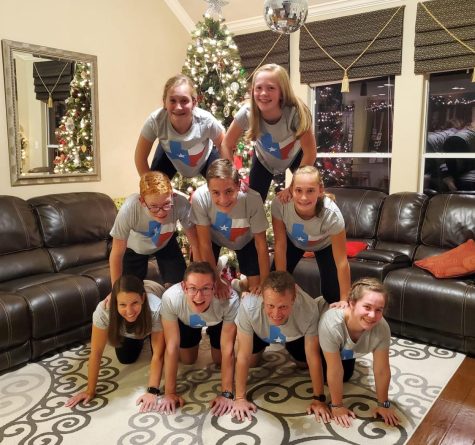 The quintuplets made their grand entrance into the Arizona hospital room on July 31, 2007, during a C-section. Kassidy Wilkinson, who came first at 8:17 a.m., took the title of the heaviest at birth quintuplet ever born in the United States. Kaydence, who was born second, breathed in air for the first time at 8:18 a.m. Then, at 8:19 a.m., Rustin, Kyndall and Ryder (in that order), were all born in the same minute. When the quints were weighed together, they broke the record of the heaviest set of quintuplets in the country, weighing in a whopping 21 pounds together.
"None of them have disabilities," Rachelle said. "They came out perfect." 
In the many long nights, dirty diapers and bottle-feeding that would consume Rachelle's first months as a mother of quintuplets, she would see firsthand how hard taking care of five babies at once would be like. To this day, Rachelle still has the logs of every diaper-change, every pajama change, and so on that were written on each occurrence per quint. Rachelle developed a color-coded system for the quints and wanted to make sure everything went right when getting the babies adjusted to life together and making sure they stayed healthy.
"We never lacked anything," Rachelle said. "People donated their time and energy, and other things, like one time we found a pack of diapers at our door. I really like the whole 'it takes a village,' because, it did, and I had the village."
Fast forward to 2021, and Rachelle said she is still so grateful to have every quintuplet with her every day. Her blog has many stories from when she was raising the little quintuplets. One "Quint Olympics" event, commentaried by Kaiya and Riley, explains how potty training worked in the family, something no one in the Wilkinson family misses to this day.
Rachelle's weekly schedule has changed drastically over the course of the past decade and a half, but things are starting to look consistent with the quints getting settled into their first year of high school. Full-time professor, full-time mom and full-time chauffeur are only some of the titles that decorate Rachelle's persona. She said she doesn't get much free time. 
"What's that?" she said. "I spend a lot of time in the car, taking people to their millions of things."
Although their life is busy, the Wilkinson family still finds time to spend quality time with one another. Watching Korean dramas is a family favorite, and every year the family goes to a beach in Florida, where they spend their entire Thanksgiving break playing volleyball and participating in Recycle Runs.
Freshman Kassidy Wilkinson said she has always found the best things in being a quintuplet and enjoying them the best she can. Some of her favorite things about being a quint include never being in awkward situations, because especially at large events, she never has to struggle with not knowing anyone. 
"Sometimes [at social gatherings] when my mom wants us to go talk to people, I say 'Kaydence! Come socialize with me,'" Kassidy said. "That's how we work."
Kassidy has swim and show choir with Kaydence at school, but no other classes with any of her other siblings. Freshman Ryder Wilkinson, the youngest quint, has biology with Kaydence, but no classes with other quintuplets. Although there are many good things, there are struggles to being a quintuplet family.
"Every single time we take pictures [is hard]," Kassidy said. "There's five of us. One person always has to blink. And showers? Oh yeah, that's a problem." 
According to Ryder, the big fault of being a quintuplet is being called adorable.
"When people come up to you and say 'oh, you're a quintuplet? You're all so cute [bothers me]," Ryder said. 
Even when the drawbacks of being a quintuplet sometimes stick out a little farther than the joys, the quintuplets feel lucky to all be together. Every week they go to church and have family dinners. They share special times with one another and make memories that will last forever.
"When I'm laying in bed at night before I fall asleep, after my prayers, I just think 'wow, I like being a quintuplet,'" Kassidy said.