Leaping into the Holiday Season
Holiday Show Performances from Celebrities, Color Guard, Cheer, More
This past Saturday on Dec 9, the Celebrities dance team hosted their annual Holiday Show in the PAC. Along with the Celebrities and Emerald dance teams, there were also performances from dance 1 classes, Crimson Cadets, color guard, cheer, Spanish club and Sign Language club. 
Admission was $5, but for the past few years it has been a tradition for the Celebrities to also accept a toy for Blue Santa. Senior Gracie Walker says that accepting toys as an alternative is just something they do to help out.
"It's a good way to give back a little bit of what we have because we are fortunate enough to go to such a great school with the dance team that we have," Walker said.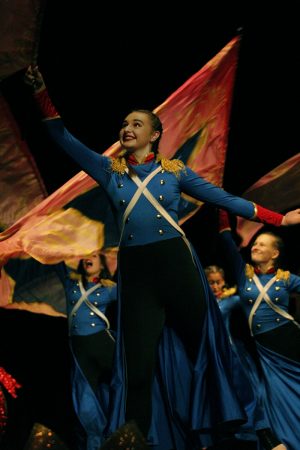 She says that this show is one of her favorite parts of the year because as a line officer, she is able to choreograph an entire dance. Walker enjoyed seeing the team's hard work pay off.
"It is a little more laid-back than our spring show, but we still get to showcase our talents," Walker said. "We practiced for two hours every morning for over a month and we were very pleased with our performances this year."
The Celebrities performed five "squad dances" where line officers such as Walker choreographed, as well as a "commercial" hip hop dance where they were dressed up in Christmas outfits.
Along with the student performances, kids from the Celebrity's "kiddy camp" had a chance to show their moves before the intermission.
Moving forward, Celebrities will be working on the competition performances as well as their annual spring show.