Nationals Bound
Theater competes with schools across Texas, Advances 24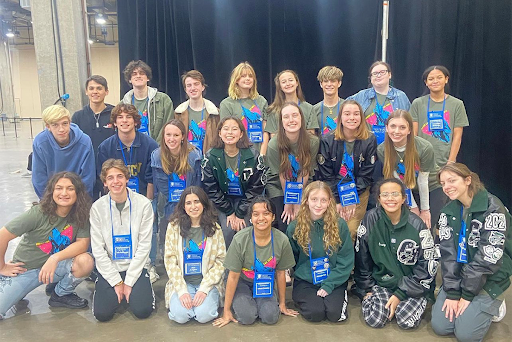 The bright stage lights pierce through the darkness of the auditorium. Theater students from all across Texas gather along with judges to gaze at hundreds of performances, anxious to be the next group performing. The pressure is on; everyone is watching. 
Seniors Brady Allen and Aidan Johnson are on that stage alone. They and many other students performed their theater showcase over Thanksgiving break in the Texas Thespians competition at the Gaylord Hotel. With hundreds watching, the two had one opportunity to impress judges and students alike. 
"They're not quite like auditions where it's in a small room with three people," Allen said. "But in this, you're put in a large room with hundreds of students circling around you, and they're all competing against each other. You just have to perform. You may only get their clothes, whatever chairs you need. And then it's really just your time."
The two performed a musical number from the show "Falsettos," a personal favorite, according to the two actors, revolving around a married man who struggles to keep his family together after falling in love with another man. 
"This three minute long song shows the entire range of our relationship between these two," Allen said. "So, I really like being able to show that to people, because what I'm doing here is showing things that I care about, and how I want to portray it. And I think it's cool being able to show something that a lot of people care about."
Despite some technical difficulties and a lot of pressure, Allen and Johnson are now heading to nationals later next year due to their performance.
"We were so excited to advance because we were in a room with everyone we competed against and saw everyone else go, so we knew they were good," Allen said. "Personally, the management of all the competitions was not the best and they gave us such a tiny room with the worst speaker ever, but our performance went well anyways."
The competition was a showcase of scenes, duets, musical performances, monologues, technical production and more. Seniors Alexis Adams and Ryleigh Jordan contributed to a scene from the play "God of Carnage," collaborating exclusively with other students in a hands-on approach.
"So with the competition pieces, it's very student-led and directed," Jordan said. "Every student kind of puts together their own piece without our director's input. So it's just a collective, if you're doing it with a group like we were, it's kind of us all just kind of putting in our own pieces and our own ideas. So we're all kind of individually leading the group."
The competition season is filled with various challenges for the students planning their scenes, but students like Adams said they are appreciative of the learning experiences that come with the certain roadblocks of working in a team. 
"I think it's important for everyone to know that even if you don't necessarily like a person, you can still work with them," Adams said. "And you can still make a really good competition piece. You know how sometimes your teacher will assign you a group project or sometimes in theater, the cast isn't necessarily the cast that you thought it was going to be and there's someone in the cast that isn't exactly your favorite at first, but you always end up getting closer to them in the end."
Thespians is an extremely important aspect to many in the theater community, according to Allen, and is a way for students to highlight the progress they've made as actors, singers, dancers or technicians.
"We've been practicing a lot and we're just going forward," Allen said. "We both know that we have the chops to do it and so we're just going to put ourselves out there and try and do the best that we can."