Rho Kappa to Host Movie Night March 1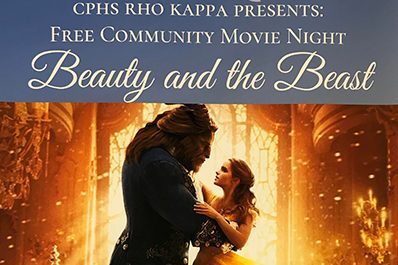 Dozens of posters have been hung throughout the school with pictures of the classic Disney movie, "Beauty and the Beast," put up by Cedar Park's Rho Kappa Honor Society, who will be playing the movie March 1 in the cafeteria.
Rho Kappa is an honor society dedicated to the promotion of social studies through community events, Twitter and more, according to their website.
Last year, Rho Kappa held a similar movie night showing of "Night at the Museum," which senior President Alyssa Fielding said was a family-friendly success.
"It was a little bit of a smaller event, and there were definitely a lot of families there," Fielding said. "We are hoping for a bigger turnout this year, so we have been talking a lot to the elementary schools."
Fielding said Rho Kappa has a few Disney-inspired tricks up their sleeves to promote the event to younger audiences.
"We are including some princesses this year because we are screening 'Beauty and the Beast'," Fielding said. "We are going to have characters from the Princess Tea come and sing before it starts."
Fielding said the princesses are arriving at 6:30 p.m. to greet the children and the movie will begin shortly after 7 p.m.
While the Disney movie and princesses are not historical, sponsor Jennifer Fortenberry said the event has a larger importance.
"Proceeds from the event will help the honor society itself," Fortenberry said. "And a charity is to be voted on and named at the event."
Faculty members, sponsors, coaches and leaders of student organizations were asked by Rho Kappa to nominate a charity by submitting a Google form.
"Each organization here at CPHS was able to nominate a charity," Fortenberry said. "Any and all community members attending the event will get to vote on which charity will receive the funds."
Fortenberry said that this event is mainly to foster a sense of community, raise money for a worthy charity and for Rho Kappa.
"Rho Kappa's goal in hosting this event is to raise awareness of worthy causes important to students at CPHS," Fortenberry said. "And to cultivate a culture of voting."
There is no fee for admission, but there will be concessions sold and donations are encouraged.
For more information, you can view the Rho Kappa website and the official Rho Kappa twitter.