The lights dim and the smell of popcorn fills the air. All ages of audience are in the theater, prepared to watch a once-in-a-lifetime movie. Laughter commences, jokes are made and sobbing begins as the oh-so-real struggles of womanhood are expressed. Whether the crying in the theater was from joy or from sorrow, the Barbie movie was a serious tearjerker.
"It was more than just comedy," librarian Keri Burns said. "It was really speaking to a lot of the plight and struggles of women."
The movie "Barbie" was released on July 21 and was highly anticipated for the collaboration of famous actors and actresses including Margot Robbie, Ryan Gosling and Will Ferrell. And while many people were expecting a cheerful two hours like the trailers suggested, the everlasting shadow of feminism struggles quickly became the focus of the movie.
"I didn't realize that it was going to be as in-depth as it was," biology teacher Adam Babich said. "I thought it was just a fun, campy movie and when I went and saw it, I just instantly fell in love with the characters, the music, it was great."
Story continues below advertisement
Burns said she thinks "Barbie" overcame today's stereotypes of being a feminist and the negative connotation that supporting women has garnered over the past several years.
"I think the Barbie movie did a great job of showing that you can be for women and not be against men," Burns said. "I feel like we're finally getting away, I hope, I think, I pray, from feminism being a dirty word. ['Barbie'] did a really good job of showing feminism is not about hating men. It's about wanting equality for women and men; it's [about] giving [an] equal opportunity to everybody."
Babich said he believes that the feminist views portrayed coincided with the comedy perfectly and created a balance between the two.
"They communicated the message effectively, tactfully, wittily, and emotionally," Babich said. "The comedic timing was perfect. When they were all dancing at the party, Barbie, while still dancing and smiling, asks the other Barbies if they ever think about dying. The juxtaposition of a serious question with the light and fun atmosphere made me chuckle out loud."
Alongside the humor, "Barbie" displayed serious topics like growing old and mothers losing their sense of self while raising children, with the recognizable line, "we mothers stand still so our daughters can look back to see how far they have come" that created a sudden sense of melancholy, even making some viewers sob in the theater.
"They rang some true moments in there but they also [balanced them] with comedy," Burns said. "[There were many] gut-wrenching moments. I cried when Barbie realized that the world wasn't so fem-positive and happy as she hoped it would be. It just hit me."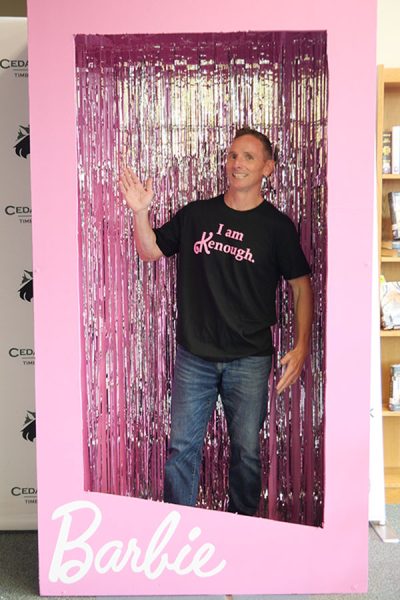 Junior Eren Bassett said she believes the promotion of feminism in the community is important, but the way "Barbie" portrayed it did not quite meet her expectations. However, there were a few scenes where the emotion was just too strong to not get watery eyes.
"I did come close to crying," Bassett said. "It talked about very real issues [in society]. I think the topic of feminism is fine and needs to be shared. Just whenever a movie tries to push it so forward like the Barbie movie did, it makes people want to steer away from it more."
Babich said that the scene that resonated with him the most was when Barbie went back into Barbie world feeling defeated due to a sense of hopelessness. He believes this feeling is one every human has experienced at least once in their lives.
"I think we've all felt that before," Babich said. "Where we have a plan of who we are, [then] our world gets turned upside down and we're like, 'who are we, [or] what's [our] purpose?'"
Dustin Nguyen, a junior and movie fanatic, said that while the movie's message was overbearing, the jokes throughout were amusing.
"I feel like it was definitely overhyped [and] the message of the actual movie was force-fed," Nguyen said. "But I think that the movie was actually really funny and the comedy was really great."
Although Bassett was also not a big fan of Barbie, she admits that the humor was a plus and appealed to all audiences.
"I really liked the jokes in the movie, I thought the humor was really good," Bassett said. "I think [the jokes were] good for both an adult and a kid audience."
However, kids aren't the only ones that are able to enjoy the Barbie franchise. As the beginning of the school year commenced, Burns and her assistant librarian, Amy Koski, wanted to engage high school students by incorporating Barbie into the library's ambiance, so they created a Barbie box as a photo op. It is still available for students to take photos with.
"It was a dream that [Koski] and I had together," Burns said. "She and her husband made it happen. They spent a whole week building it, painting it, and everyone has loved it."
Cedar Park's very own principal John Sloan even posed for a photo inside of the Barbie box during its debut.
"[Sloan] was very supportive and happy to be the face of Kenough," Burns said.
With both positive and negative reviews, "Barbie" was a blockbuster this summer, making $155 million on opening weekend, according to Forbes. In the movie, it is mentioned that the purpose of Barbie is to help young girls imagine a life other than what is stereotypical. In 1959, when Mattel created Barbie, she was the first non-baby doll for kids.
"Being able to see Barbie as an astronaut, Barbie as a politician, Barbie as a teacher, Barbie as a [whatever]," Burns said, "helped kids who didn't see [these paths] in their neighborhood [or] didn't see it in their family be able to imagine [endless possibilities] for themselves."