Taylor Swift releases new album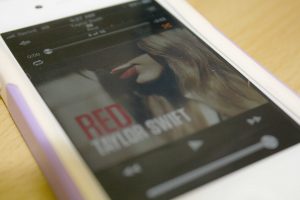 A lot more pop and a lot less country, Taylor Swift has gone mainstream. She just released her newest album, "Red," on Oct. 22.  The album topped in the all-genre Top Albums chart on iTunes in just a short 36 minutes of release and scored 13 of her songs from this album on the Top 20 Songs on iTunes. Teens all of the globe are trending about the album.
            Swift presented a new personal style when she released the first single from "Red," "We are Never Ever Getting Back Together," on Aug. 16. She showed more of a pop style instead of her better known country style. The teens at Cedar Park have been getting excited about all of Swifts new songs.
                "I didn't think I would like Taylor Swift as a pop star, but I love all the songs on "Red," they're amazing," freshman Maddy Moorhead said.
            This country/pop star sold 1.208 million copies of "Red," in the first week in the U.S. alone. Girls are enjoying these fresh tunes.
                "I haven't listened to anything else but her new album. I'm obsessed with these new songs," freshman Kenzie Cherniak said.
                In Swift's last album, "Speak Now," she began to show more of a pop flare when she released "Mine," and "Speak Now," which was a small step to go further into a pop genre.
                "The transition to pop was rough in her last album, but "Red" brought a new modern style with a little country flare," sophomore Sarah Alanis said. "My favorite songs on this album would have to be "22" and "The Last Time."
                "Red," seems to be all that girls are talking about. The album gave a new perspective to Swift's fellow fans, but also opened an opportunity to get even more fans. These fans, new and old, will just have to see what surprises Swift has next.