Baby Got Bots
Three FTC Robotics Teams Initiated This Year
Desktop computers, CAD devices, FTC starter kits and an entirely different set up replaces the vacant lab, once used for digital forensics classes, down the hall of the east wing upstairs.
This year, the school is officially home to three FTC (FIRST Tech Challenge) Robotics teams.
FTC is a competition that involves building a robot for a specific challenge over a span of ten weeks. Members can focus on hardware, software, design or business and collaborate throughout the entire process with fellow team members to create a robot that they will use to compete with.
Seniors Alden Yi and Himaani Ramesh, as well as junior Zachary Manuel are the founders, or project managers, of the three FTC teams.
While FRC (FIRST Robotics Competition) Robotics Team has been around for the past six years at Cedar Park, there are many differences amongst FRC and FTC. FRC teams get strictly six weeks to build a robot, and the challenges itself are entirely different than that of FTC.
"FRC is very general and has a lot of members that they can work with, which leads to people being left out in the building process," Yi said. "FTC teams have less people and funding than FRC, which requires more efficiency with resources such as tools, money and manpower."
Ramesh said that FTC is a better fit for her as well.
"FTC programs in Java, which makes it easier for those in computer science classes to pick up on," Ramesh said. "I also felt that a smaller group of people would enable the team to be more collaborative and less competitive for getting to participate."
Junior Makya Jordan recently joined FTC from FRC because of her schedule and the number of members in FTC.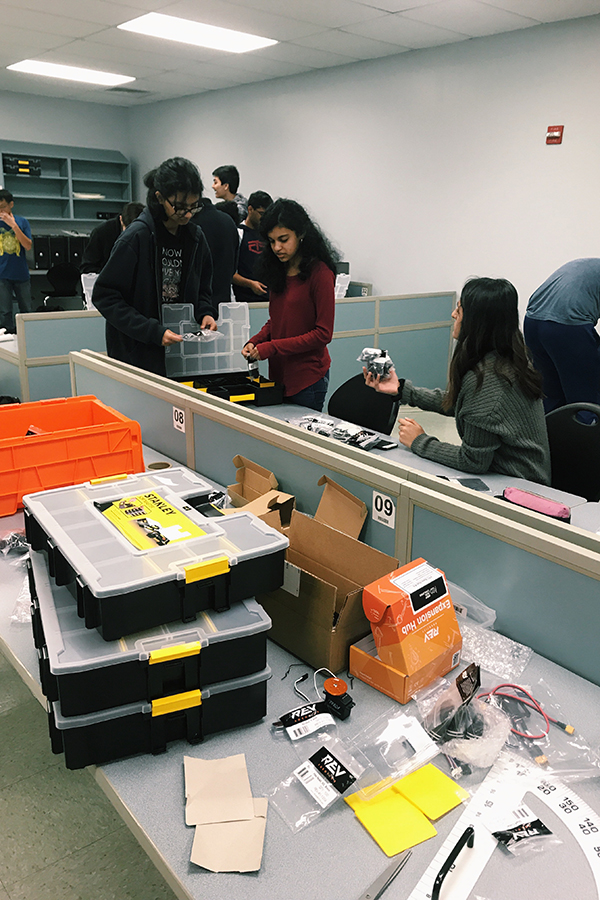 "The club happens to meet on Mondays and has a quicker competition season, which works best for me," Jordan said. "I'm someone who works better in smaller environments, so getting to learn in a small group has helped me a lot."
Yi's team has their own plans for this year, and is looking forward to the season as he has members with expertise on his team.
"Our team is a tight-knit group of guys who want to go compete and win competitions," Yi said. We have multiple people with previous experience in Robotics coming to our team as major contributors, which will help us greatly."
While Yi and Manuel's teams are co-ed, Ramesh has made her team exclusively for girls to promote young women building their confidence and interest in STEM.
"There aren't many robotics teams that are all girls teams because of the scarcity of women in engineering," Ramesh said. "I hope to encourage girls to get more interested in robotics by providing a hands-on experience that is both fun and challenging. By having an all-girls team, young women can get the support they need to pursue their dreams in computer science and other related subjects."
Ramesh said she is looking forward to building a sense of community within FTC and further encourage girls to join.
"Because it's our first year, I'm focusing on laying the foundations for the years to come," Ramesh said. "I want to make sure that FTC stays a friendly and helpful community that everyone feels welcome to be a part of."
The project managers of the new FTC teams said they plan to work hard to ensure a strong foundation for success in the years to come. Meetings are Monday after school in Lab AE211. For more information on FTC and this year's competition, visit: https://www.firstinspires.org/robotics/ftc