Building a Bright Future
FCCLA Students, Instructor Speak About Organization, Competitions
Culinary. Interior Design. Ready Set Teach. Fashion Design. These are just a few of the classes FCCLA, or Family, Career and Community Leaders of America, encompasses. Each class offers a range of opportunities for students, from learning the basics of how to prepare meals to designing clothing to assisting younger children with their education. 
This year, due to COVID-19 restrictions, competitions have been limited; however, on Jan. 29, five students traveled to Corpus Christi to compete in the Regional Five Competition for Culinary Arts and one Interior Design team competed virtually in the Interior Design FCCLA Star Competition. 
The FCCLA organization is aimed to prepare students for their future lives and careers and teach them necessary leadership skills.  
"I joined [FCCLA] because I love the different events that [it] offers, and I love the advisors and students who participate in it," sophomore FCCLA President Camden Michelak said. "I joined last year as a freshman with the intent of getting familiar with FCCLA so that this year I could compete knowing a little about what to expect. Then this year I was elected president which really surprised me, being only a sophomore, but I took the role and have loved getting to organize meetings and planning the service project with our Vice President Anya Van Arnam. I also knew that there was also an opportunity for me to gain leadership skills, something I really wanted to work on."
Both Michelak and Arnam are organizing this year's service project, called "Inspire Happiness." The project is aimed at getting students in the FCCLA chapter, as well as people outside of the organization, to do activities that bring them joy. 
"This service project is great because it encourages everyone to have fun and find happiness somehow, [which is] something we all need right now," Michalek said. "It is meant to help people connect with each other as well because we can't actually meet each other in person." 
Michalek said he came up with "Inspire Happiness" because he wanted everyone to be able to participate in it from home and benefit the community as well as themselves. The project will be posted on social media platforms in order to give access to everybody who wants to see. 
"I have seen that a lot of our members have felt really lonely and isolated recently," Michalek said. "We are incorporating social media to share these projects so that we can inspire people outside of our own community and maybe bring some joy and inspiration into other people's lives. It would market the whole project completely worth it if we could brighten just one person's day and show them how they can find happiness in the lonely world we are currently living in. I know that it is a great feeling to see people enjoying things that I enjoy so hopefully others feel the same way."
In addition to working on the service project, other FCCLA members, such as those part of the interior design department, competed in the District meet for interior design previously mentioned. Michalek and senior Jasmine Cooper partnered up to take on the task of remodeling a house to better suit their clients' wants, including redesigning an existing floor plan, picking our colors and samples for the home as well as furniture and putting together design boards. The two presented their final product over Zoom and athough the team did not advance to Regionals, Cooper said she loved the experience. 
"For the competition, Camden and I played to our strengths," Cooper said. "Camden was amazing at using a rendering program (sketchup) to create two 3D perspective renderings of the kitchen and office while I did a hand drawing sketch of the living room space. Our goal was to create a house that infused Art Nouveau and contemporary design while also creating separate spaces and different moods throughout the house. The FCCLA Competition helped us hone our skills in design research, communication and time management in formulating a plan. We are really proud of ourselves for committing to this project because we were not sure, at first, what to expect."
As well as interior design, culinary also competed at Regionals in-person at Corpus Christi. Five students participated, and senior Lexi Paull and junior Garrett Rust advanced to State. For Paull, she competed against one other student in her event, Cupcake Battle. Paull brought her products – spice cupcakes filled with cherry compote and topped with mascarpone frosting – from home and had 20 minutes to arrange her display and decorate her cupcakes. She will also bake cupcakes at State.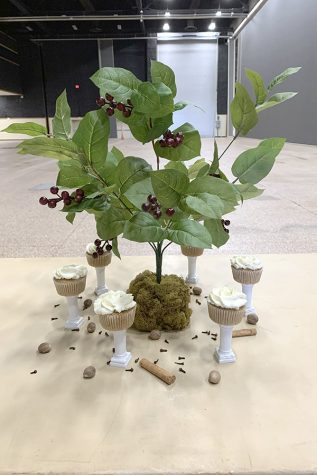 "My display involved a little cherry tree [where] each cupcake sits on a pillar," Paull said. "The whole point of my display was to mimic the way you would pick a cherry off a tree. It was a lot of fun and super stressful. My favorite part [of the competition] was being able to really put my skills to the test. I love baking and cooking and learning new things to cook everyday. I love culinary because the moment I step into the kitchen it's like my happy place. That's the fun thing about cooking, there's always something you can learn how to do [that] not everyone has tried. Making food is comfort [for] me, and especially seeing people try my food with satisfaction is even better. I'm not the perfect chef, but the basic fundamentals of cooking have always just come naturally to me. I'm still learning so much though, and one day [I] want to have my own restaurant."
While Paull competed in the Cupcake Battle, Rust participated in the event Mystery Basket at Regionals. Students are given three mystery ingredients – a meat, fruit and vegetable – and must create a dish incorporating all of the foods. Rust cooked a chili-like stir fry with pasta with his given ingredients of red bell pepper, beef sirloin and lime.
"Based on the ingredients that were presented to me, I knew a common ingredient combination of chili lime and included it into my dish," Rust said. "Lime [was my favorite ingredient] because it gave me the idea for my chili lime seasoning, and that was the main flavor compound in my dish. Cooking has always been a part of my life, and I expect it to be a part of my future, as I want to pursue a career in the culinary field. Chef Gressett has prepared and inspired [me] to proceed in a culinary career after high school. 
State will be held in Dallas on Apr. 7-9 and three students will compete. This is the final competition for culinary this year. 
"Culinary has been different this year, but not so much that it has greatly impacted us," culinary teacher Chef Laurel Gressett said. "It was very quiet and strange as only us and four other Culinary schools attended [Regionals]. As we work in a certified commercial kitchen already we did not have to change much in regards to cleaning and sanitizing. Commercial kitchens were already very clean and orderly places. The students in the Advanced Culinary program are required to attend class in order to receive credit so that aspect has felt very normal for us. We have practiced social distancing in the kitchen and the classroom."
For the rest of the year, FCCLA will continue to work on their service project and prepare for State. 
"FCCLA members and anyone else interested [in the service project] are encouraged to share a video or picture of themselves doing something that makes them happy," Arnam said. "We will then be posting these to the CPHS FCCLA Instagram so we can raise awareness for the project. Overall, it's a fun and uplifting way to end this year."