Celebrating the Life of Jay Sevier; Educator, Baseball Coach and Soldier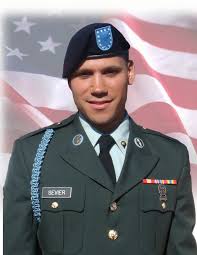 The seventh annual "JayDay" will be at Zilker Park on Sunday, Sept. 11 at 11:30 a.m. Hosted in honor of former Cedar Park baseball coach, Jay Sevier, the event's proceeds are to be used toward the Jay Sevier Memorial Fund, a scholarship awarded to selected students.
"JayDay is a wonderful time for all Jay's friends and family to honor Jay and memorialize his life," Sevier's mother, Brenda Sevier, said. "Approximately 100+ attend each year to share memories about Jay. It is a time for all to honor this great man, our son that so many loved. Jay will never be forgotten, he will always be in our hearts."
Sevier graduated from McNeil High School in 1999, then continued his education at Concordia University, with a Bachelor of Arts- Multidisciplinary Studies degree. Upon graduating, Sevier coached and taught at Cedar Park High School for a year until he joined the Army in 2007. Sevier completed Army Basic Training, Advanced Individual Training and Airborne School. He was assigned to the 4th Battalion 1st Special Warfare Training Group when he passed away on Sept. 19, 2009. On Oct. 1, 2009, Jay was awarded Posthumous Honorary Member of the Special Forces Regiment "Green Beret." This honor was granted by the Secretary of the Army and is a very rare award.
"Jay was an incredible young man, he loved teaching and coaching," administrative assistant, Linda Paris, said. "He left for the Army because he felt it was his calling to serve his country and fight for our freedom."
His parents, Brenda and Ron, wanted to give back to Cedar Park by providing an annual scholarship to students. This grant is awarded by the baseball boosters to multiple Cedar Park seniors, regardless if they're athletes or not. Potential candidates must fill out an application form and write an essay to be considered. The 2014 recipients include: Nick Gutierrez, Max Don, and Blake Bouffard, who now are attending in-state universities. The purpose of this grant is to aid graduates in paying for college tuition and expenses.   
The JayDay festivities include Rudy's BBQ, a washer tournament, a silent auction and raffle prize drawings. Registration is only $15 per person, and kids under 10 years old eat free.
"We are truly humbled and honored by the continued support from Cedar Park High School, friends and family," B. Sevier said. "Jay's memory will continue to touch the lives of Cedar Park High School students and staff."