Fashion Forward
As the classic baggy mom jeans, platform shoes and babydoll dresses weave their way back into closets, the rise of the 90s and 2000s fashions peak yet again. 
Whether the comeback of low-rise jeans and baby tees re-emerged because of the usual recycling of fashion trends or the COVID-19 pandemic that put Gen-Z on social lockdown, fashion has significantly changed from 2019.
"I believe that old trends do definitely resurface every few decades," senior Garrett Rust said. "But, they are mingled with new fashion, and they change up. The mixing of old and new cultures causes a melting pot of fashion and some great trends start, while other, not so great ones, surface as well."
The 20-year rule influences each decades' runway looks and popular outfits. This rule delegates the time it takes for a trend to die and then be reborn decades later. This concept not only applies to fashion, but films and music as well.
"Trends from other decades are so fun, however, I feel like they can get too 'costumey,' and I try to stray away from that as much as possible," senior Ava Caldwell said. "I do pull inspiration from different time periods, even for my hair and jewelry, but my clothes are a mix because I don't like sticking with a solid trend that may go out of style in a few months. For our generation, we have such a cool opportunity with social media, streaming platforms and stores to explore new music, movies and clothes to curate our own unique likes and styles."
As for changing styles, this can be credited to the COVID-19 pandemic and internet trends, according to junior Ashton Abbema. The popularity of thrifting and shopping second-hand provides a cheaper opportunity for trendy clothes as well. Abbema attended an auction last year in early December where he bought three bins of clothes, some of which were vintage. 
"I feel that isolation, music and the internet has guided me to what my style has become," Abbema said. "I didn't really buy a lot of clothes before quarantine besides just looking every now and then. I went to an auction last year and bought loads of clothes for fairly cheap, and I sorted out what I liked and even got some vintage clothes through it. All I did was just have some patience; you won't always find the perfect fit, but it never hurts to take a look."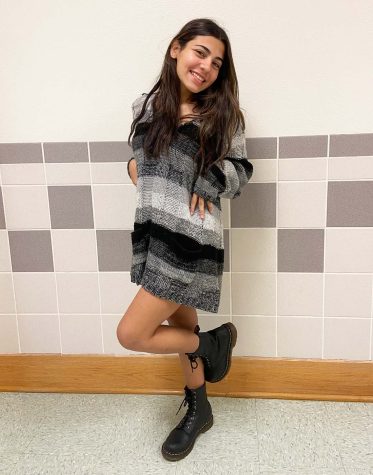 With these resurfaced trends, students are able to express themselves through outfits, according to junior Jordan Garza. Her inspiration comes from older movies and popular social media sites like Tik Tok. Garza's style consists of a mix of 2000s grunge and hippie, which is another style making its second appearance 20 years later. 
"In movies like "Thirteen" or "10 Things I Hate About You," they have different characters with the style that I find cute, and I try to base some of my outfits off what they wear because I love how it looks," Garza said. "I would also say Tik Tok has influenced my style a lot. I will see pieces on somebody that I would never think to pick up in a store, but when I see it on them it looks really cute. It causes me to want to open up my eyes more and try on things that I would never expect. I feel like those styles kind of represent my personality and how I think and act."
In addition, celebrities and popular figures contribute to students' styles. For Rust, bodybuilder Chris Bumstead inspires his looks. Rust shops at second-hand stores, like Ross, or Amazon and YoungLA for online shopping.
"A lot of gym creators inspired the way I dress," Rust said. "I like casual, but comfortable, clothes that still show your physique. I dress the way I do because it's comfortable and the simplicity makes it easy to pick an outfit before school."
In accordance with reemerging trends, students are able to wear what they want without having to worry about external factors, whether that be others' opinions or the school dress code.
"During the pandemic, I had the freedom to pick and choose how I wanted to dress without the pressure of school, dress codes or even just people's opinions," Caldwell said. "Being able to have that time to myself really influenced the clothes I actually like to wear rather than what's trending or popular. I take clothes or trends I like and put my own spin on them because I love making it look more me."
According to Garza, having a unique style helps her stand out, which has been one of her favorite things since she was little. 
"I feel like the way that I dress represents who I am," Garza said. "It shows people that I haven't met before what my vibes are, and I think that is very important in person. When people compliment my outfits, it makes me feel very happy because it feels as if they are complementing who I am. I feel like my personality and the way I act are represented by my clothing and style."