As she steps off the plane, she's filled with anticipation, stress and excitement. She can't believe that she's finally here. She's worked so hard to get to this moment. Endless paperwork, tons of phone calls and infinite waiting and she's finally made it. She rounds the corner and sees her new family. Eager smiles, colorful orange flowers and a big sign that reads "Welcome to Texas" await her and she breathes a sigh of relief as she's welcomed into her new family and her new life. 
The start of junior year of high school is a time when foreign exchange students can arrive to experience a new country and a new life. Junior Margo Bonavitacola has just recently started her junior year here coming from France.
"I was so excited [coming here]," Bonavitacola said. "During the flight I was like 'Oh my God I'm in Texas, that's incredible.'"
According to Bonavitacola, becoming an exchange student is a long and complicated process that took months to finish.
"I started my file in October and I finished in February," Bonavitacola said. "I had a lot of papers and a lot of documents to sign and I also had to get my Visa. I got it the last week of July so it was really late, and I also had to pass the English test."
For her host family, it wasn't as long of a process, but there were still some preparations to be done. Junior Brooke Ferguson is a member of Bonavitacola's host family.
"We had to get a house inspection done by the organization," Ferguson said. "We had to do a bunch of background checks and we had to pick a room for her."
Bonavitacola found out she had a host family in the first week of August right before school started.
"My organization called me and was like 'we have good news for you, you got a family,'" Bonavitacola said. "I was literally crying because I was so happy about that because I was just waiting for that [for] ten months. I saw everybody [else get] their family and I was like 'what? I'm just waiting for that' and so I really thought I wasn't going to be [chosen]."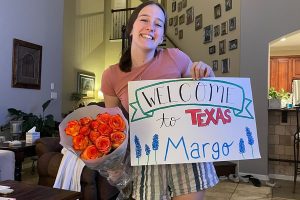 For Bonavitacola, she arrived a couple of days before school started and the first day of school was a challenging experience for her. 
"I was so stressed to be late," Bonavitacola said. "I was stressed to be in a place where nobody speaks the same language and I have to know where to go." 
Now that the year has started and Bonavitacola has grown more comfortable with the school and the language, she has picked up on some differences in the school system.
"The hours that you spend at school [are different] because in France, we are usually [in school] from 8 a.m. to 6 p.m. so that's really long," Bonavitacola said. "Everybody has the same subjects, you can't choose anything, and the classes are so boring. We don't have any sports teams or football games and we don't have prom or homecoming either."
Bonavitacola is looking forward to the football season and this school year in general.
"My first football game was really a dream because it's really an American thing and everyone in France is dreaming about that," Bonavitacola said. "It's so cool [and] I love it so much. I just enjoy the things that are really normal because it's different and it's not the same culture so I enjoy it."
As Bonavitacola spends more time here, her relationship with Ferguson and the rest of her host family has changed.
"We were very hesitant to do anything wrong, I guess," Ferguson said. "I remember I cleaned my room a lot when she was first here because I didn't want her to think I was messy, and I never went into her room to hang out. Now I'll just run in and jump on her bed and talk to her and she does the same."
Going from a country where everyone speaks French to a country where everyone speaks English in a matter of days was a difficult experience for Bonavitacola.
"
She got here and just jumped right into all of the things that we consider normal but are not to her, so I hope she obviously loves the experience and makes friends, but also knows how able she is to adapt to change and how strong she is."
— Brooke Ferguson, 11
"During my first month it wasn't so complicated [to understand the English], it's just that sometimes people are talking really fast so I'm just nodding [along]," Bonavitacola said. "It's more the talking [that's difficult] and sometimes I just can't have all the specific words. I know that when I'm talking, I'm making mistakes, and I just get it."
Being in a new environment with a different culture has left Bonavitacola feeling confused about some things.
"You see everywhere that you love your country," Bonavitacola said. "There are flags everywhere and also the Pledge [of Allegiance]. In France you would never see that and we don't have things like that."
Ferguson wants Bonavitacola to take aspects of this experience home with her when her one year program ends.
"I hope that she just takes home the experience of being able to pick up her life and live somewhere new for a year," Ferguson said. "She got here and just jumped right into all of the things that we consider normal but are not to her, so I hope she obviously loves the experience and makes friends, but also knows how able she is to adapt to change and how strong she is."
Story continues below advertisement