Helping One Kit At a Time
Medical Reserve Corps Provide Medical Supplies, Assistance to Community
Without the right knowledge and training, anyone is unprepared for a medical emergency. That's why senior Ryan Liu brought the Medical Reserve Corps to the school to help.
The MRC is a national network of medical volunteers that bolster their local community's emergency preparedness and public health. The school's MRC team is a member of the Williamson County MRC chapter and often receives funding from them and coordinates with them to enact their activities. Liu said his motivation to bring the organization to Cedar Park was based on how vulnerable communities were during the COVID-19 pandemic.
"I started it right as the pandemic started because that was the biggest public health emergency, and I just wanted to do something to help the community at that time," Liu said. "The community was very vulnerable. I looked around for different organizations, and I thought MRC was the best blend of public health and emergency preparedness."
The MRC helps the community through projects that aim to educate the public about public health or create tools to help in the case of a medical emergency. For example, back during the MRC's formation, when it was primarily focused on COVID-19, the team gave a presentation to middle schoolers about the coronavirus and the best hygienic practices for avoiding an infection. Senior Katie Tran said she joined the organization because she wanted to compete in HOSA's MRC Partnership team, which allows students to enter service projects to be evaluated alongside those from other school's MRC teams.
"Initially, I joined because I wanted to compete in HOSA," Tran said. "However, it grew into wanting to help people, because I like helping people and I liked seeing the paths we could make [in helping them]. Eventually, I do plan on being an optometrist."
The organization expanded its reach once the pandemic subsided. Since then, activities have included medical kits for the visually impaired. During his freshman year, Liu noticed something while walking through the hallways to reach his MAPS class: a class for the visually impaired. After researching, Liu learned of the immense hardships that the visually impaired endure, from the inconveniences of daily life to the life-threatening setbacks in events like natural disasters – something Liu had knowledge in due to his involvement with emergency preparedness programs.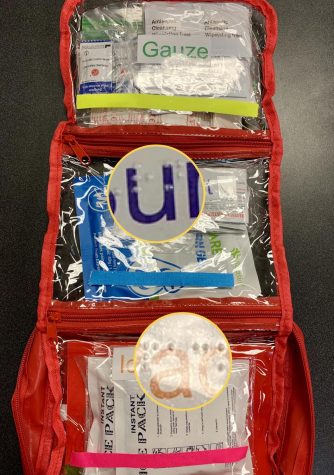 "I saw reports of displacement of visually impaired and blind people during natural disasters like Hurricane Harvey," Liu said. "Something as small as a power outage or a tornado – it's hard for people who can see to get through it, let alone people who can't see. I noticed that a lot of them were dependent upon their caretakers, so I wanted to make them more independent in the case of an emergency."
After COVID-19, Liu was inspired by his research to lead the MRC team in then creating prototypes for first-aid kits with braille labels and brightly colored tape. It also offered training for the visually impaired for situations like their vision being completely compromised after a power outage. According to Liu, they initially had little idea about the functions they wanted to include in their tools. They eventually consulted with visually impaired students and school district organizations for feedback.
"I think it helps them prepare more," Liu said. "The [Leander ISD Visually Impaired team] was our main contact in helping us design the main prototype [of these tools]. We made the first prototype and brought it to some blind and visually impaired students in Cedar Park High School. They gave us feedback, such as adding bright tape. This was definitely the hardest part of the process."

Currently, the MRC is focused on making a Jenga-derived game where a slip of paper containing a question is placed next to a Jenga block as the player pulls on the block. The questions relate to emergency situations such as fire and tornado preparedness, and the MRC intends to educate elementary schoolers through the game.
"That way, they can learn through games, which I think is more interactive," Liu said. "[It helps them] to build and remember that information."
Members like Tran and junior Roman Viloria said they continue participating in MRC because of the care they have for other people's health. As Viloria is slated to become the MRC's longest-serving member next year, he said he hopes to pivot the organization further towards helping the youth. In the meantime, however, Viloria said he is focused on getting first in State for their MRC team in HOSA competitions.
"I'd like to help a lot of the youth, as I think teaching them at a young age and getting them interested in healthcare stuff gives them opportunities," Viloria said. "[Helping people] is the most important thing in the world. There's nothing better than making them feel better."
Those interested in joining the organization can contact Liu at [email protected] for more information.