Kids Helping Kids
The Locker: A Place of Assistance
The Locker is in need of contributions from students and community members. Toiletries, cleaning wipes, face masks, socks, undergarments and bottled water are some of the most desired items at this time.
Located next to the AP office, the Locker holds not only school supplies but also hygiene products such as toothbrushes and clean clothes. It is free for any student to take items who are simply in need of an extra helping hand.
"[The Locker] is about taking care of our students," Assistant Principal Julie Raby said. "I would hate to think that a student was unable to focus or participate in school because they were in need of something that we could easily provide for them. The motto for the Locker is 'kids helping kids,' and I would love to see more of our students taking part. It is a great way to serve the Cedar Park High School students, all students."
Twelve years ago, student athletes at Georgetown High School came up with this idea to assist students in need. There would be a place filled with supplies where any kid could go to receive notebooks and pencils to clean clothing and water. The idea quickly spread, and the project became integrated at CPHS in 2015.
"I believe the Locker is a huge help to our students and families, and [I'm] excited to see more students learning that it is there," Assistant Principal Tammy Thompson said. "I believe that there are many [students] at CPHS that may be struggling quietly and perhaps even embarrassed to ask for help. The Locker is there to assist [with] some basic essentials no questions asked. On the opposite end of that it gives others the opportunity to help [the] less fortunate with small things."
If there is anything specific students need, they can put in a request in the wooden box located in the Locker and will soon be provided with what they require. Donation items can be dropped off in the front office. Clubs and organizations are welcome to take part in fundraising for the Locker as well as increase student awareness and participation.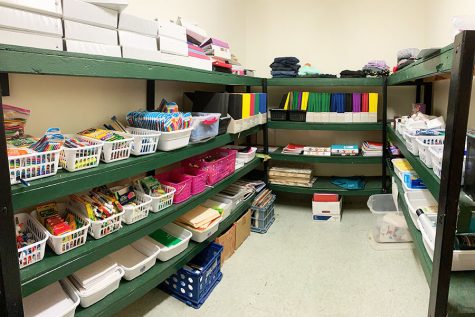 "[There are] many reasons why it is important to have a place like the Locker on campus," Raby said. "Perhaps the most important, especially in the times of COVID-19, is that we don't know how families have been impacted by these times. Many people are out of work [or] not able to work, and if we have students that are in need we need to make sure we are taking care of them. I feel we have a responsibility to take care of the Cedar Park family and the Locker is just one way to help do this."
One place that has made a significant contribution to the Locker was H-E-B. H-E-B employee and CPHS parent Dawn Flores said that she noticed how COVID-19 impacted everyone, and how it is important to provide help to anyone who needs it.
"Just being in the business that I'm in I see [everyone's] needs everyday," Flores said. "I have partners whose spouse or significant other was furloughed. I hear people talk about what they have, don't have and aren't doing. One thing that COVID-19 did do was level set society. Those who always had or were better off were being affected, sometimes more than the have-nots. I assumed that the school didn't get the beginning of the year donations from families like they always had. I wanted the product to be used and since my kids have been part of LISD all their lives, it was important for me to donate this product. HEB is a very giving company and allows us, their leaders to do what we believe is right for our communities."
About the Contributor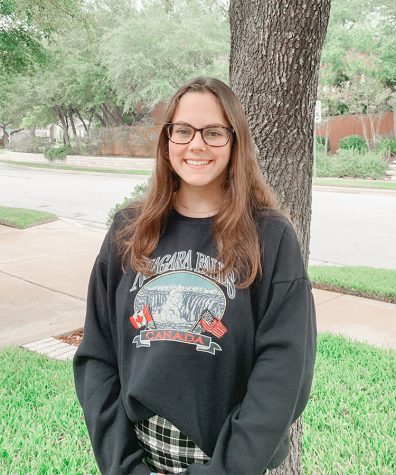 Ally JohnPress, Reporter
Ally JohnPress is a junior and second-year reporter. She is secretary for the National English Honor Society and enjoys writing her own fiction stories in her free time. She also trains Krav Maga, self-defense, out of school. Some of her favorite things include: Mint chocolate chip ice cream, walking her dog, Haylie, threatening to fire staff members (#firingsquad), watermelon Sour Patch Kids, playing Minecraft, jetskiing, hiding things in Hert's stocking and bracelet-making. She enjoys writing about conspiracy theories, but also features about ongoing school events. She wants to go to the University of Texas at Austin and study psychology or adventure to the West coast and discover a hidden love for something.