Balancing the World
Senior to Study Political Science at Columbia University
The job of student body president entails numerous responsibilities, but so does being president of Mu Alpha Theta and Rho Kappa, while also being executive vice president of DECA and vice president of the National Art Society. Senior Ariana Balakrishnan balances all of those, plus more, inside and outside of school.
Overachieving isn't new to Balakrishnan. She always pushed for the extra point on a grade, even during middle school. Her high goals transferred to high school, with her plans of joining the volleyball team freshman year being dropped in order to take on more weighted and AP classes. But after COVID-19 hit, things in Balakrishnan's life took a turn.
"At the time it was really great, almost like a fast-forward into summer, but now reflecting on that, I would say that it really screwed me over sophomore year," Balakrishnan said. "Because I went to Precalculus OnRamps not knowing what a logarithm was since Algebra II never taught me it. So definitely sophomore year was a really rough start for me, because I had a lot of classes that built upon the previous year, and I didn't learn the ending bit of content for that year, so that was a struggle. I would say in the first few months of sophomore year I kind of picked it up, and realized I'm just gonna have to figure it out on my own. So, online was tough but I made it work."
It was through the mundane online classes during the COVID-19 virtual year that Balakrishnan found the initiative to search for clubs to join. That's where she was met with numerous clubs that were forgotten by the students staying at home. Balakrishnan and senior Ainsley Harlan, who is now the senior class president, searched the school's websites and found the numerous clubs that they participate in to this day. This is also where Balakrishnan first encountered Student Council.
"When I would go to these club meetings online, because it was over Zoom and nobody really cared to go, there were big clubs like Student Council that only had 15 members, but this year we have 80 to 90 members," Balakrishnan said. "So it was a very, very small group of students just because there were a small number of people that took the initiative to find it during online school. Granted, the marketing wasn't great either. Ainsley and I had to dig to find these clubs, so that was one that we actually took and helped a lot with making clubs in our school well known, but that's something that happened later on in junior and senior year."
Through those connections she made by reaching out to the club sponsors, she became a general member of as many academic clubs that were running. Then junior year came along, which was the year she decided to push herself, according to Balakrishnan. She won junior class president, numerous officer positions in her honor societies like Rho Kappa, Mu Alpha Theta and DECA, while also taking on seven AP classes.
"That was a very very interesting year for me because I was getting to use all of these officer positions," Balakrishnan said. "And what I didn't realize when I signed up, or didn't fully take into account, was with the officer positions – I knew they'd come with tasks and duties and other stuff, but the time difference of being a general member of something versus being an officer, I didn't realize the difference in time commitment it took."
The officer meetings that were held every week could take up to two hours and were very time-consuming, according to Balakrishnan.
"It was manageable," Balakrishnan said. "In March, I hit a breaking point a little bit, as everyone does in their second semester of junior year. I don't regret any of those decisions I made, and I'd say it helped me out a lot in my later career and also it was enjoyable for me. I hated it when I was in the thick of it, but looking back at it I do not regret taking all of those APs, and being involved in all of those things because at the end of the day that's what's enjoyable for me. I'll hate it at the moment, but then after, most of it is set and done then I'm like 'that was fun.'"
Those struggles helped prepare her to become student body president during her senior year, with the Student Council growing to 80 members this year. Their main job is to act as a middle man between the students and the administration, while also planning schoolwide events and setting up activities for students.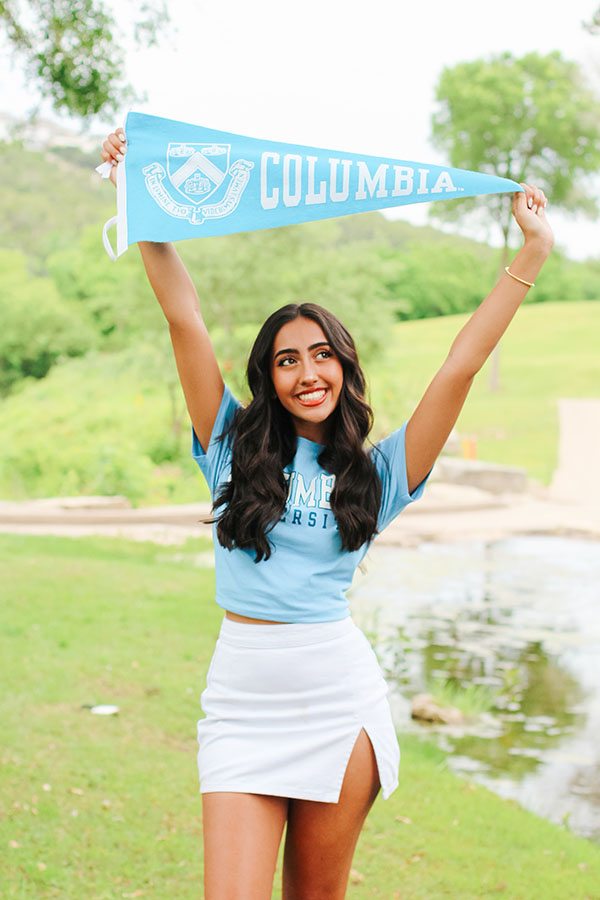 "We do a lot of random fun days like 'Coco with StuCo,' and we just had a movie night and a Kool-Aid day the other month," Balakrishnan said. "So the Student Council's primary focus right now is to unite the school, because coming out of COVID, I feel like all of the grades were really separated, so we just have a lot of fun events to get us integrated into a school community again, rather than it being class specific."
There are multiple benefits of being student body president, according to Balakrishnan. One of them is being given the ability to give a voice to the students within the school and knowing that the school trusts her to delegate their decisions. However, she also enjoys the position on a smaller scale.
"Being able to lead the actual Student Council, that group of 80 kids, I absolutely love it," Balakrishnan said. "If I was able to stay back another year and be student body president again, I absolutely would. Getting to work with all of these kids, especially our younger students like the freshmen and sophomores and seeing them grow while getting to give them responsibilities is almost like helping younger me. I see myself in this group of underclassmen, and they all have that same drive."
Being student body president isn't the only beneficial position in Balakrishnan's life, another role as a competitor in DECA, a business club she joined her sophomore year. She has competed in Integrated Marketing Campaign for the past three years. This was a heavy time commitment, with the 10 page paper, 100 question test and live presentation that Balakrishnan, Harlan and senior Delaney McClure had to complete.
"We went to districts and we did well at that, so we went to state and we were a state finalist this year," Balakrishnan said. "That's something that I've been doing since sophomore year and every year since then I've been a state finalist which is really, really cool."
DECA also prepared her for the business aspect of her life, according to Balakrishnan. With the two other aspects being social justice and art. DECA provided insight into business transactions for the real world, especially for her nonprofit that she created named Colors of Mind that provides art therapy to both underprivileged kids in the area and the greater Austin public.
"Being in DECA affects me currently because of my nonprofit, and the logistics and analytical thinking that I've learned through DECA have immensely helped me in the process of creating a nonprofit and getting my 501(c)3 certification," Balakrishnan said. "And with handling my relations with my employees that I hired and things like that. Those are all skills that I don't think I'd have if I wasn't in DECA, so immediately it benefited me there."
"
Being able to lead the actual student council, that group of 80 kids, I absolutely love it. If I was able to stay back another year and be student body president again, I absolutely would. Getting to work with all of these kids, especially our younger students like the freshmen and sophomores and seeing them grow while getting to give them responsibilities is almost like helping younger me. I see myself in this group of underclassmen, and they all have that same drive.
— Ariana Balakrishnan
Her nonprofit began as an idea in eighth grade and stemmed from her own experiences of going to art therapy. Art therapy itself was transformative, with her mental health and passion for art, according to Balakrishnan. That's what began the process of creating her nonprofit and sticking with it. She has gotten her 501(c)3 certification, a document stating the nonprofit is officially recognized and tax-exempt, interviewed licensed art therapists, completed her employee's payroll and drafted contracts all on her own.
"I talked to some of the people there [summer internship] about it, and basically we got to the point where we were getting donations from the Austin FC soccer team, which was really cool," Balakrishnan said. "And that was one of the best days of my life, because I realized we were that big."
Her nonprofit isn't the only big project she's worked on. After applying to be a part of a research team at Steve Hicks School of Social Work located at University of Texas at Austin, Balakrishnan was given the job by professor Shetal Gupta. Gupta, Balakrishnan, an undergrad student, a graduate student and a doctorate student worked together to study the social determinants of health and the way underprivileged people are diagnosed with superficial illnesses, when the issues could be more deeply rooted. The information used within the research came from a survey given to underprivileged people in the Austin area. The research team's job was to reinforce the survey and fix it.
"For example, we had a patient come in that we were looking into and they had this horrific cough, then the doctor said they had a cold and gave them medicine for it," Balakrishnan said. "Then, upon re-fixing this survey we were giving to these people, we found out their cough isn't just coming from a cold, it's coming from a greater societal issue that their apartment complex that they're living in has mold in it. So, the apartment complex is giving people moldy air, and it was all of the underlying issues that turned into these health problems and these clinics were originally not nipping it in the bud, and nipping it at a superficial level."
The research team continues to write about their findings after fixing the survey, but that wasn't all that professor Gupta and Balakrishnan worked on together. On June 24, the U.S. Supreme Court released the Dobbs v. Jackson decision that overturned Roe v. Wade, which codified into law the constitutional right to have an abortion. Balakrishnan was attending Girls State, a summer camp where girls from Texas go to compete in mock legislation, when she heard the news of it being overturned.
"I've never ever been in a room full of that much grief," Balakrishnan said. "We had girls on both ends of the spectrum, some pro-life and some being pro-choice, but it was just a crazy experience to be in a room full of 800 young women when that happened. So that experience was completely transformative to me and I remember when I came back from that trip, and working with professor Gupta. I remember just ranting about it because it was such an insane experience to have."
Now, Balakrishnan has written a opinion piece about Roe v. Wade and Dobbs v. Jackson that might be published by UT Austin in the future.
"[Gupta] was like 'You know what, let's get you speaking,' so I actually started writing a legislation opinion piece about Roe v. Wade and Dobbs v. Jackson," Balakrishnan said. "Which is in the process of possibly being published right now, so that's really cool. So that's what I was working on with her."
Everything she's worked on felt like it all fell into place this semester once she was accepted into Columbia University, one of her dream schools. She will be studying political science with a minor in art in the fall. Recording herself while opening her decisions from the colleges she applied to resulted in a lot of emotions, according to Balakrishnan.
"Right before I clicked the button to open Columbia's letter, I literally looked at the camera and go 'This is just gonna really suck because I wanted it so bad,' and I clicked it and all of a sudden you hear trumpets," Balakrishnan said. "There's a video that plays when you open it and I actually didn't watch the video, I just watched the screen go black, because every day of December before [Early Decision] I would go on YouTube and watch the acceptance video to manifest it, so immediately when the screen went black, I started screaming and jumping up and down. And my parents in the video are like 'What are you doing, where's the letter,' and I was just screaming 'I got in, I got in." I just started crying, and it just felt like everything in the world came together."
Even though Balakrishnan is going to New York City, she said there are many things she will miss about Cedar Park – especially her teachers.
"My teachers here at CPHS have probably been some of the most influential people in all my life," Balakrishnan said. "Being a perfectionist for so many years, and obviously having my own downturns throughout the years, the teachers here taught me that it's okay to not be at your best 24/7, and it's okay to fail sometimes. Which I'm still learning, but they made it a lot easier, and made it easier for me to accept that it's going to happen in life."