Life at the Barn
Dirty boots walk across the hay-covered grounds where "oinks" float through the air. While you're sitting at home doing homework, hanging out with friends or getting ready for school, some kids are spending their time in the barn. Some people might even say the barn is their second home.
 Junior Tori Amato goes every morning at 7:30 a.m. and every afternoon around 4:00 p.m. to the barn where she feeds, bathes, brushes, weighs, walks and visits with her pig. This cuts into her homework time and also time with her friends, so sometimes she has to put her pig before her social life. She joined FFA to make new friends and to become more mature by challenging herself with such a big responsibility.
"My pig is what motivates me," Amato said. "I love my pig, she's just like a child, and she needs love and attention just like children do."
For Amato, not only did making new friends and a chance to gain responsibility influence her to join FFA, but also her parents. They had mentioned it to her as a possibility, and after that she decided to join. The people in FFA all help each other every chance possible, and for the most part, everyone contributes to make FFA a welcoming environment.
"Everyone is so great and helps each other out," Amato said. "They all make the vibe very bright and enjoyable."
Amato isn't the only one who spends a lot of time at the barn. Freshman Wesley Sherrill takes care of his pig twice a day as well. He joined FFA because his family has always been interested in agriculture, so Sherrill decided to give it a try.
 "It takes a lot of effort and time, but being in charge of an animal is very rewarding," Sherrill said.
Along with Amato and Sherrill, sophomore, Trey Miller is also a part of the barn life. He joined FFA due to interest in agriculture and also to join his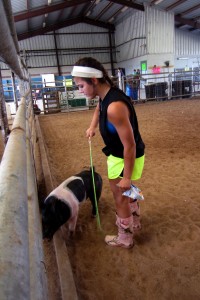 friends who are a part of it. He and his friends spend a lot of late nights at the barn which effects his homework time like Amato. Miller is at the barn till around 7:00 p.m. then goes home to take care of his homework or other school related activities.
 "My piggy princess motivates me," Miller said. "Also, just my friends and hanging out with them and helping each other around the barn."
This weekend, FFA will host the Cedar Park Jackpot show on Oct. 13 at Cedar Park Middle School. They will also attend a show in Georgetown Nov. 26-30. The show lasts all week, and different animals are shown on different days.  Later in the year they will have shows in Leander, Liberty Hill, Dallas, Houston and San Antonio.