Luke Williamson Pursues A Passion For Photography
Midnight, on a Tuesday. Most are asleep, happily dreaming, escaping the stress of everyday life. This is not the case for senior Luke Williamson, who's day seems endless; a never-ending list of classes, honor societies, extracurriculars and clubs. Midnight means the day is both over and beginning; another day of tests and grades, clubs and "free-time" is done and another is coming very shortly. It seems like his life has always been this insane balancing act between school and life. But, even before the particular eccentricity of high school became a regular part of his life, Williamson had a fondness for learning, in part due to his sisters' influence, who brought home only the best grades.
Along the long and winding road of the American Education System, Williamson found his own passions and interests. Theatre had always interested him, but had never before presented itself as an option; Naumann Elementary's theater program wasn't quite the large-scale production he had dreamed of. But suddenly he found himself in middle school, with the opportunity to pursue this particular interest. Junior year, his theatre career came to a head when one of the few lead roles was suddenly dropped in his lap, the week before the school musical, "Phantom of the Opera," hit the stage. High school, particularly sophomore year, was also the dawn of clubs in Williamson's life as he found himself vying for every opportunity to be involved in the behind-the-scenes of the student body and the after-school life.
Quite possibly the most defining characteristic of the Luke Williamson seen around school today (besides his fashion and aforementioned affinity for being involved) is his skill and interest in photography, which began sophomore year with a photography class and ultimately led to the beginning of the photography business Luke has now- http://studioluke.online.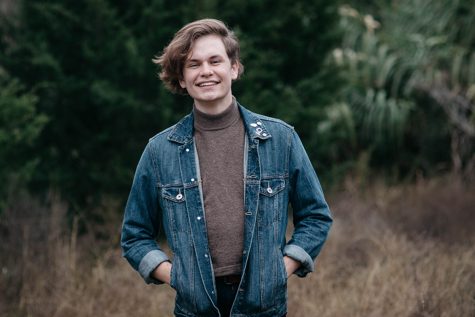 Though his days are stressful and mostly devoid of free-time, they are full of the things Williamson enjoys most; photography, being involved and learning to name a few. Late nights spent studying and organizing and planning aren't too much of a hassle in the grand scheme of his life. The happiness derived from everything he accomplishes in a day is enough to keep Luke content in the crazy cycle of clubs, extracurriculars, honor societies and classes.
Williamson will continue his education as a Bonner Leader at Sewanee; The University of the South in Tennessee and will be studying Art and Business.
Senior photos by Williamson: