Madi Fujawa Wins State in Theatre Marketing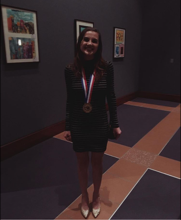 On April 15, Madi Fujawa was awarded first place in UIL State for Theatre Marketing. In the competition, participants follow a basic set of guidelines to create a mock marketing product for a theatre production. Fujawa researched the prompt and started the design process, where she designed a poster, specialty item, playbill, calendar, inspiration board and a justification paper.
"It's a lot of trial and error," Fujawa said. "It can be challenging to see which designs will work and trying to find a good theme for the overall project."
This year's UIL competition was centered around the play "Into the Woods," and participants had to market the production so that it would appeal to the millennial audience. At the end of the competition, students must finish their projects by a deadline and submit it to the judges.
"[Theatre Marketing] is so much fun, especially when you get that lightbulb idea that sets it off for the rest of the design," Fujawa said. "The entire design project itself was so fun."
Fujawa wasn't expecting to place in the competition, so she was surprised when the judges announced that she had won first place.
"It feels really rewarding getting first place after all the time and dedication I put into my project," Fujawa said. "I'm extremely thankful for to be recognized for the hard work that was put into it. I'm also really thankful for Mrs. Hathcock and Mr. Smith, because they both encouraged me along the way and have inspired me a lot."
Even though she is involved in theatre technology and marketing, she has pursued the acting side of theatre as well. Fujawa has been a part of theatre since elementary, and participated in the musicals that the middle school worked on in past years.
"Theatre has been really important to me," Fujawa said. "It has helped me build confidence and gain a super loving group of people I can call my family. The overall experience has been like no other."