Music Affects the World
Seniors Embark on their Audition Experiences for College
The room is silent. The only focus is on the marimba which resides on the stage of the performing arts center. Thoughts run through the performer's mind, about all of the hours devoted to the audition. For senior percussionists, Cole Sylvester and Jonathan Kauffman, this music and nerve enhanced environment have come almost second nature.
These seniors are intending to study music in college, and with that comes more than just an application from ApplyTexas. Aspiring students in the college of music are asked to go through an audition process to be admitted into the school of music, after being admitted to the general population of the university.
Sylvester is applying to major in Music Composition at the University of North Texas and Music Education at the University of Texas at Austin. He has now completed his audition at UT as well as his audition this past February. A lot of preparation goes into any audition, but the college setting requires a bit more time and preparation than any normal audition scenario.
"Auditioning for college programs means learning many different etudes to perform," Sylvester said. "I had to learn two marimba pieces, two snare drum pieces and a timpani piece, as well as performing sight reading for the judges."
Kauffman's major is slightly different, as he plans to major in Music Performance, as opposed to Education or Composition. He has auditioned at UT Austin and Baylor University, as well as Texas State.
"The process for all three of my auditions involved preparing roughly 10 minutes of music repertoire, including sight reading and an interview session after my playing audition," Kauffman said. "Usually, in regards to an audience or what you would call 'judges,' there are two professors along with a few grad students that watch your audition."
Nerves are prone to affect any audition, but nerves for college auditions that can determine your future seem to be at a higher rate, according to Sylvester.
"Getting to the audition room, I was extremely nervous, but once I started playing I felt comfortable with myself and performed to the highest of my ability," Sylvester said.
The typical college of music audition season is held in the months of January and February, and when auditioning for different schools, all of the music that is prepared has to stay at a high level so that everything played is at performance quality for each audition, which entails a lot of practice time.
"The nerves that come with auditioning go away almost as soon as you start to perform," Kauffman said. "After my auditions at UT Austin and Baylor, I'm very comfortable with the audition environment and I've learned how to cope with nerves during any performance."
A combination of preparation and nerve control comes "life changing performances," according to Kauffman. Sylvester and Kauffman have both had auditions that went well, Sylvester's being his UT Austin audition and Kauffman's coming before a standing ovation at his audition for Baylor.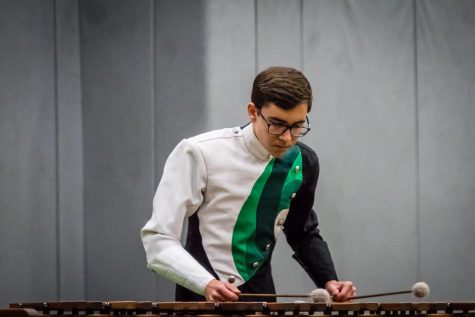 "My first audition was UT Austin and it went well," Kauffman said. "About a week later, I had my Baylor audition and it went extremely well. I'm very happy with how that one turned out. I was told by the professor at Baylor that I would know [of my acceptance] in March and scholarship info would come mid March, which is a good sign."
The impact that music has on people is something that can not be explained by many, but Kauffman has had one of these experiences in his music career and it is the sole reason why he chose to do music in college instead of his original plan, which was forensic science.
"I loved music, but I decided I wanted to make a difference in the world and study forensic science," Kauffman said. "This changed after I attended the Texas State Percussion Contest last year. Once I hit the last note of my piece, I looked up and people were in tears. The fact that I created an emotional impact on some people that I have never talked to in my entire life prior to that day is something that is just truly incredible to me, and that performance is still very special to me to this day. If you can inspire at least one person with your performance, then to me, it makes it all worth it. I am excited to continue to perform music, and hopefully, to continue to make the world a better place for all of us."
According to Sylvester, musicians really do have a passion for what they do. People are able to do it for fun, but people like Sylvester and Kauffman are both very excited to continue their music careers to enhance their lives, in teaching and writing for Sylvester, and in performing for Kauffman.
"I am excited to further my music career with other people who have the same dream as me, as well as learn from others that are more experienced than I am," Sylvester said. "I can't wait to meet new people that I can share a passion with, and when it comes down to it, just play more music with other people."