Nolan Foster makes "Music on Half Days"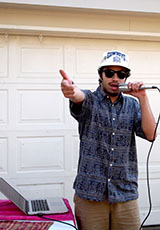 In past years at CPHS, students may have known senior Nolan Foster as an athlete, but most recently, his recognition has changed as Foster begins to put out his own rap music. Foster has been making music for most of his life, as he had always been interested in the way words work together to create a musical verse.
"My ideas for music come from the experiences that happen not only in my life, but other's too," Foster said.
Foster explained that he uses his personal experiences to show listeners how he can relate to them. Foster is doing more than just relating to his audience with his music, as he is trying to speak to society in a different approach.
"I'm trying to spread a message," Foster said. " It's a message questioning how things work in our society."
Foster works closely with a few people, seniors Keenon Purslow and Dylan Galli to make the beats and Santino Doles and Andrew Warren on rapping. Although these people help Foster make the music happen, they aren't the only ones that push him.
"I work closely with few people to create the music," Foster said. "But my close friends around me are my support beams in this process."
Foster's music appeals to the younger generation because of its references to pop culture and today's society, which are prevalent in today's underground rap scene.
To support you can listen to his music by visiting his site on soundcloud www.soundcloud.com/nolan-keiththekid-foster