Runs Like Clockwork
Student Experiences as a Office, Teacher Aides
She takes the pass and runs up the flight of stairs hoping to deliver the pass on time. She looks to the right and to the left, to make sure she is going the the West instead of the East wing. She rushes to the other side of the building, and up the stairs, being careful not to miss the room number. She finally gets to the designated room and delivers the pass.
As an office aide, senior Tolani Segun's job is primarily to assist the faculty in the AP office, usually by running passes or picking up attendance for substitutes, but Segun occasionally completes projects from other teachers. 
"Some of the projects that we were given were to staple papers, cut laminated papers and number sticky notes," Segun said. "Although at times it could be a tedious job, it lets me get my mind off of school and decreases the pressure that I have." 
Segun said she chose to be an office aide because she heard that it was a nice class to take if one was in need of a filler class. Within the first three months of being a student aides, she was able to learn a lot more about where certain classes are located, the existence of some classes and whether a teacher had a class that period or not.
"I would recommend being an office aide because you are able to make your teachers' lives a tiny bit easier, while also having fun at it," Segun said. "Some teachers are really stressed with their workload, so by being a student aide I am able to help relieve some of that stress by helping them with whatever assignments need to be completed." 
On the other hand, teacher aides have a different role, as they are responsible for assisting the teacher. They grade papers, organize the classroom or set up AN experiment or a lesson. Senior Olivia Laster, who is a student aide for Latin teacher Melody McCormick, helps with lesson plans and cleaning or cutting papers that McCormick needs. 
"I chose to be a student aide for her because I was in her Latin class for my freshman, sophomore and junior year, and she helped me through all three years with more than just Latin, and I wanted to repay that," Laster said. "The best thing about being her aide is getting to catch up and talk to her after the pandemic." 
According to Laster, it is not difficult to be McCormick's student aide because she is super understanding and lets Laster study for tests if she has them. 
"I would recommend being a teacher aide for other students because it's a great way to build a better relationship with teachers, and you get to help out with so many aspects of different teachers' curriculum," Laster said. 
Students who are office aides assist the office in delivering notes, collecting attendance, and helping them in simple tasks, according to senior Paige Stark.
"I chose to be an office aide to keep myself busy during the time when I am available during the school day," Stark said. "It is a great time filler and they give you the opportunity to work on school work for other classes as well. It also lets me get exercise at school, since I don't have much time to do that outside of school."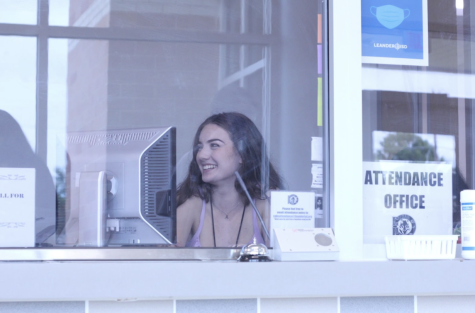 According to senior Connor Yasi, part of him has always wanted to help out people in general, so being a student aide for the front office would be another way for him to help around the school in the district that he has grown up in. 
"I am really good with people, so I can work with people that come through the front doors and make sure it all goes smoothly," Yasi said. "Getting to know each other is the highlight of my year so far. If you need something like an extra class, this class would be very useful."
Additionally, the student aides for the office get split between attendance and the front office. According to senior Arina Gart, the front office aides run passes to classes if students need to leave for doctors appointments or personal reasons, and they also write passes if students are at the nurses. 
"I chose to be a front office aide because I can do multiple things like file, work in the front and I like talking to people," Gart said. "I am able to do my homework, help teachers or help the school set up for events and run passes. We are really close and everyone helps each other out. We also help the school because there's lots of work to do in the morning, and there is only one person helping and that's when everyone is late."