Senior Prom, Quarantine Style
Seniors describe makeshift plans, end of year feelings
As more and more plans have been canceled at the end of the year, some seniors have become more creative with their plans, including prom.
Seniors Julia Meyer and Kendee West decided to throw themselves a makeshift, socially-distanced prom at the Oasis. Meyer and West had bought their dresses pre-quarantine and decided to put them to good use.
"My sweet family helped me get ready and my sister took pictures of me and my best friend Julia," West said. "We just talked and laughed. It wasn't exactly how I imagined senior prom, but I was happy that I could still spend time with my best friend even from six feet apart."
West and Meyer put on their dresses and drove to the Oasis where they took pictures, sat in the back of their cars, caught up, and listened to music. They said they decided that it was the best way to make their senior prom just as memorable as the previous year.
"My favorite thing about prom as a tradition is just being able to dress up with all my friends and go out and have a good time with them," West said. "[My favorite thing about our prom was] being able to still dress up and take pics with my best friend."
Since senior year was cut short, they said they both realized that they miss the small things like being surrounded by their friends and teachers.
"I've realized that I love the little things, like waving at your friends and teacher in the hallway, or even eating lunch with the same people at the same table everyday," Meyer said.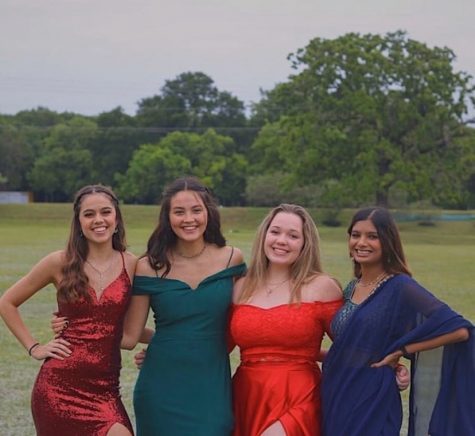 Senior Romeela Kar also reflected on her year being cut short in a positive way. Through quarantine she has realized just how much she's able to do at school and how caring her teachers are.
"Being quarantined has made me realize how many cool opportunities our school gives us year round," Kar said. "Being a senior I've realized how much the teachers actually do care about us. I've had a lot of teachers just check up on us to have fun conversations."
After being quarantined Kar and her group of friends, Aja Steiner, Abby Mitchell, and Madison Markunas had their own park prom. They still got dressed up, they still danced, and they said they still had a lot of fun.
"My friends and I hadn't left the house yet at that point, so we decided it would be refreshing," Kar said. "Even though we couldn't have a huge prom like normal, we still wanted to make some fun memories."
From six feet away, this group of senior girls had a park picnic. Normally Steiner's favorite part of prom was getting ready and going out to eat, so they made up an alternate plan. In the midst of their prom a neighboring Vista Ridge teacher saw them having their picnic and drove to get them all ice cream at HEB to help make the girls feel better about missing senior prom.
"It was very different because obviously it wasn't with everyone from school, but that made it feel a lot more personal," Kar said. "I feel like I'll honestly remember it so much more than I would have if it was normal prom."