Student Feature: Eunice Lee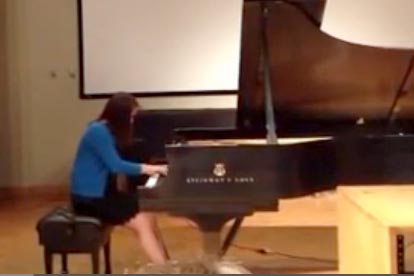 Meet Eunice Lee, Cedar Park's resident piano prodigy. You may have run into her at a DECA, Student Council, NAHS, Girl Scouts or debate team meeting.
Although her involvement in school is impressive, what really sets her apart is her musical talent. As a freshman, her accomplishments include performances on radio stations NPR and KMFA, being named a Cedar Park Piano Ambassador and serving as the pianist for the Austin Chamber Music Center's Merit Scholarship Ensemble.
How has she accomplished so much in such a short amount of time?
From an early age, Lee aspired to be like her mother, a piano teacher.
"My mom had an active home studio, however she didn't teach me," Lee said. "I got jealous and begged her for lessons, for two years. There were a couple times she tried to teach me, but the lessons never really worked out. Finally, at age seven, I got my first official lesson."
Currently she studies with Shearon Horton in order to improve for frequent recitals and performances.
"Every upcoming performance means more practice, practice, and more practice," Lee said. "I always get super nervous for any performance and really the only way to get ready and calm those nerves is to practice."
The only times she skips practice are the days of her recitals.
"I believe that when you go to perform on stage, for the real thing, you play better when the performance is fresh," Lee said.
Despite all her preparation, Lee is always anxious pre-show.
"I always dread before a performance because I'm so nervous, but afterwards, I'm much more relaxed and content about my playing," Lee said.
Regardless, for Lee, the performance is always more about the audience than herself whether the performance is for elite judges or local community members.
"I love to meet the people in the audience and be able to interact with them, especially when I perform at retirement homes because I know that they just want to enjoy the music," Lee said.
Although Lee is confident she won't stop performing anytime in soon, she's playing the future of her piano career by ear.
"It's definitely a possibility," Lee said, in regards to a future career in piano. "I go to piano camps and meet great piano professors from Juilliard, Eastman, Peabody and Northwestern to learn from them and experience a sample life of a conservatory student."
One thing Lee is definitely sure she will keep doing is bettering the community through music.
"I will keep performing at nursing homes and sharing music with the community," Lee said. "Currently, I'm trying to build a new organization at my church, called Music Eunited, where I gather musicians in Austin to teach disabled kids piano or any other instrument. The process of creating this class would be extensive, but totally worth it."
Lee cannot separate herself from music any more than melody can from rhythm.
"Piano has definitely influenced my life a great deal," Lee said. "It's really disciplined me, and helped me meet a lot of amazing people. Piano is a great commitment and is very time consuming, therefore helped me build a structured life. Whether it's classical, pop, or Broadway, music is a huge part of my life, and it seems impossible to give up."
Video of Eunice playing can be found here: