Student Feature: Helping Haiti
This summer, while many students were using the break to avoid the idea of school and spend their time how they pleased, one sophomore took an extraordinary journey to help a nation in need.
Sophomore Lauren Campbell has visited Haiti twice in the past two years, once in 2011 and once this past summer. Though the trip usually lasts for two weeks, Campbell convinced her mom to stay a week more.
"The first time was a little spontaneous," Campbell said, "The second time my parents were leading the trip so my whole family went."
After three plane rides and thirteen hours, Campbell arrived in Port-au-Prince where she then took a forty-five minute ride to Mission of Hope Haiti where she was staying. Campbell was aware of the situation in Haiti, but it didn't quite sink in until she was there.
"One thing that I noticed right away was that though the setting was really grim, the people were really beautiful." Campbell said.
Campbell, along with the other volunteers helped with the Vacation Bible School by leading stations in games, crafts and stories. One boy who was attending the Bible School, Micheal, whose dad had died the week before, was attached to Campbell at the hip.
"I played with him the whole time," Campbell said. "And when I went up to the stage to share a Bible story, he wouldn't let go of my hand."
Though helping the kids was a major highlight and purpose of the trip, Campbell also enjoyed spending time with the translators.
"They have such big dreams and work so hard," Campbell said.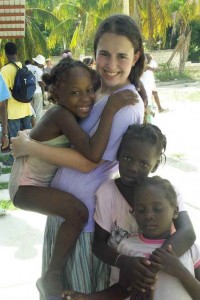 The trip was an overall impactful part of Campbell's summer. Campbell learned important lessons on being grateful, and the trip encouraged her faith.
"They approach worship and church on such a personal and celebratory manner." Campbell said.
Campbell has kept in touch with the people she met in Haiti, and is friends with many of them on Facebook. She will forever remember her experience.