Taking Real Life Risks
Alumni Share Experiences, Discuss Decisions to Not Go to College Straight Away
While there are graduates who choose to attend college after high school, some chose a different path for themselves. From internships to joining the workforce to taking a gap year, here are three former students who chose to try their hand at the real world before or instead of college.
After graduating in 2018, Mathew Juarez, like many planned on taking classes at Austin Community College (ACC) before officially enrolling in a university to save money on the more basic classes. Deciding to make some money over the summer as well, Juarez enrolled in the Samsung Austin Semiconductor (SAS) high school graduate program, where he worked as a contracted intern helping the technicians and PM team perform preventative maintenance (PMs) on the photolithography tools. While doing this work he was also required to work on a project that would be evaluated at the end of the summer and would determine if they would keep him as an apprentice. After being selected to stay, the company allowed him to work 24 hours a week and reimbursed for his college tuition and other educational costs.
"It made sense to me to do [the program] because I wasn't planning on moving away for college just yet," Juarez said. "Since I was just going to be staying at ACC I figured I'd be able to save up the money that I'd make from SAS, gain some experience in the engineering field and save money on tuition since ACC is significantly less expensive than your traditional four-year university."
Currently studying at the University of Texas at San Antonio and halfway to getting his bachelor of science in mechanical engineering, Juarez said that leaving Samsung was a difficult decision but in the long run it was necessary to make it for himself and the future of his education.
"That was my first real big 'adult' decision," Juarez said. "It showed me that I need to be selfish in the fact that I can't be nice and let others dictate what I do with my life. While my time at Samsung was beneficial to me, providing me with engineering tech experience and a job to pay for school, I had to leave to continue to pursue my goal."
"
It showed me that I need to be selfish in the fact that I can't be nice and let others dictate what I do with my life."
— Mathew Juarez
Another alumna taking time to gain experience and knowledge in their craft is 2019 alumna Deana Trautz. Currently taking ACC courses to get her core credits out of the way, Trautz said she wanted to find a way to continue writing and doing journalism outside of school so that she didn't lose touch with what she loved.
"A month after I graduated, I contacted editors at several local newspapers asking if I could freelance for them," Trautz said. "I was thrilled when I got a callback and ended up starting my freelance reporting at two Austin American-Statesman editions — the Round Rock Leader and Pflugerville Pflag. Working at these newspapers has been an invaluable experience and has allowed me to learn by doing, which I think is so important towards growth."
Having written about things like two restaurant owners escaping Vietnam, a Korean man who's father's remains were identified and brought back from North Korea, and a same-sex couple who went through a second-parent adoption to ensure full legal parental rights, Trautz said that writing in the professional world is very different than she expected but that it has allowed her to learn and have experiences she never could have imagined.
"It has truly been an honor to connect with people and give them a voice through my writing," Trautz said. "Having that connection and vulnerability with others is a major reason why I have always loved what I do. Every story I have worked on has taught me something new and brought me closer to people I may have never come in contact with. I couldn't be more glad that I went the less typical route and jumped into the journalism field fresh out of high school."
"
Having that connection and vulnerability with others is a major reason why I have always loved what I do. Every story I have worked on has taught me something new and brought me closer to people I may have never come in contact with."
— Deana Trautz
A little more unsure about what she wants from the future of her education, 2014 alumna, Taylor Lavine, took what's called a KIVU gap year where the organization a student works with plans out the entire year. First semester students work internships in the U.S. and second-semester students are sent to a variety of many cities in the world and work jobs.
Lavine began her fall semester in Denver and has traveled to Bohol in the Philippines, Kigali, Rwanda, Israel and Jordan. Working at a nonprofit with the rest of her group for the first semester, and also taking classes that take a deeper look at human nature, Lavine said that she learned a lot about both herself, and how to survive in the world.
"I loved the classes we did because it helped me understand how to work with others and understand how they think," Lavine said. "The internship was neat but it also showed me what I didn't want to study in school because I wasn't totally passionate about it. During the week we had to cook meals for each other, we had to take public transportation, and we had to work. It quickly taught me how to grow up and take responsibility."
Lavine said that choosing to take a gap year was a hard decision to make as it had never really fallen into the plan she had after high school. In the end, she realized that she needed time for herself before diving back into her education.
"When I was [in high school], my plan [during] junior year was to go to Ole Miss and study business, I had no idea gap years even existed," Lavine said. "At first, I was ashamed to want to take this route because people and friends thought it was odd for me to do because it didn't look like everyone else. In America, we have this mentality to always want more or the new version of 'things', and in the places, I traveled to they didn't care about any of that; they cared for their family, good health and pure joy."
More than anyone, people like Juarez, Trautz and Lavine know what it's like to be unsure of the future. Juarez wants future high school graduates to know that it doesn't have to be as rushed as it seems to be.
"You'll probably figure out when you graduate, nothing really goes to plan," Juarez said. "Weigh the different options whether its community college, trade school, a university or just going straight into working. It's good to have a general idea of what you wanna do but if things change they're gonna change whether you like it or not. You [have to] be willing to make do with the situation that you've got and make the decisions that you think will take you in the direction that you're wanting to go."
About the Writer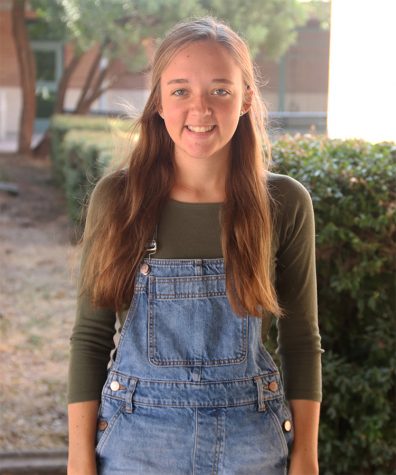 Kaley Johnson, Reporter
Kaley is a senior and this is her second year as a reporter on The Wolfpack staff. She is also a part of the varsity tennis team. She enjoys writing opinion pieces as well as the concerns and interests of the students. She plans to study English or creative writing at UNT or LSU with a minor in either psychology or theater. In her free time, she enjoys stories in any way including watching, reading and writing. She also enjoys music, fashion, food and coffee.