Weld Done
Shop Workers Reflect on Their Experiences in Agricultural Mechanics
Gloves. Check. Helmet. Check. Rod. Check. Safety glasses. Check. These are just some of the basic tools used in the Agriculture Mechanics class, also often referred to as the welding class says junior Samuel Burns.
Ag Mech and Metal Tech is what a lot of students refer to as the welding class, where students get to learn a multitude of things, but the common consensus is that welding is the most fun part of the class, says junior Connor Ross.
Ag Mech isn't just a learning and progression-based class, but there are competitions and a 'sport' aspect involved, as there is projects and contests that students can enter. Some have made entire 30 foot long trailers and entered them into contests, but there are many other things that are built.
"The biggest challenge for me as a teacher is being able to have students that are teachable," Agriculture Science teacher Myles Russell said. "It's one of those things that you need to come in being teachable and expecting to learn because it's a difficult process to master and become good at". 
Welding isn't dangerous if all the safety precautions are followed, but safety is important as the welds can be melting metal at or up to 10,000 degrees Fahrenheit. Having the correct safety equipment makes the process go smoother and helps not burn the students hands or even make them go blind.
"I really like my equipment and the stuff I use daily, especially my helmet because I've got some hilarious stickers on it," Burns said. "People should definitely join the class because Mr. Russell's one of the coolest teachers."
Russell is liked by a majority of students who he works with, through his laid-back and helpful teaching style. While also maintaining his ability to teach safely Mr. Russell creates friendships with his students says Ross.
"My favorite part about welding is definitely the teacher that's for sure where it's at," Ross said. "The teacher really helps you out, especially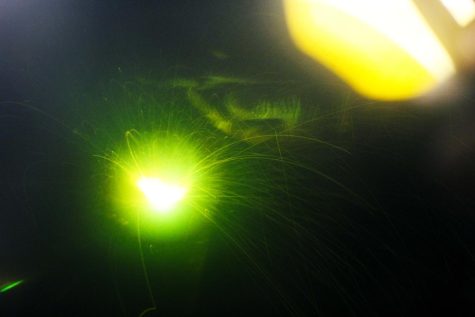 during your projects, which is one of the best parts, as well as him just being really funny and you want to be around him."
Welding isn't the main focus of the Agriculture Mechanics class, but it's one of the most important parts for the students attending it as it opens up possibilities for future careers. The class is different from a typical welding class as it opens up the opportunity for UIL competitions and more time in skills to polish off welds, like angle grinding.
"The reason why you should join the class is it gives you a lot of freedom to express yourself and how to weld better," Ross said. "It definitely gives you a lot of life skills and will be able to prepare you for a field of welding which to me is the best part, so out of high school I can have a nice job."