Youth and Government Club Takes Six to State Conference in First Year on Campus
The weekend of Jan. 25, the Youth and Government Club participated at the State Conference in Austin for the first time. The group experienced a mock trial, where one student got her bill passed.
YAG is a mock U.S government including a full legislative, judiciary and executive branch. Students run for election, write and advocate bills and have trials with lawyers, plaintiffs, defendants, witnesses and judges.
Senior Ridah Shaik started the club this year with the help of US History teacher, Jayne Serna. According to Serna, Shaik contacted the YMCA director in charge of the Youth and Government program to get it started.
Shaik said that she was involved with the club in Oklahoma, which she says gave her confidence.
 "Before, I was really socially anxious, I wasn't able to talk to anyone and I never had any confidence in what I was saying," Shaik said. "Then I went into Youth and Government and it felt like my ideas and opinions mattered. Because it was so important to me, I wanted other people to experience the same thing."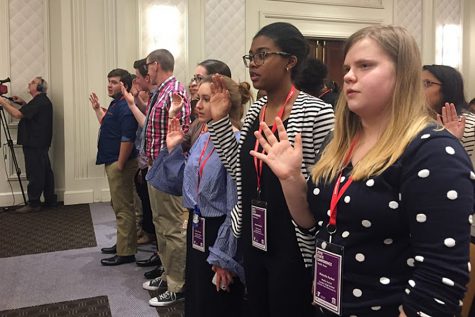 The two levels of competition, district and state, simulate how one would run an actual government. At district, students write bills, then they go to competition to present them. On the state level, they discuss the rationality and argue why their bill should be passed. After this, they take questions on their bill from their other legislatures and answer their questions and concerns. If their bill passes in their part of the legislature (house or senate), they have to find a co-sponsor in the opposite legislative side.
"The format of the debate had about 150 kids in the same room all debating over the same bills and it was pretty much chaos as far as everyone trying to run to the podium to get a chance to speak," senior Ricky Rosario said. "But that's what made it fun, because it's supposed to simulate what an actual legislative session would be like."
Out of the 1,400 kids participating, only eight students had their bills passed, one of which was written by freshman Kate Schulle. Her bill about legalizing the act of assisted suicide in hospitalized situations for the terminally ill, was the first to be debated in the high house.
"It was nerve wracking," Schulle said. "I went up there and I was shaking I was just so nervous. We ended up debating my bill for an hour and a half and getting it signed by the governor."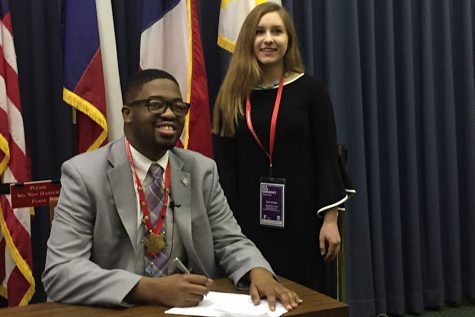 Schulle continued saying how much she has enjoyed the whole experience.
"The opportunity as a freshman, to have my bill passed into law, is amazing," Schulle said. "The experience was once in a lifetime, or hopefully four in a lifetime, given that I go each year of my high school career."
She said that YAG is a great club for everyone to consider. Meeting are in Serna's room every Friday after school.
"If any one wants to join, please join," Schulle said. "We want to expand our team and it's an amazing opportunity if you like debate or government, to get that exposure and hopefully grow your passion for politics."