Cedar Fever
UIL Academics Team Wins District Champion Title
After competing against seven other schools, the UIL Academics team was named District Champions Saturday at Cedar Park High School. With a total point score of 568, Cedar Park beat its rivals Liberty Hill and Leander.
"Throughout the day, we kept checking the scores and we definitely had a lead throughout the day, but it kind of fluctuated back and forth over time," Academic UIL Coordinator Josh Marsh said. "It was very hard to keep my emotions in for the fact that the other coaches were still there, and I didn't want to upset them, but when it was definitely decided that we did win, we took a photo with the plaque. I am very excited and very proud of our kids and how they competed, and I'm proud of our coaches and what they did to help make sure the teams were set up. We are looking forward to going to Regionals and doing well there."
Additionally, five individual teams — Journalism, Literary Criticism, Computer Science, Current Issues and Events and Spelling and Vocabulary — also won District Champions.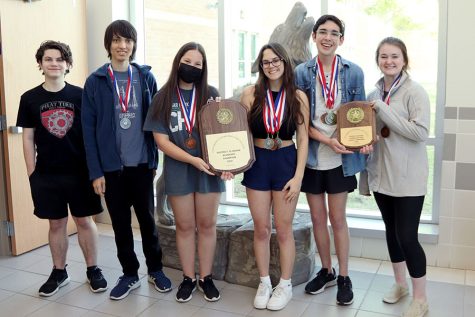 "Our journalism team won the District title by one point," UIL Journalism Coach Paige Hert said. "We were neck and neck with Liberty Hill all day, so it was really exciting when Mr. Marsh finalized the results and we were one point ahead. Our district is super competitive for journalism, and my team has been working really hard at UIL practice meets this semester and on their own to win District. They take feedback from judges to improve their writing, and I'm super proud that they were able to earn this title."
Four journalism competitors, seniors Tristan Hernandez and Ally JohnPress and juniors Erin Pish and Jaden Kolenbrander, will advance to Regionals at University of Texas at San Antonio on April 23. Cedar Park Journalism had a final score of 128 and Liberty Hill Journalism had a final score of 127.
"Winning first place was a great accomplishment for all of our competitors," Hernandez said. "Liberty Hill is one of the strongest UIL teams in the state and won a state championship last year, so beating them was honestly such a challenge, but we really pulled it off. Personally, I am proud of my results, as I placed in all five journalism events and advanced in my three favorites: news, editorial and headline. With this being my final season and serving as team captain this year, it's especially nice to know we have some strong competitors for next year."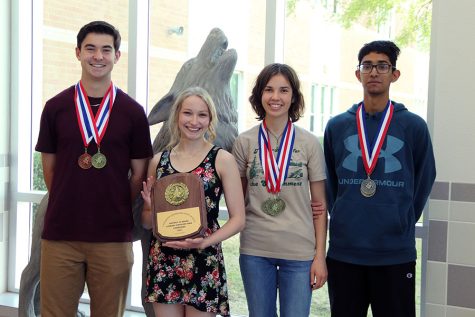 Additionally, Literary Criticisms came in first, and juniors Ashley Chikkala, Arnav Batra, Noah Jacobson and Kaci Craddock advanced as a team. Competitors must understand literary terms and history along with the UIL reading list, which consists of a novel, a drama and poetry that changes each year.
"To describe Lit Crit in one word, it's humbling," Chikkala said. "You can prepare as much as you want for it, you can study as much as you want, but there is so much stuff out there. It's definitely a bonding experience through all of it. [The difficulty] makes doing well in it so much more exciting because you never expect that you have done well, ever. I was very shocked [when we won]. We are a good team, but the test is so random and so difficult, so it is always so surprising when we do well, and to have all of us do well, regardless of our past success, was very surprising."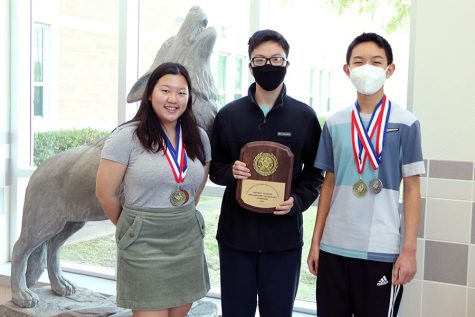 The Spelling and Vocabulary team, consisting of senior Kailey Cheng and juniors Winson Lin and Ryan Liu, placed first and will compete at Regionals. For that contest, each student must complete a three-part test consisting of a multiple choice section and a verbal vocabulary test including 70 words, plus 20 words for a tiebreaker, that participants must write down.
"I was both surprised and excited when I found out we had placed first," Cheng said. "After competing with Ryan and Winson in virtual or practice meets, I was confident we'd place high, but winning was a pleasant surprise. Towards Regionals, I'm a little scared, but as a senior I really have nothing to lose. I'm just hoping to do the best we can."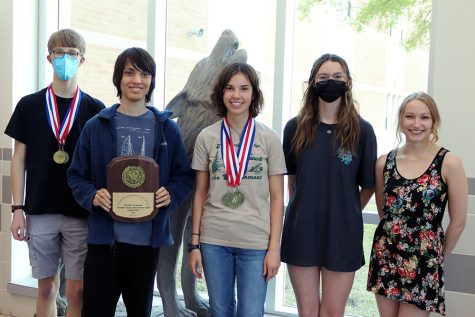 Furthermore, Current Events, including sophomore Alex Gilsbach, juniors Jaden Kolenbrander and Kaci Craddock and senior Sydney Fuller, competed and placed first as a team. Also, Craddock, Gilsbach and Kolenbrander all placed top three individually.
"Current Events consists of a multiple choice section and an essay about a certain current events topic, and while we all performed well on the multiple choice questions, it was our team's performance on the essay which really put us in the top three as individuals and first place as a team," Kolenbrander said. "I feel like I underperformed on the essay section, and I'm really proud of the rest of my team for all the studying and improvement they've done at the invitationals and now. It's because of them that, in my opinion, we have a real chance for not only Regionals, but State."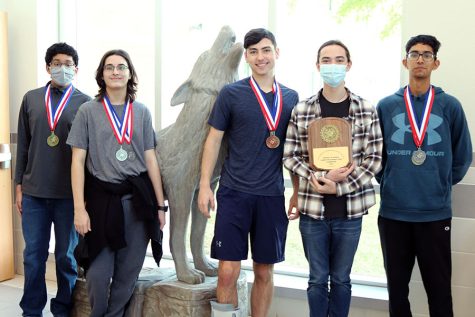 Also, the Computer Science (CS) team, consisting of juniors Alex Thummalapalli and Stefan De Araujo and seniors Adam Long and Andrew Finklea, placed in the top four spots. The competition consists of an individual and group portion with a writing and programming section, and it lasts two hours and 40 minutes.
"I split practicing into two types, the first one is just straight up practice where we do the written exams and programming practices just doing the practice sessions, and the second part is learning," Long said. "In order to actually do the programming and practice exams, we need to actually know what's on them. For District, we've advanced almost every single time since 2018. Of course we were excited [when we got first], but it was definitely something that we saw coming and that we practiced for. For those who this is their first time on the CS team, it was definitely a very joyful moment. Our team is very strong, probably one of the strongest in the state right now. For Region, we want to go to State. We're trying extra hard to make sure we get there because half the team hasn't been on UIL before so going to State would be really cool."
In addition, the Mathematics, Number Sense, Science and Social Studies teams placed second. In all, Cedar Park will send 21 students to Regionals in April.