A Day in Astroworld
In-Depth Review of the Inaugural Astroworld Fest
It was a day filled with hysteria, hectic as projected, at times painful and also one of the greatest days of my life. On Nov. 17, I went to the inaugural Astroworld Fest (and celebrated my birthday there). Now I am here to give you all the good things about the fest, as well as some of the bad.
In case you aren't keeping up with some pop culture and need a brief rundown of what the music festival is, Astroworld Fest is quite literally a dream come true by the Houston native, Travis Scott. According to their official website, the festival is set to take place across the street of the former home of Astroworld, an amusement park opened in downtown Houston in 1968, built to complement the nearby Astrodome. Back then, it was referred to as the "Eighth Wonder of the World." The festival aims to bring back the memories, spirit and fun of the original Astroworld, making that childhood dream of Travis Scott come true.
Upon walking up to the fences that surrounded the festival, it already looked like the security was going to be a disaster to keep all the people orderly and in line. You could see the mass amounts of people wandering all around the border, and there was no way to make sense of where anyone was supposed to go. With little information on where people were supposed to enter, it did look like everybody moved as a headless chicken would. Once the entrances in the fences opened, it went downhill for security, as a part of the fence came down seconds after everyone started to mob into the festival grounds to rush to the check-in gates (my cousins and I helped with this, and one came out with a bruised rib).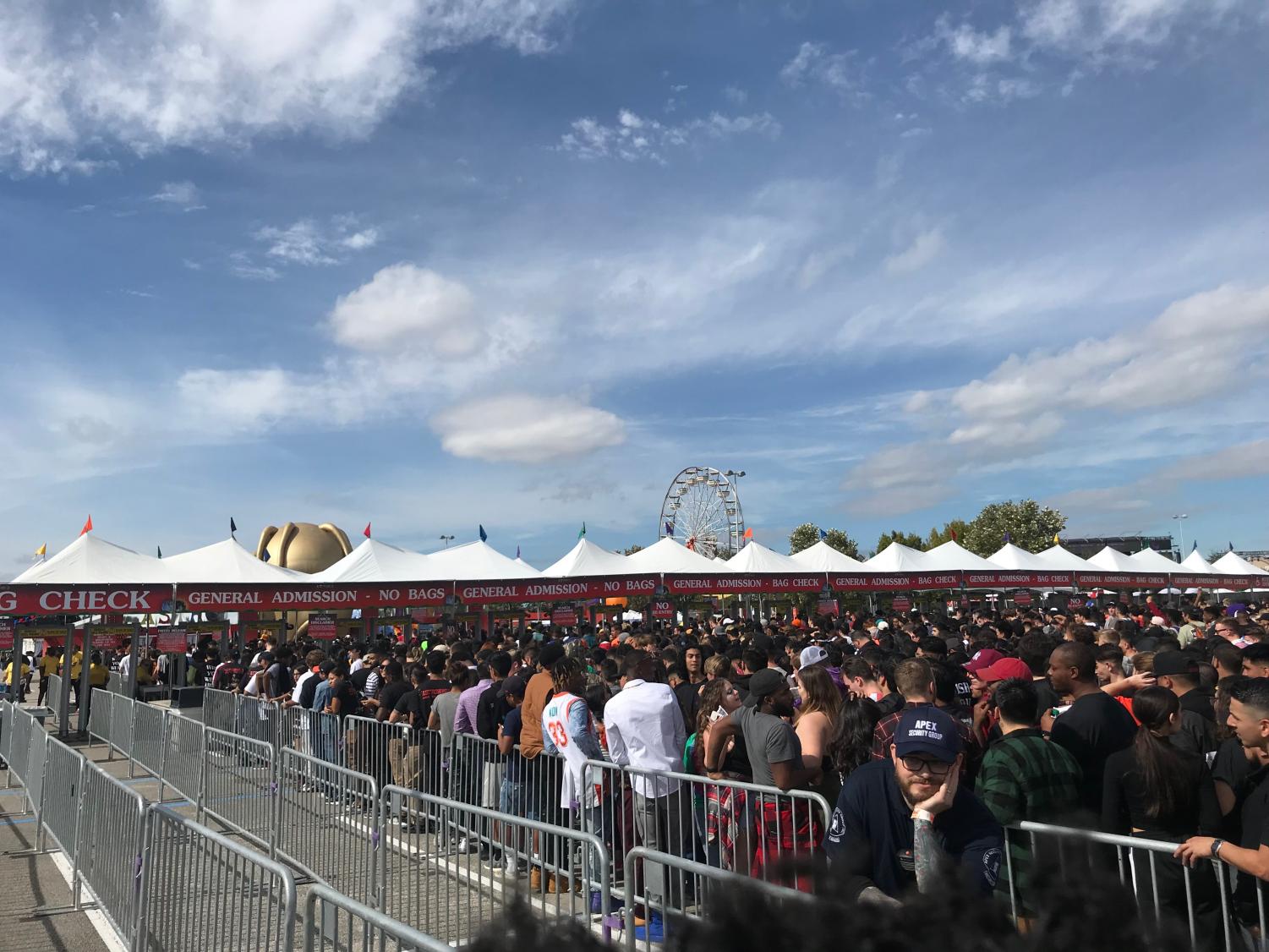 The security check-in gates were a disaster. I had a VIP ticket, so I, and everybody else that had one, assumed that we were supposed to get through the gates quicker than Spongebob could run to the rock and back with his superpowers. We were wrong. There was no security at the VIP lines for bag check, so the security that was outside of that refused to let any VIP ticket holders through, and ordered us to wait with general admission unless we wanted to wait for them to get the area staffed. The general admission looked disastrous to go through, so I had to wait another 20-30 minutes to get through the gates, while still going through enough trouble of security attempting to prevent me from bringing my Camelbak in. In the future, if this event becomes annual or semi-annual, the process to get in needs to be better.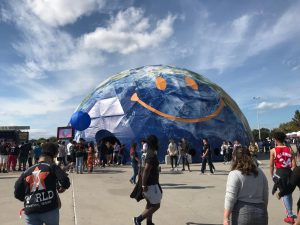 After getting through the gates, it was a whole new world. A golden Travis Scott head with his mouth being the entrance tunnel laid ahead and became a popular photo shoot location for all guests. Inside the festival grounds, there were the two stages for the musical performances, along with  merchandise tents, a mini version of the Astrodome with arcade games inside of it, a store to purchase chopped and screwed tapes/merchandise, food trucks like Shipley's Donuts or Torchy's Tacos and of course, a couple of carnival rides. I felt like a kid in a candy store and I ran around and looked at everything I possibly could before the music started to kick off.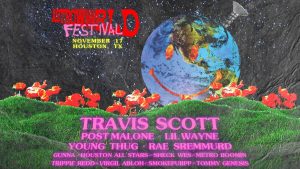 The performances were crazy. Every single one of the performances I attended was crazy. Smokepurpp kicked things off for with a bang. He played songs with crazy amounts of bass such as "Ok," "Audi," "Bless Yo Trap," "123," "Do Not Disturb" and of course, "Fingers Blue," which shook the crowd and pushed everyone to their physical limits in the mosh pits so early in the day. With a tribute to late friend XXXTentacion at the end of the set, Smokepurpp was an early favorite to watch.
The two DJ sets were back to back, consisting of Virgil Abloh and Metro Boomin, respectively. They were insane. Abloh, the current creative director of Louis Vuitton and founder of Off-White, played bangers such as "Mamacita," "Lookin," "Father Stretch My Hands Pt.2" and more to get the crowd bumping early. His set was an excellent pregame for Metro, the famed hip-hop producer. Playing songs to get moshes going, Metro went with "Overdue," "Father Stretch My Hands Pt.1," "Skyfall," "Don't Come Out the House," "X" and so many more. He definitely had the crowd boomin'.
Next up was Sheck Wes, and the one (and only) song everybody wanted to hear from him, "Mo Bamba." I got to his crowd while he was performing "Kyrie," and while everybody was standing around with the least bit of energy, my group and I managed to push up pretty deep to get a good spot for "Mo Bamba." Then, we heard the beat, and soon the producer tag "16yrold" instantly knowing what we were in for. Everything went ballistic. No man or woman was safe. If you were in a mosh pit like I was, you probably came out with a concussion. The energy was insane, but it couldn't last for the entire performance. Wes had to play "Mo Bamba" twice in order to get people to at least bump their heads. All in all, it did set an end to the discussion over which song goes crazier, "Mo Bamba" by Sheck Wes, or "Faneto" by Chief Keef. "Faneto" takes the crown for the greatest moshing song of all time.
After an extended break to regain our energy, my group got ready for the final stretch that included Young Thug, Post Malone and the main event, Travis Scott. I forgot how many people went crazy for Thug, but when he ran out onto stage blasting "On The Run," I instantly remembered. He played classics such as "Lifestyle," "Check," "Digits," and more current bangers like "Chanel(Go Get It)" with Gunna joining him and Relationship. Trippie Redd did come out at the end of this set to perform "Dark Knight Dummo" in order to close the set out for Thug. Post Malone impressively followed him up, shouting out his ex in many ways, and playing all of his radio hits. As he played "Better Now," "Rockstar" and "Congratulations," the room to breathe was becoming smaller as the performance went on and the crowd packed in even more.
After Posty, it was the main performance. It was what everybody had waited, raged and moshed for. The pinnacle of modern-day moshing. Travis Scott was up.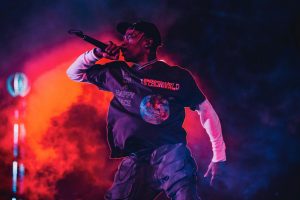 The lights dimmed, and then a video started playing. It was extremely trippy, and I couldn't make any sense of anything until I heard the autotuned, "Look behind you!" Everybody looked away from the main stage at once, and then saw smoke flare up from the connected stage, all while the instrumental for his opener, "Stargazing," played. Within a split second, Travis Scott jumped onto the stage and took off from there. There was no time spent not moving. I got knocked to the ground along with a pack of others around me after "Carousel" started to play because everybody was pushing each other. I realized that my life could have been ended so quickly if people pushed more and I got trampled, but once I got up and caught my breath, there was no looking back. The fear that was induced on the ground was induced in every possible moshpit through the rest of the hour and a half of songs. Hearing a mix of new and old songs from Travis made me happy, such as "Houstonfornication," to "Skyfall," to "90210" and so many more, all being capped off with the mega-hit song, "Sicko Mode." It was a performance viewed by 40,000 people at the stage, and one not to miss. After it all, Travis gave a special shoutout to everyone for attending, and it was ended with a fireworks display that could rival Liberty Fest at Milburn Park.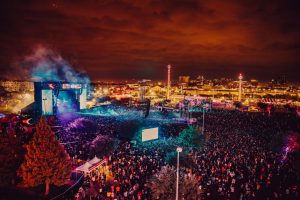 Overall, Astroworld was a less organized, yet more exciting festival than Jmblya. It was worth the pain, the potential concussion and the empty pockets to attend. It was an experience for the ages. Astroworld Fest was an epic ode to the city of Houston, and an ode to the fans that helped Travis make it this far in his career. I would definitely break the bank to come again.