Austin Celtic Festival Review
From Archery to Giant Turkey Legs, Festival Makes For Great Time
On Nov. 3 and 4, people from all over Austin gathered at Pioneer Farms to celebrate the annual Austin Celtic Festival. Dressed in Scottish kilts, Irish moccasins and the robes of the Vikings, people of Celtic heritage joined at this quaint farm to observe the festivities. People from all walks of life came to enjoy the crisp fall air and lively environment, and this year I accompanied some of my friends to the festival. Here are my favorite parts of the festival that you can surely look forward to when next year's Celtic festival rolls around.
The Viking Invasion-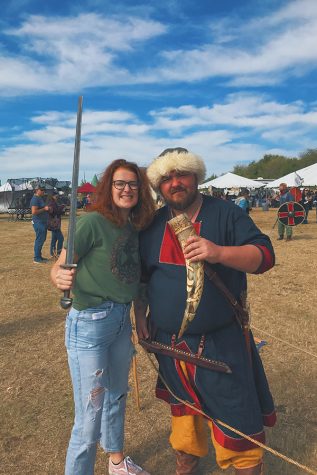 The Viking invasion occurs in a small field decorated with tents and men and women adorned in traditional Viking robes. If you enjoy learning about history, or you enjoy sword fighting, this event is for you. Around every half hour, the "Vikings" come out of their tents to demonstrate traditional Viking battle tactics and sword fighting techniques. Do not try to converse with them, however, because their tough and hard-headed character does not break.
Archery-
One section of the farm is dedicated entirely to archery. For only five dollars, you can learn to shoot 10 arrows at animal-shaped targets and live out your dreams of being Merida from Brave. First, you get a lesson on safety and are taught which bow would be best for your height and weight. A trained arching professional helps you with your form and technique, and if you ask nicely, they will show off a bit of their incredible skill. The targets vary in distance, so your success in archery depends on how much you challenge yourself (yes, I hit the target and was compared many times to Merida).
Celtic Dog Parade-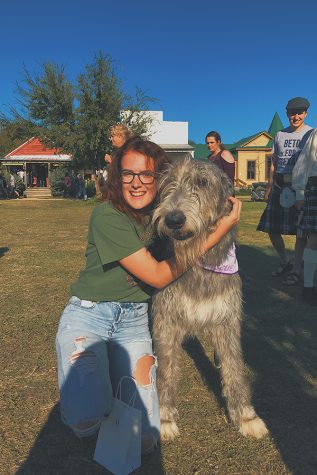 I know it sounds amazing, but seeing it in person is even cooler. Border collies, Irish wolfhounds and Scottish terriers walked around the entire farm in an incredible parade. In addition to seeing some cute animals, most dogs in the parades are rescues, so donations made towards the parade go to organizations that aid rescue dogs in finding good homes. The owners and breeders of the dogs are very friendly, so they will undoubtedly let you pet and play with their dogs.
The Food-
Many people have not had the opportunity to taste traditional Celtic foods. Bangers and mash are available to try, but there is also everything you could ask for on a stick. Chicken on a stick, corn dogs and even giant turkey legs. Desserts include miniature pancakes, fried Oreo's and homemade ice cream. If you happen to attend the festival next year, I highly recommend trying their regular or strawberry lemonades that are freshly squeezed with an entire lemon in the cup.
Overall, the Celtic festival is a really fun experience for anyone. I personally have a lot of Celtic blood running, but non-Celtic history buffs, sports lovers or foodies can also find something to enjoy at this festival. Throughout the farm grounds, there are also small shopping tents and handmade collectibles to commemorate your experience at the festival. If you can make the short 25-minute drive to the Austin Celtic Festival, I highly recommend coming out next year and embracing the vibrant Celtic culture.