The Wandering Wolfpack Goes to Mr. Boba
After school on Monday, Oct. 16, we, the Wandering Wolfpack, took a little trip to Mr. Boba cafe off of Cypress Creek Road. There, we got to experience different types and flavors of drinks, as well as boba- something foreign to some of the staff. Here's what we thought about it:
Sydney–
Unlike the rest of the staff, this wasn't my first time coming here. My friends and I have been getting drinks at Mr. Boba for about a year. We really like it because the drinks are good and it's a fun place to go and hang out. Going again this past Monday was no different. I normally get either a peach or mango smoothie with strawberry or passion fruit popping boba, but this time I opted for the mango smoothie with strawberry popping boba. Since I had already been here I really wasn't surprised about my drink because I had gotten it probably five times before. In my opinion, the popping boba is better than the original tapioca boba. Overall, I liked Mr. Boba before and I still like it now. It's definitely a ten out of ten for me.
Perry–
This was my very first time at Mr. Boba, so I had no idea what was good or what to get. I ended up ordering the pineapple smoothie with crystal boba balls at the bottom of the drink. The wait for our drinks was minimal, and I had the smoothie in my hands around five minutes after I ordered it. The drink itself was very good, and a really great smoothie, but then came the boba balls. The little balls at the bottom of my drink were horrendous, and I ended up dreading when I would feel one slide up the straw and into my mouth. While other members of the group got the balls that either exploded with flavor or actually HAD flavor, I ended up getting unlucky and accidentally choosing the boba balls that had no flavor whatsoever. They tasted like plastic and were just simply gross to eat. Overall, I give the experience at Mr. Boba at six out of ten rating due to the good flavor and quality of the drink itself, but also for the extremely gross boba balls with no flavor.     
Garrett–
Unlike the rest of the group, I got a frosty milk with honey and pudding with boba balls. I really liked the drink, until I got to the boba balls in the drink. I didn't really know if I liked them or not, but it did not make the drink any more enjoyable. The taste of the actual beverage was like a smoothie with a taste of honey. Perry and I didn't really seem to understand what the purpose of the boba balls were in the drink, but the rest of the group had different opinions of them. I give the cafe a six and a half out of ten rating because the environment of the cafe was quite relaxing, but the actual drink part almost ruined the experience for me because the boba balls didn't have much flavor. Others may say they love Mr. Boba, but for me, I would simply go somewhere else.   
Gillian–  
I had never been to Mr. Boba, so I didn't really have any expectations yet. When I first walked in, it seemed very nice. There was an area where you could chill with a couch, chairs and a coffee table between them. There was a nice aesthetic overall. When I looked at the menu to see what I was gonna get, there were so many options, even an "avocado smoothie." I simply ordered a strawberry banana smoothie with popping boba, it came in a nice, sealed cup that you had to pop the straw in; it was cute! The drink itself was good, since I had gotten a nice simple one. Overall I give the drink and place a ten out of ten. I have nothing to complain about.
Deana-
For years I had heard people mentioning "bubble tea" and was constantly told to try it. I tried these "bubbles" for the first time at Berry Cool, which offered them as a frozen yogurt topping. When Mr. Boba started up just a couple years ago (making me realize that it is technically called boba and not bubble tea) the small cafe soon became a hub for middle and high school kids. And because of their lines sometimes going outside the door, I'd like to say that it competes for business with Shake's Frozen Custard just across the parking lot.
The first time I tried boba tea at this location was a year ago when I ordered the taro smoothie with tapioca boba (which was recommended by all my friends). I have to say the experience was less than pleasant. In fact, the boba disturbed me so much with their gel like texture that after some time I developed a fear at the sight of boba creeping up the straw ten at a time. I felt violated by those boba and could not forget their flour like taste. I questioned if post traumatic boba disorder existed- and if so, did I have it?
Despite my experience, I still tagged along when my friends went to Mr. Boba, but only ordered popping boba. Eventually I took a sip from my friend's drink, which had tapioca boba and was quite surprised. I had wanted to give the boba another chance, since many people told me that it was an acquired taste. I realized that when the boba was combined with a good flavor of drink (my favorite is honeydew) I actually enjoyed the presence of the tapioca boba.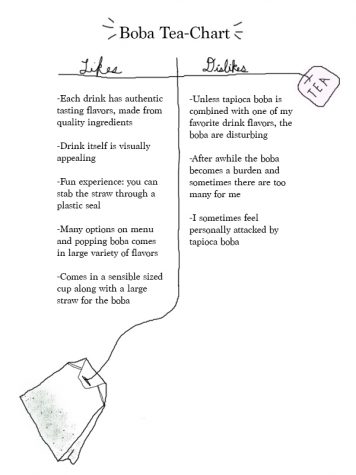 When the Wolfpack staff wandered back into the boba joint on Monday, I decided to commit to facing my boba fears. I felt like a new person, with half of my drink already gone in no time. I wasn't begging like the first time for people to take my drink away to take my boba, which I despised. Finally a pleasant experience I thought, that was until I was once again, violated by the vicious and mysterious. I felt a group of boba rush up my straw and attack me all at once, making me completely question my boba decisions. I would try the boba again, however next time, with great caution.
I think of boba like soup- you can eat and drink it. That is the appeal I believe, to make the drink more interesting and chewable at the same time. And like soup (or stew) the tapioca boba taste to me like dumplings. They have a tasteless, yet flour-like tinge to them which can be good or bad, depending on your drink's flavor.
Apart from the drinks, I enjoy the atmosphere and feng shui of the establishment. They have a very cafe-esque aesthetic, with brick patterned wall paper, fairy lights, and small potted plants. I wouldn't say I'd come to Mr. Boba to study, considering how loud it can get with the middle and high school crowds. The bathrooms were very elegant and homey as well, with pink walls and a welcoming can of Febreeze.
If you do decide to visit Mr. Boba, make sure to ask an experienced boba tea drinker for drink recommendations. For first timers, I would advise going with a group and getting popping boba (a safe bet) and trying a sip of tapioca boba from a friend. This way you may be able to avoid experiencing the dark side of boba.