There's No Offseason for Drum Corps Performers
Drum Corps is known as "marching band's major league." Every fall, thousands of performers audition for different corps across the country in instruments of their choice. The audition process is long, and very challenging, but when the work finally pays off, applicants find themselves a home over the summer in anywhere from Boston, MA to Santa Clara, CA, to perform almost every night until finals night in Indianapolis, IN.
Drum Corps International is split into two divisions: Open Class and World Class. The biggest and best corps compete in World Class, while Open Class consists of younger performers with less experience. Each corps is made up of a few different instrument groups. The "winds" are the brass players, such as trumpets, mellophones, baritones, etc. There is also percussion, which is broken into the battery (the drumline that marches on the field) and the front ensemble, which is called the "pit." A standard horn-line is made up of 80 performers, while the percussion section itself ranges from 16-24 players in the battery, and 10-20 performers in the pit. With these numbers, performers know what it takes to stand out at an audition camp of 100, and moreover, make the position that they are going for.
The marching band program at Cedar Park is one of the best nationwide, currently ranked in the top 42 high school bands in the country, according to HornRank. Having a solid program comes down to solid individual players, some of which look to improve and march Drum Corps. In the past, several of Cedar Park's performers have moved on to march Drum Corps. The younger members of the band look up to members who go on to do this, and they are inspired to do the same.
Cedar Park Alumni in Drum Corps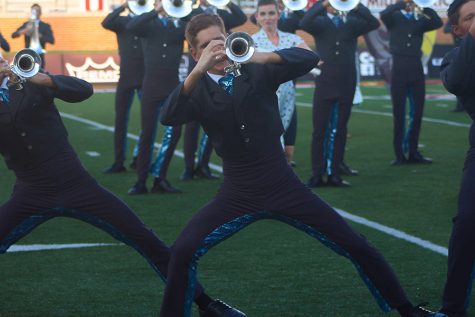 Colin Busick graduated from in the spring of 2018. He auditioned for Genesis, a drum corps based out of Austin, for the 2017 and 2018 seasons. He was offered a contract both times to march with Genesis for the summer. His high school instrument is Clarinet, but since drum corps is brass only in the wind section, it meant that Busick had to teach himself how to play trumpet at a very high level to compete at a drum corps audition. He's taking a year off in 2019 after auditioning for various corps, but he could take a lead trumpet spot in the spring of 2020.
"Auditions can be a nerve-wracking experience, as you spend an entire weekend being observed and directly compared to the people around you," Busick said. "You're constantly trying to impress the staff members, so consistency in your performance is key. It's typically a pretty rigorous schedule, with four hours of rehearsal at a time followed by one-hour meal breaks, but it gives you a taste of what your summer will be like if you're offered a membership contract with the corps. [Camps are] also a great way to meet new people, since everyone there wants the same thing as you."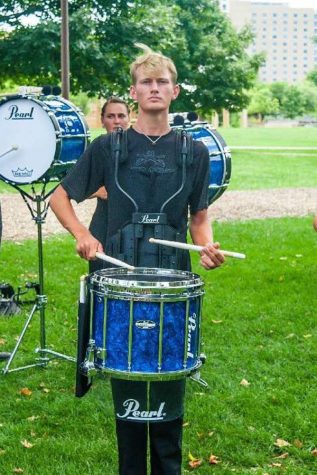 Jacob Lewis also graduated from in 2018. He auditioned at Santa Clara Vanguard and Troopers in Casper, WY for the 2017 season and made the snare line at Troopers for the 2018 corps season. Lewis, who was on the snare line in high school for four years, is now auditioning at Santa Clara Vanguard in hopes of making the snare line for the 2019 summer season.
"The competition [at audition camps] is always tough, but once it hits around February or March, that's when you'll feel the most amount of pressure," Lewis said. "There are about five or six people fighting for the remaining three or four spots usually, and each test by the staff is designed to separate the competition in a way that they can decide who the best players are. In this stage, it's not uncommon for every single person to be faced with a challenge they've never seen before, and it's their job to figure it out faster and better than their opponents. One or two mistakes is all it takes for someone to get the advantage over you, and then you're in deep water from that point on. The secret though is that no matter what, your job is always easier than the people who are looking at you. They don't want to cut players who they know have the potential to make their group, but that's just the name of the game when it comes to finding the best eight or nine people out of a group of 50. All they ask is that each performer focus on their own abilities and try to beat their prior self rather than the other players in the room. That's all you can really do if you want to succeed and have a spot on the line."
Current CPHS Band Members
Cason Damron
Year: Junior
Corps: Casper Troopers, Casper, WY
Instrument: Bass 5
Past Experience: N/A
Audition Process: "Every month there's a three day overnight camp in Dallas where we play and march all day with small breaks for meals."
Why Troopers?: "I want to march Troopers because of the family aspect and I love music. Over the summer, your friends in the corps become your new family while you're there. You all share the pride of your accomplishments. You all share the adrenaline before a show, and you all share the memories that you'll cherish forever."
Zach Harper
Year: Senior
Corps: Concord Blue Devils, Concord, CA
Instrument: Euphonium
Past Experience: Crossmen, San Antonio, TX 2017 & 2018
Audition Process: "Individual playing, some marching basics and some variation across the floor dances."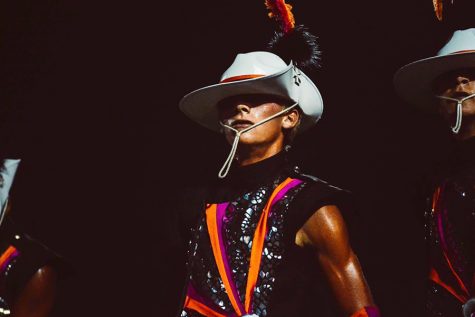 Why BD?: "I picked BD because it is the most professional organization, as they treat their members well."
Summer 2019 will bring a full slate of competition to drum corps, and as veteran performers age out, new faces audition to fill the positions. The competition is very high, but Cedar Park knows a thing or two about competition. The marching members at Cedar Park give their best in anything that they do, and these two, along with seven others, prove that by going out and making strong appearances in the future of Drum Corps.