Which Pie is Our Home Slice?
Wolfpack Staff Bakes, Eats and Judges Six Different Pies
In the spirit of Thanksgiving, each member of the newspaper staff, along with Mrs. Hert, brought in a different pie to taste. Most of us gained the experience of making our own pie, while also having the opportunity to try pies that we had not before. Though the pies were brought so we could write our opinions on them, we really just wanted an excuse to eat lots of pie.
Here's our rundown:
Garrett-
I liked the sweet potato pie mainly because the creaminess of the sweet potato mixed in with the nuts on the top makes the perfect combination. It really makes me feel like I'm in the Thanksgiving break already. My second favorite pie of the choices was the "mystery" pie, which was a chocolate peanut butter cups pie. It was just like ice cream but in pie form. Kudos to you, Gillian and Sydney.
Sydney-
My favorite pie was the lemon meringue pie that Deana made. I thought that it was really good, and I liked the meringue on top. My second favorite pie was the one that I made, which was the Peanut Butter Cup Pie. The night before our pie day, I was on Pinterest and found the recipe and I was like, "well, this looks good." So I made it and it tasted pretty good, although I will say that it was really sweet. The one pie that surprised me was Gillian's Sweet Potato Pie, because I'm not going to lie, I was a little nervous. But it ended up really surprising because it tasted almost exactly like a pumpkin pie. Overall, the pies were all good, but eating them at 9 a.m. was a little much.
Perry-
Out of all the pies we tried today, I really enjoyed the lemon meringue one surprisingly. I usually try to stay as far away from lemon sweets as I can because they usually just end up tasting gross, but this one was actually my favorite out of all of them. In competition for my favorite pie was also the German Chocolate pie, which isn't too much of a surprise for me seeing as A) I LOVE chocolate, and B) the pie was literally a chocolate pie with chocolate drizzled on top of the pie to make it quite amazing. The apple and pumpkin were also pretty good, but not great enough to be my favorite of these choices. I always eat apple pies for thanksgiving so there was no surprise when I ate the pie and found it to be amazing once again. And of course the pumpkin pie is a classic, which I'm sure almost everyone has had and it was also pretty good. Now for the last pie on the list: the sweet potato pie. I'm not going to say I disliked it, but it wasn't my favorite. To me it tasted like a pumpkin pie with a weird tangy taste, which I did not enjoy at all. But overall, all the pies were excellently cooked (or, in my case, bought) and they all were very tasty.
Gillian-
My favorite pies were the pumpkin and sweet potato pies. They had just the right amount of sweet, and they didn't break as easily. I then would have chosen the apple pie, but it was store bought, so I feel like it doesn't count, shame on you Perry. I also liked the German Chocolate and the Crazy pie, but I guess it was just too sweet for me after eating the others. If I were a fan of lemon meringue pies, I think I would like Deana's, but since I wasn't a fan since the beginning I didn't really like it. Love you Deana!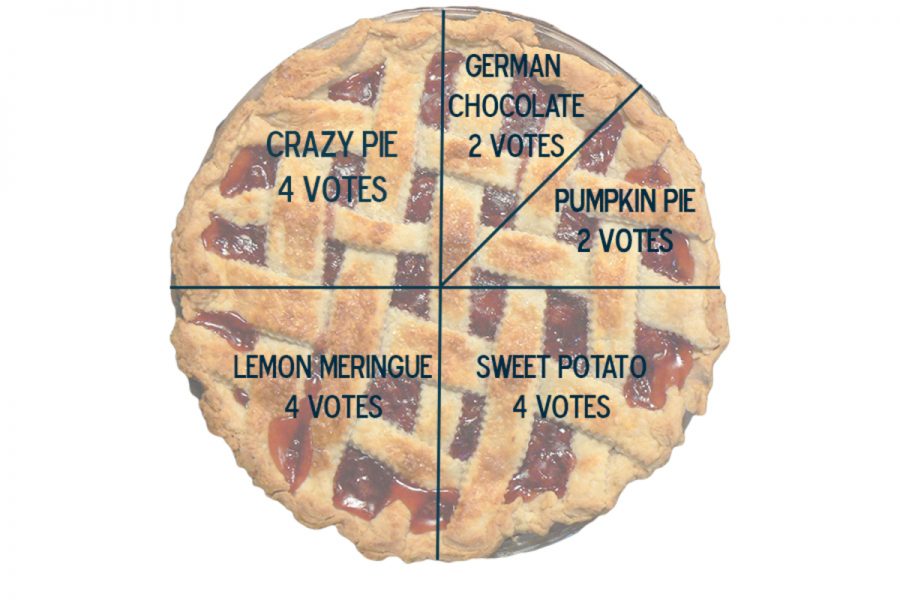 Deana-
Though Sydney thought it was too early for pie, I personally think it is never too early.
I am a big believer of pie. I made my favorite, lemon meringue (meringue is also a really high quality word). It's my favorite because of the egg white meringue on top along with the lemon flavor. My mom and I flavored it with lemon zest versus pudding this time and it had so much more flavor.
I've always loved sweet potato pie as well, which is almost the same as pumpkin pie (except 13 times better). I thought Gillian's sweet potato pie was really flavorful and I've never had that type of pie with pecan topping.
I thought Sydney's "mystery" pie was really good, especially eating a small slice because it was really sweet. Shout out to HEB for making a good apple pie. And also thank you to Perry for buying it.