Fa La La Through Life
Senior Student Speaks About Accomplishments in Choir, Future Plans
Think about something that we still continue with today. Something that cannot be forgotten because of the memories. For Senior Jasmine Cooper, this couldn't be more true. One of the many voices in the choir program, Cooper reflects on the skills she acquired, the memories she made, and the lessons she learned with her journey in the choir program. 
Cooper joined the choir program in sixth grade and is still continuing with it today. She said she enjoys being in choir and the friendly environment. During her years in choir, Cooper has accomplished many things, one of which includes being selected to be in a nationally ranked choir, while pursuing other passions. 
"I started choir [during] the first full year of school in Texas [in sixth grade]," Cooper said. "I originally wanted to join band and play the flute, but I am thankful I chose choir and stuck with it since sixth grade." 
Upon winning the National Mark of Excellence Award after performing at the TMEA in February 2019, the CPHS choir then became a nationally-ranked choir. Being in a nationally recognized choir, Cooper said, was amazing. She said she feels proud to be a part of such a choir even though the new pandemic protocols and guidelines they had to follow made it more difficult to perform. 
"Our choir program is very blessed to have a choir director, Ms. Holt, who worked hard and made the choir program that stands today," Cooper said. "We all persevered, even through this pandemic. It is amazing to be one of the top choirs in the nation."
In addition to other performances, one of Cooper's biggest events was participating in the choir's performance at the American Choral Directors Association (ACDA) in March. The Varsity Mixed Choir recorded at a chapel to submit for their virtual performance. 
"For the people who wanted to view our recorded concert in-person, [which had] limited seating, just choir students and their families and friends [were allowed]," Cooper said. "We had an ACDA watch party in the PAC, because us seniors, who were juniors last year, didn't have a prom, and we had a great idea to make the event formal. Our recording and video, our concert, was amazing. To see our hard work and our choir directors' efforts pay off was truly a sight."
Besides choir, Cooper is also involved in interior design. She said she enjoys the creative environment and has a passion for the course as well. This year, she participated in the Family, Career and Community Leaders of America (FCCLA) Competition with sophomore Camden Michalek in the interior design event. 
"I was in interior design last year, and this is my second year in the course," Cooper said. "Interior design is my creative outlet. I have always embraced and had the passion for creativity. I love colors, pens, organizing, decorating and watching 'The Home Edit' on Netflix and HGTV." 
As an officer at the 4H Youth Toastmasters Gavel Club, Cooper said she loves meeting new people through the club and just generally getting to help others. She is currently serving as both a county delegate and the banker treasurer of the club. Cooper has contributed a lot to the club, both by serving in these two officer positions and even creating a new website for the club in order to stimulate communication. Other than that, she said loves the progress the club has made and is glad to be a part of it. 
"Our club is amazingly run by kids, third graders and up to high school seniors," Cooper said. "I couldn't be more proud of how much our club had grown. In fact, our Cedar Park 4H Gavel Club for Public Speaking flourished since the start of the pandemic."
As a choir student, Cooper said she loves the memories and the friends she has made during her time within the choir program. 
"What I love about choir, besides singing and making new friends, are the memories we make in class, from people making jokes to singing together to watching [movies] and hearing all of us sing together," Cooper said. "Choir made my high school years unforgettable." 
In terms of future plans, Cooper said she wants to pursue a career in medicine rather than choir. However, she will still be showing her support for choir and choir programs everywhere. She has also been accepted into the University of Hawaii at Manoa, however, she is still deciding whether to stay in Texas or attend abroad.  
"I don't plan to go into singing as a career because I want to become a neonatal nurse, but I would definitely support choirs in the future," Cooper said. "As Ms. Holt puts it, 'we are advocates for the arts,' and it is a shame to see choral music dying out or [seeing] students having less accessibility to musical art when so many kids depend on that elective or class. Many students change their mind and stay in choir because of the familial relationships and community they build in choir. Music is not just a class you take. It's a family. It's a friend. It's a way to express yourself and a tradition that has been kept alive. That needs to be kept alive for the future generations because music is part of our identity."
About the Contributor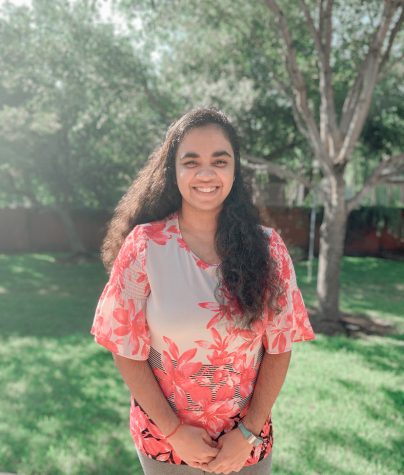 Ruchi Sankolli, Reporter
Ruchi Sankolli is a junior and a second year reporter. In addition to being a member of the Wolfpack, she is also the president of the 4H Toastmasters club. She loves to read and write stories in her free time. Ruchi likes writing research articles. She plans to attend UT Austin or Texas A&M after she graduates to become a scientist. Ruchi also loves animals and helping people. Because of this, she loves serving the community in the best way that she can.