Hello From the Happiest Place on Earth
CPHS Alumnus Joins Staff as Theatre Tech Teacher
The theatre department has a new tech teacher. Colin Falk has returned to the hallways of Cedar Park High school, since his graduation in 2016. After graduating high school, Falk pursued his Bachelor of Fine Arts at the University of Nebraska-Lincoln.  While he was a student there, Falk was also working at different jobs across the country. 
"[Between] my time working at the school, and working some summer gigs across the country, I've been able to be a part of nearly 30 productions in four different states," Falk said. "I've been a stagehand for a number of other shows that toured through the area. My favorite was working a concert for/meeting Leslie Odom Jr. Right out of my undergrad, I went to work at Walt Disney World."
Falk worked at Disney as a pyrotechnics technician on one of the park's shows, "Fantasmic." The show is a night time spectacular at the park, with fireworks, water effects and video projections while also having characters interacting with the audience.
Falk also worked at other Disney events, including the RunDisney Marathons as well as the opening of "Star Wars: Galaxy's Age." 
"I worked with the fireworks team to produce the nighttime spectacular," Falk said. "It was, really and truly, a magical experience. I tell people all the time that my favorite part of working there was that moment right before the show, when I could look out at the audience and see a crowd of 8,000 cheering people, and it was a new crowd every night, with another group of people waiting to be amazed by what we do."
When the COVID-19 pandemic hit, Falk decided to move back to Cedar Park temporarily. He originally planned to stay a month or two, during which he received a call from the former CPHS Theatre Director Jerry Blake, informing him that the position of technical director was open. 
"A few weeks later, I was a teacher," Falk said. "It has certainly been an interesting year; the challenges of learning how to teach, adapting to Zoom learning and just reentering the world after six months of isolation."
Despite the challenges of this year, Falk said he is optimistic about how things will go. Overall, he said he is proud to teach at CPHS and is excited about the new theatre season. 
"More than once I've doubted whether I would make it to the end of the year," Falk said. "But now we're nearing the end of this school year, and things are really starting to look up. We're optimistic for next school year, and I'm ready to see some people in person again, and we've planned a season full of shows which is going to blow everyone away."
About the Writer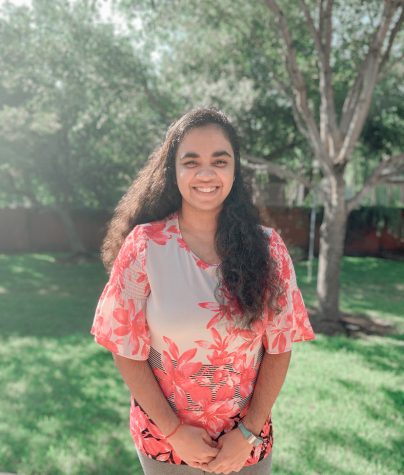 Ruchi Sankolli, Reporter
Ruchi Sankolli is a junior and a second year reporter. In addition to being a member of the Wolfpack, she is also the president of the 4H Toastmasters club. She loves to read and write stories in her free time. Ruchi likes writing research articles. She plans to attend UT Austin or Texas A&M after she graduates to become a scientist. Ruchi also loves animals and helping people. Because of this, she loves serving the community in the best way that she can.