The Greatest Three-Hour Fever Dream I've Ever Watched
Review of "Beau is Afraid"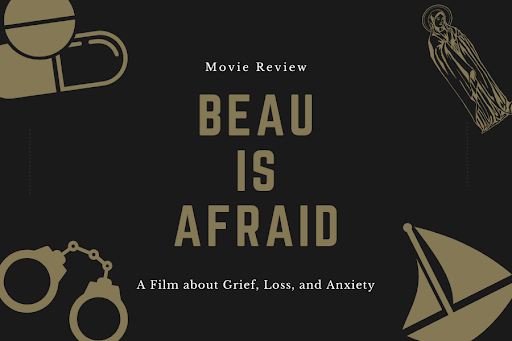 "Beau Is Afraid" is so much to process in one sitting. Almost three hours long, this surrealist nightmare of a movie manages to combine so many emotions all at once. This movie would go from feeling downright uncomfortable, with the pure dread encapsulated in the first act, to having humorous and even funny moments, as well as a surprising sense of relatability and empathy for a lot of the struggles the titular main character goes through. Overall, though the movie may be long, I never felt that it was moving at a slow pace, and I don't think I would take anything out without losing something from the movie. 
The movie is split up into three main acts. The first act shows the daily life of Beau, an incredibly neurotic and paranoid man living in a nightmarish version of our society: no one is to be trusted, crime is looming everywhere and there's an unnerving sadness present across this whole act. I find this act to be the most relatable, as Beau's daily trials and tribulations, though extremely exaggerated, are surprisingly accurate. After receiving medication from his therapist, Beau accidentally takes it without using water, which can cause death. In another instance, Beau is accused of playing loud music in his apartment, and proceeds to get angrier and angrier letters slipped under his door, even though there was no music in the first place. From being blamed for something he didn't do and the paranoia that comes from it to plain irrationality, Beau's character was surprisingly relatable to me; I tend to overthink and have irrational thoughts about problems that are simple, and I know what it's like to be blamed for issues that you did not cause. These details made me very empathetic towards the main character, and this act was extremely unsettling in the best way possible. 
The second act changes the pace a bit after Beau gets run over and is taken care of by characters Grace and Roger.  This is where we truly see the movie begin to unravel, as more information is slowly revealed about not only Beau's mother, but his inner psyche as well. It's harder to define this section of the film and what it all means, as from here on out the film only gets more surreal and the line between reality and fiction becomes more blurred. We are also introduced to the troubled teenage daughter of the couple that takes in Beau, who is frequently seen taking as many pills as humanly possible, and even seemingly inedible objects, in order to find some sort of high. This continues the themes of struggling internally that many characters face, and it makes me appreciate every little detail in this movie so much more.
As the movie continues into the third act, we begin to see Beau's deepest desire of wanting to start a family, but with a subconscious fear of losing it all. We see him escape his predicament in the last act by discovering a hidden society in the woods; perhaps these are people who are also trying to find themselves the same way Beau has been during this movie, and we see how the trauma Beau has faced has affected his life. When Beau eventually reaches his mother's house for the funeral, it is revealed she is actually still alive (along with many other grotesque things). We finally see how his mother really treats him, practically gaslighting him into believing he was not responsible enough and didn't care enough to visit his mother. This was honestly the most crushing part of the movie for me, it was incredibly depressing seeing Beau accept all this guilt that he never should have accepted and being manipulated into thinking he was the problem.
And then there's the ending.
The movie ends with a trial of sorts. After strangling his mother, an incredibly unnerving scene that seems to stem from all his frustration and the manipulation he faced boiling to this very point, Beau is tried for being a terrible son, with a seemingly vast and liminal auditorium that appears out of nowhere after he attempts to escape. Just when he thinks he can finally escape the clutches of his mother and become independent, he is seemingly trapped in her cycle. The mother's "lawyer" begins to accuse Beau of all of these terrible acts he committed when he was younger, even when most of them could simply be boiled down to peer pressure from worse individuals or simply making mistakes, but Beau is unable to defend himself. He simply accepts the guilt because he can't take responsibility or stand up for himself. It is an incredibly heartbreaking portrayal of how being locked in your own anxieties and self-loathing can truly bring someone to their lowest.
Beau accepts defeat, and thus, the boat that he stands on blows up and sinks, with the final shot of the movie staying with the auditorium as people slowly begin to stand up and leave among the rubble. It's an incredibly eerie way to end the movie, and I remember my jaw stayed dropped for the entirety of it. At first I was disappointed by the ending, thinking it was an unsatisfying way to resolve the story. I just wanted to see Beau succeed, but that's just not how the world works, and I now think it's an incredibly bittersweet way to show how guilt can affect someone. 
This movie will stay with me for a long time. It was incredibly exciting, depressing, existential, scary, funny and just plain weird, all wrapped up into one nice little three-hour package. We can all learn something from this movie, and one of my biggest takeaways is that you can't let guilt, anxiety and shame define yourself. It's movies like these that expand the medium to new, exciting directions and makes me remember why movies are art.